With 858 new COVID-19 cases reported in Oklahoma on Tuesday, the state has set a new record for the number of new cases reported in a single day and has landed on New York's travel advisory list.
Oklahoma's last peaks were reported on June 30 and July 4, with 585 and 580 new cases, respectively.
The state's seven-day rolling average of new cases has grown to a new high of 495. In Tulsa County the seven-day rolling average continued to climb back toward a previous high, 147.6 on June 25, reaching 134.4 on Monday.
From Tuesday's spike, 261 of the new cases were reported in Tulsa County. That marks the highest reporting day yet for Tulsa County, with a previous high of 259 on June 23, according to state data. The Tulsa Health Department reports 1,000 active cases, an increase of about 9%, across the county.
Oklahoma's COVID-19 increases have put the state on New York's travel advisory list, Gov. Andrew Cuomo announced Tuesday.
New York state currently has a list of 19 states, "all of which have significant community spread," that officials say meet the metrics to qualify for travel advisories. Travelers from those states must quarantine for 14 days upon entering New York.
The quarantine applies to any person arriving in New York from a state with a positive test rate higher than 10 per 100,000 residents over a seven-day rolling average or a state with a 10% or higher positivity rate over a seven-day rolling average.
Oklahoma's overall cumulative positive testing rate is 5%, a state report says.
State health officials also reported five new deaths from across Oklahoma on Tuesday. Residents from Carter, Delaware, Garvin, McCurtain and Muskogee counties died recently from the disease, according to Oklahoma State Department of Health data. All except one, a Garvin County man, were older than 65. The man from Garvin County was in the 50-64 age group.
The most recent series of deaths pushes the state's accounting of COVID-19 deaths to 404. However, data from the Centers for Disease Control and Prevention, which lag behind local reporting, indicate that 415 Oklahomans have died from the disease. The difference was not explained.
A revised Tulsa County report includes 71 fatal COVID-19 cases; officials say the decline from the county's previous death toll is due to an address change.
State health officials also report high numbers of people hospitalized due to the disease. COVID-19-related hospitalizations on Tuesday stood at 458 patients, the highest total since early April. Of those patients, 178 are in intensive care and 126 are being evaluated for potentially having the virus, according to the state's executive order report.
Almost 3,300 Tulsa County patients are considered recovered, according to Tulsa Health Department data.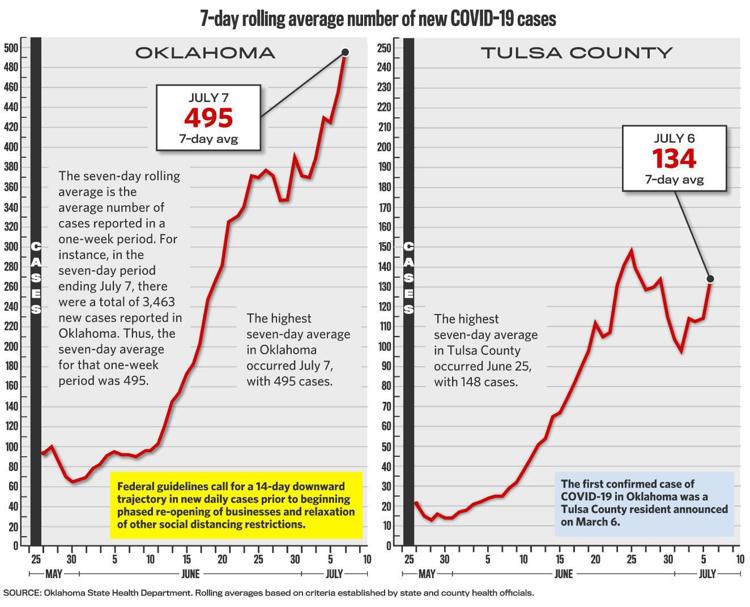 Until this spike, hospitalizations had not exceeded 400 since April.
An Oklahoma City hospital announced Tuesday that it is reopening a shuttered facility to make room for more patients, according to a report from The Oklahoman.
Due to the growing number of COVID-19 cases and hospitalizations, Integris Baptist Medical Center announced that it would reopen its Portland campus, which temporarily closed in April.
"As COVID-19 cases and hospitalizations continue to rapidly increase across the state, the Northwest Expressway campus of Integris Baptist Medical Center is experiencing capacity constraints," said Integris spokeswoman Brooke Cayot. "To continue caring for our patients with non-COVID-19 needs and the growing number of COVID-19 patients, we have decided to open our Portland campus."
The Portland Avenue campus was a key component of the state's hospital "surge" plan and was to be used if the number of hospitalized COVID-19 patients surged beyond the state's existing hospital capacity. The state terminated its lease with Integris, effective June 30, The Oklahoman reported.
Baylee Lakey, spokeswoman for Gov. Kevin Stitt, said that "the governor continues to receive regular updates from the team at (the Oklahoma State Department of Health), who is actively working to combat COVID-19 and provide Oklahomans with the most up-to-date info."
"Currently, OSDH is developing a color-coded map that will help provide additional public health guidance for Oklahoma counties and communities. The governor remains fully focused on the health and safety of Oklahomans while also supporting businesses that are going above and beyond to protect their customers and neighbors as they safely reopen," Lakey said.
Bruce Dart, Tulsa Health Department executive director, cautioned last week that if people fail to normalize mask-wearing, hand washing and physical distancing, then "we have great potential to be overwhelmed" in the public-health and health-care systems.
COVID-19 is most commonly spread through respiratory droplets, so public health officials encourage people to wear a mask or cloth face covering and to stay at least 6 feet from other people who don't live with them.
Masks are vital when social distancing is difficult. A snug fit that covers the mouth and nose is the most effective, according to public health officials.
In addition, people should avoid being in group or mass gatherings.
Frequent and thorough handwashing with soap and water or use of hand sanitizer also can help prevent the spread of the disease, health experts say.
Those seeking to be tested for COVID-19 may find resources on the Oklahoma State Department of Health's website, where testing sites are listed by county.
Harrison Grimwood
918-581-8369
harrison.grimwood
@tulsaworld.com
Twitter:
@grimwood_hmg
Concerned about COVID-19?
Sign up now to get the most recent coronavirus headlines and other important local and national news sent to your email inbox daily.