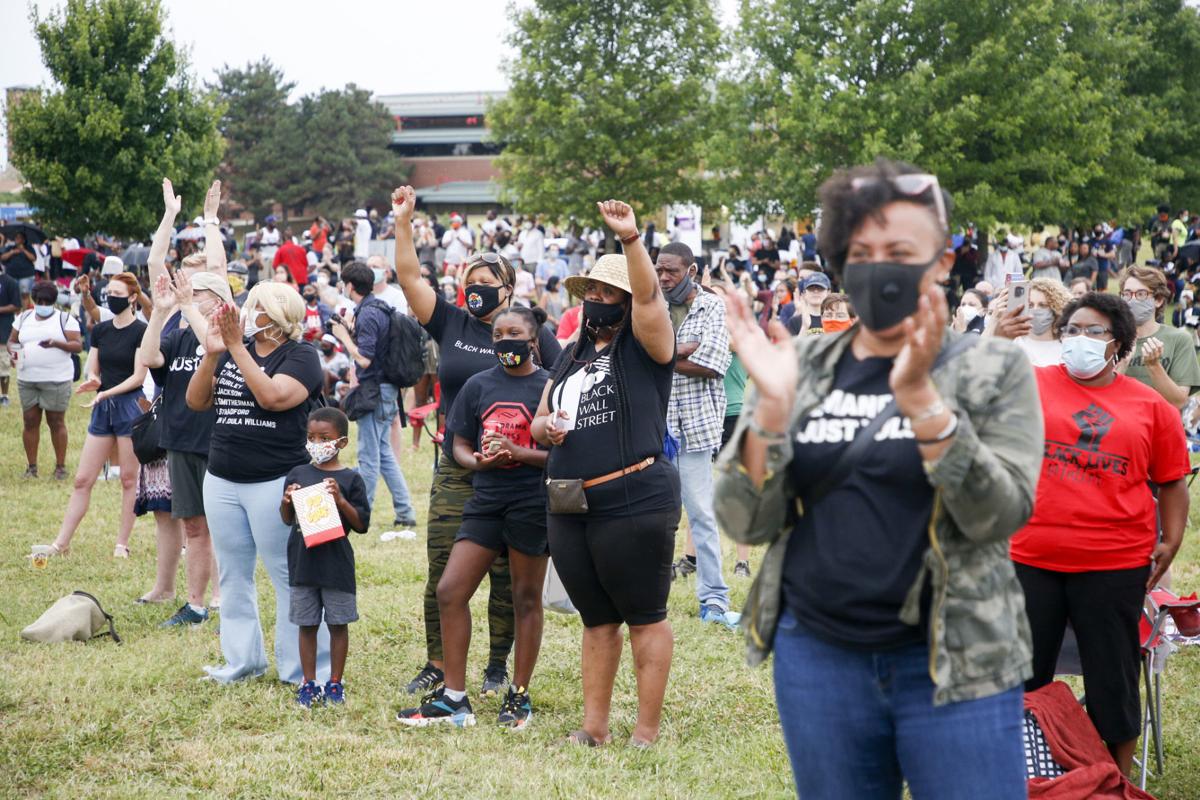 Public health side effects of President Donald Trump's controversial campaign rally in Tulsa are manifesting this week as the county's COVID-19 cases skyrocket.
There were 261 new cases of the virus in Tulsa County reported Tuesday, which is the most yet in a single day. There were 206 reported Wednesday, the fourth most so far as the county's seven-day rolling average of new cases nearly tops its recent peak.
Bruce Dart, executive director of the Tulsa Health Department, was asked Wednesday whether contact tracers were beginning to see cases tied back to Trump's rally.
"The past two days we've had almost 500 cases, and we knew we had several large events a little over two weeks ago — which is about right," Dart said. "So I guess you can connect the dots."
City-sponsored Juneteenth festivities set for what would become the same weekend already had been scrapped because of the pandemic.
But in response to Trump's unexpected rally announcement for June 20, other groups then resurrected the Juneteenth celebration. Events were scheduled across three days, which included Rev. Al Sharpton as a keynote speaker June 19.
The latest spike in cases has prompted Dart and Mayor G.T. Bynum to publicly acknowledge that a mask mandate for Tulsa will come soon if the upward trajectory continues as expected.
After the news conference, Dart told the Tulsa World that he and his team looked at Google mobility data for those who attended the Trump rally.
He noted it's unclear how accurate the data are, but that they are "ballpark" figures.
"... 40% were Tulsa County residents," Dart said. "15% were Oklahoma County residents. The rest were in 44 counties through 12 states."
Dart last Friday had said this is the week he would expect to see public health effects of Trump's event in data, given the lag time from developing symptoms to testing to reporting.
Local public health officials emphasize that the "serious seven" — bars, gyms, funerals, weddings, faith-based activities, house gatherings and other small events — are driving the surge up to this point, not earlier protests against police brutality and racism.
The Trump rally drew a ticketed crowd of 6,200 individuals, which doesn't include reporters, suite holders nor staff from neither the rally nor BOK Center, according to the Tulsa fire marshal. The Tulsa World estimated about 10,000 people were inside the 19,000-seat arena.
Trump and his campaign boasted of a million tickets requested in advance, sparking outcry about the event potentially becoming a super-spreader of the novel coronavirus.
Six members of an advance team preparing for the rally tested positive for the virus while in Tulsa, with another two campaign staffers testing positive after the event itself.
"The White House is working closely with the Tulsa Health Department regarding ongoing contact tracing investigations related to the rally," according to a statement Wednesday from the Oklahoma State Department of Health.
---
COVID-19 basics everyone needs to know as the pandemic continues
Corey Jones
918-581-8359
Twitter: @JonesingToWrite