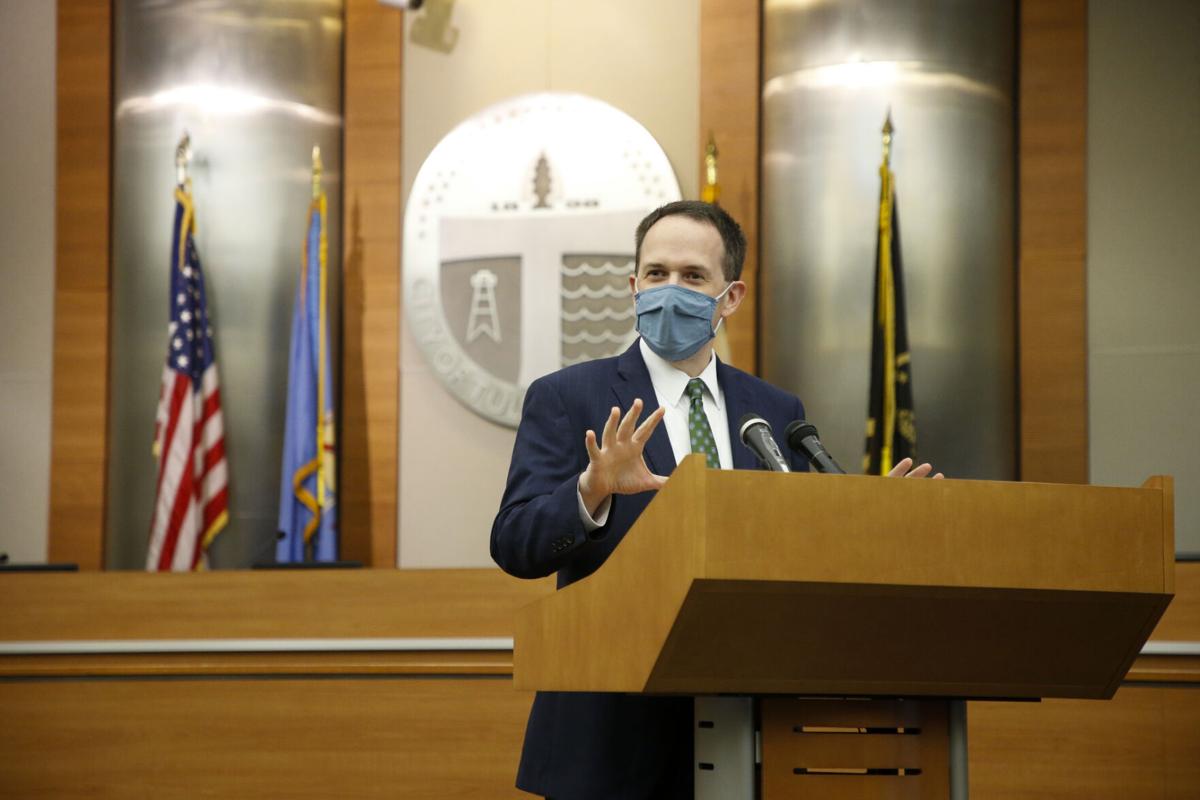 City leaders have about two months to figure out how to fill a projected hole in the 2022 fiscal year general fund budget that could reach as much as $10 million.
What makes that task even more daunting than it sounds is that after the tumult and uncertainty of the current fiscal year, in which the city is using $9.4 million in fund balance to offset a revenue shortfall, Mayor G.T. Bynum's administration is determined to avoid dipping into reserve funds again to balance next year's budget.
It's an approach city Finance Director James Wagner calls "structural balance."
"When we started FY 20 (in July 2019), we had $10 million worth of fund balance," Wagner said.
By the end of this fiscal year, that figure is projected to be approximately $2 million. The city has a $19.7 million operating reserve it can use for natural disasters like last week's snow storms and freezing temperatures.
"It really underscores the reason we need to align the revenues and the expenses now because we are at the point where we really can't keep using fund balance this way," Wagner said.
That means finding a way to fill a projected revenue gap of between $6.7 million and $9.9 million. The $6.7 million reflects the difference between what the city projects it will collect in general fund revenue in FY 2022 and what it projected it would spend in FY 2022.
The number increases by $3.2 million when the city takes into account recent FY 2022 spending requests made by department directors as part of the annual budgeting process.
So, even if the city did not fund any of those requests, it would still have to find $6.7 million in additional revenue — or slash an equivalent amount — to balance the budget.
Neither the planned budget for FY 2022 nor the department directors' requests include pay raises for employees.
Wagner acknowledges his team is still looking for answers.
"We are in the early stages of trying to determine how we bridge that gap," he said. "Those decisions will have to start to be made in the next four to six weeks."
The mayor is tentatively scheduled to present his budget to the City Council on April 21, with the council required to act on it by late June. The 2022 fiscal year begins July 1.
This is the second consecutive city budget thrown into disarray because of the COVID-19 pandemic. Early last year, as the negative economic impact of the crisis began to become apparent, the city slashed its general fund revenue projections by $12.4 million and implemented furloughs, employee travel restrictions and a hiring freeze to reduce costs.
For fiscal year 2022, the city is forecasting general fund revenues of $311.7 million and expenditures of $321.6 million, leaving a shortfall of $9.9 million.
The general fund is essentially the city's operating account. It is used to pay most day-to-day expenses, including police, fire, parks and code enforcement. The city's water and sewer system operates out of a separate fund whose revenues are generated from customer payments.
About two-thirds of the city's general fund comes from sales and use tax collections, which this fiscal year have essentially met officials' downward-adjusted expectation. But heading into the next fiscal year, other sources of general fund revenue are projected to come in lower than expected.
Those include income from the city's PSO franchise fee (down $1.2 million), municipal court revenue (down $1 million), and $1.8 million the city lost when the airport hired a private contractor to provide fire protection services at the airfield.
The city is exploring typical cost-saving measures such as closing out purchase orders, removing vacant positions from the books, and reducing contracting costs. On the revenue side, the city continues to look at its fees for services to ensure that they cover the cost of providing the services.
Bynum has said previously that the city would welcome any federal assistance that might come out of the $1.9 trillion COVID-19 relief package proposed by President Joe Biden.
"It would absolutely be helpful," the mayor said. "And I am thankful that they're thinking about local communities and how we can best serve people in the midst of this really unprecedented time for our country."
Asked Friday whether furloughs and/or layoffs were being considered as a way to balance next year's budget, Bynum said nothing was off the table at this time.
"Unlike other levels of government, we have to have a balanced budget," he said. "We can only spend what we bring in. So we are going through the process right now of working with departmental leadership to identify how we make those anticipated expenditures line up with projected revenues for the year ahead."
Bynum listed as his top priorities for next year's budget public safety and retaining the city's workforce. At a minimum, the city will fund enough police and fire academies to ensure that the number of police officers and firefighters does not decrease as a result of attrition, the mayor said.
"We would first aim to maintain the hard-earned ground we've established," Bynum said. "If we are able to do better than that remains to be seen."
---
Video: A week of winter from above Tulsa.