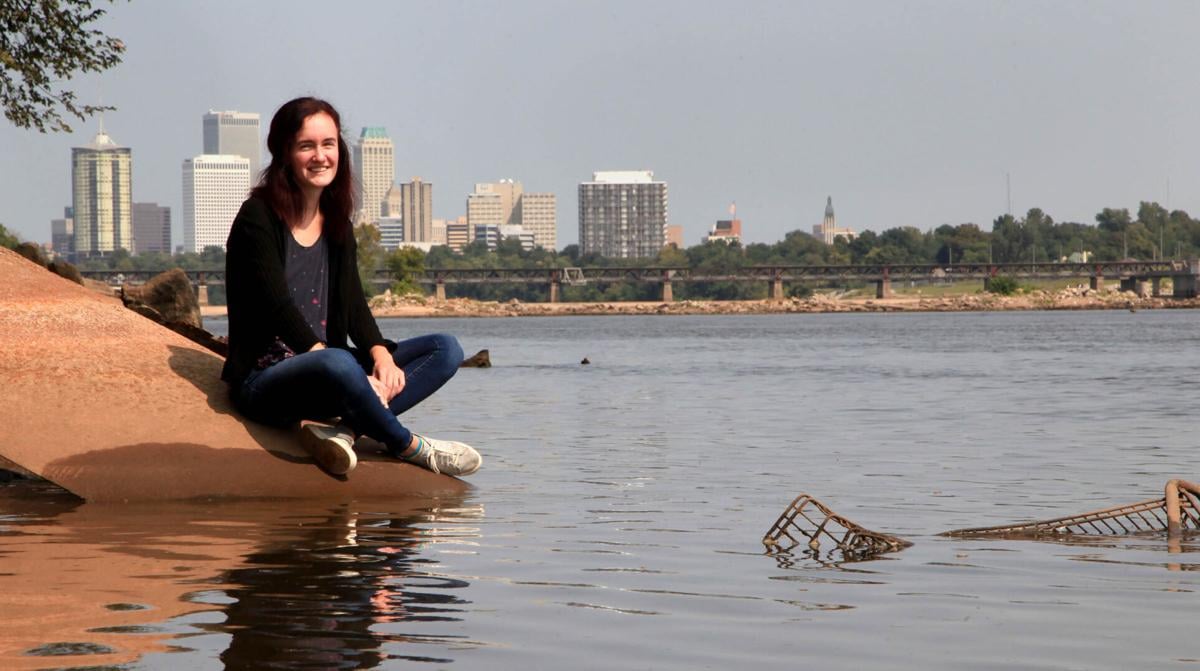 A request from the Oklahoma Department of Environmental Quality this spring sparked an idea with a University of Tulsa student that could lead to more complete water quality information on Tulsa's major waterway — if people are willing to help.
Lauren Haygood won a grant to sample Arkansas River waters and to help teach others how to sample rivers with kits and techniques that should make their samples valid to submit for inclusion in state and federal water quality data reports.
"I noticed the public solicitation was open to anyone submitting data, but there are certain methods you have to follow, certain procedures to use so your samples will be accepted by the ODEQ or the (Environmental Protection Agency). Most people in the general public don't know how to do those collections or have access to the supplies or equipment," said Haygood, an Owasso High School alum now pursuing a masters in geosciences and biochemistry at TU.
The instruction part of the project fits into her career path, an eventual role as a professor and researcher. Her grant is one of 20 early career scientist grants chosen in the United States by the American Geophysical Union's Voices for Science program. She requested a six-month science policy grant to do an outreach and communication project.
"I wanted to start a citizen science project to help people who have contacted me about water quality and who are trying to understand what it was they needed to do," she said.
Her initial target water body is close to home and undergoing a great deal of change. The aim of the six-month project is to get people started monitoring, and to keep on monitoring well after the project is finished more than two years from now.
"Choosing the Arkansas River was natural because of the dam project and because I was aware there is a lot of concern about what it will do to the water," she said. "We can sample and say this is how it was beforehand and then see how it is afterwards, and hopefully we can get some people involved so they can be out there monitoring the river long term."
Friends of the Arkansas River, a Facebook group that formed with concerns about the Zink Dam, has embraced her plan, but she said it could go as far and wide as people are willing to take it.
Only data collected prior to April 30, 2019, can be submitted for the biennial DEQ Integrated Report that Haygood saw last spring, but samples collected through April 30, 2021, can be evaluated for inclusion in the 2022 report, and so on for future years, according to DEQ spokeswoman Erin Hatfield.
The Integrated Report is a biennial assessment of all Oklahoma water bodies under federal Clean Water Act guidelines that require states to develop water quality standards and designate beneficial uses for all waters. Beneficial uses include things like fishing, swimming, recreation, irrigation, agriculture or drinking water.
Waters that fail to meet Clean Water Act standards are listed as impaired. DEQ develops restoration plans with goals and pollution control targets for improving water quality in impaired waters, although many listed waters in the state do not have an action plans in place.
Haygood said that impounding a river is a situation that has the potential to cause problems with concentrations of pollutants. That could be the case with the existing dam and it's unknown if the new structure might improve or exacerbate any particular issues. Right now information on the Arkansas River through downtown is lacking, she said.
"I've looked into it and there's not a lot of sites monitored on the Arkansas River, and there's not a whole lot of data available," she said.
Beneficial uses listed for the river at Tulsa are aesthetic, agriculture, emergency water supply, warm water aquatic community (a fish and wildlife propagation subcategory), fish consumption, navigation and primary body contact recreation, Hatfield said.
Hatfield said the segment of the Arkansas River that runs through Tulsa is listed as a 303(d) water body for high cadmium levels (a toxic heavy metal). Currently, there is no total maximum daily load restoration plan, known as a TMDL, in place for the segment of the river that includes the Zink Dam, she said.
Segments of the river directly above and below Tulsa, through Sand Spring and Jenks, also are listed on 303(d) for Enterococcus bacteria and turbidity. Enterococcus is known to cause a variety of infections in humans. Those segments do have approved TMDL restoration plans in place for enterococcus, Hatfield said.
As part of her grant, Haygood has equipment that can detect things like heavy-metal concentrations at the riverside so she can do both field and laboratory tests.
While citizen scientists will have fewer tools, their samples can look for harmful bacteria, phosphorus, nitrogen and other physical and chemical characteristics of the water that are valuable, especially when collected over time to show trends, she said.
"I hope we can get a few people that can sample upstream and downstream on a regular basis, places that are open to general public access," she said. "If there are people who want to learn to sample other rivers and have that interest that is good, too."
She has created a Google My Maps page where samplers can submit their data and people can click markers at test locations to read weekly updates of data postings, she said.
Haygood will have a training day at the river on Saturday to coincide with the weekend's World Rivers Day on Sunday, Sept. 27. She will post details of the time and place on Facebook with a publicly available event listing connected to the Friends of the Arkansas River group page, she said.
---
Kelly Bostian
918-581-8357
Twitter: @KellyBostian