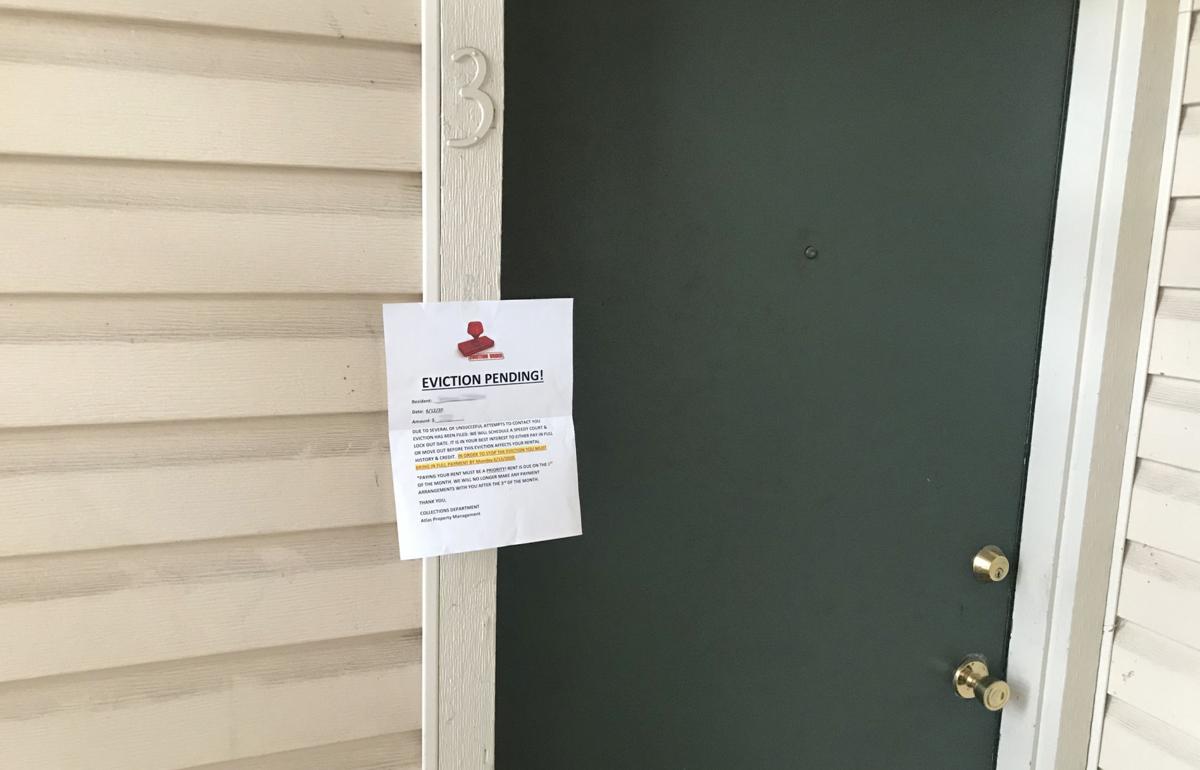 With Tulsa's eviction rate skyrocketing back toward pre-pandemic levels, officials seem frustrated that more tenants and landlords aren't taking the help that is being offered to them.
Most eviction cases are heard in the middle of the afternoon when nearly half the tenants don't show up and lose by default, a trend that has frustrated Legal Aid attorneys for many years. But it seems especially irksome now, when many of those tenants could be taking advantage of a federal moratorium on some types of evictions during the COVID-19 epidemic, officials told the Tulsa World.
"This is the worst time of day for working people and families with children," said Eric Hallett, an attorney with Legal Aid Services of Oklahoma, which provides pro bono counsel to tenants.
Parents are getting kids from school or day care right as the eviction hearings start, while other tenants can't leave work at that time of day, Hallett said.
"People are forced to choose whether to go to court to save their home," he said, "or stay at work to save their jobs."
When tenants don't show up, landlords win automatically. And Tulsa's eviction rate has nearly jumped back to pre-pandemic levels.
More than one-third of all eviction cases in Tulsa this year have been filed just since Aug. 25, the first day landlords could seek evictions after a months-long federal moratorium expired.
The Trump administration imposed a second moratorium 10 days later, but with different rules and qualifications. Instead of congressional action, the U.S. Centers for Disease Control used executive authority to prohibit evicting any tenants who have seen a loss of income that could be blamed on COVID.
All tenants have to do is sign a declaration, under oath, that they can't pay rent due to the pandemic, then the eviction case will be dismissed or postponed until 2021.
A lot of tenants, however, don't realize it's an option, Hallett said. Or they think it sounds too good to be true.
"Tenants have told me that they simply didn't believe me when I told them about the CDC order," Hallett said.
The CDC moratorium doesn't mean tenants don't still owe the rent or won't have to pay in full when the moratorium expires. And it doesn't provide any financial assistance to property owners while they can't collect rent.
"The CDC order creates a tough situation for the property owners," Hallett said, "since they now have few options for dealing with tenants who cannot afford to pay rent, but they are still responsible for paying taxes and making repairs to the property."
Some landlords appear to be looking for other reasons to file evictions, tenant advocates said, explaining that the CDC moratorium still allows tenants to be kicked out for a wide range of issues other than failure to pay rent. Illegal activity, for example, remains a valid reason to seek an eviction, as does failure to take care of the property.
"That said, the CDC moratorium is making a huge difference," said Katie Dilks, the executive director of the Oklahoma Access to Justice Foundation.
Despite the recent increase, Oklahoma has seen a steep decline in the number of evictions since COVID-19 hit the state in March. Tulsa alone, with the 11th highest eviction rate in the country, was averaging 1,200 cases a month before the pandemic. Since March, however, the entire state has averaged 1,900 eviction filings per month, according to data collected by Access to Justice.
Tulsa's eviction rate, nonetheless, almost returned to normal in September, with nearly 1,200 cases filed during the month, according to data from Access to Justice.
Most of the evicted tenants would probably qualify for assistance from a pair of Tulsa programs that are using federal stimulus money to pay rents for people through the end of the year, Dilks said.
"Most folks just don't know about the moratorium, and many still don't know about rental assistance, either," she said. "The vast majority being helped at court learn about it for the first time when an attorney or volunteer tells them about it."
Tenants and landlords can apply for rental assistance by calling 211 or going to tulsahousing.nanmckay.com.