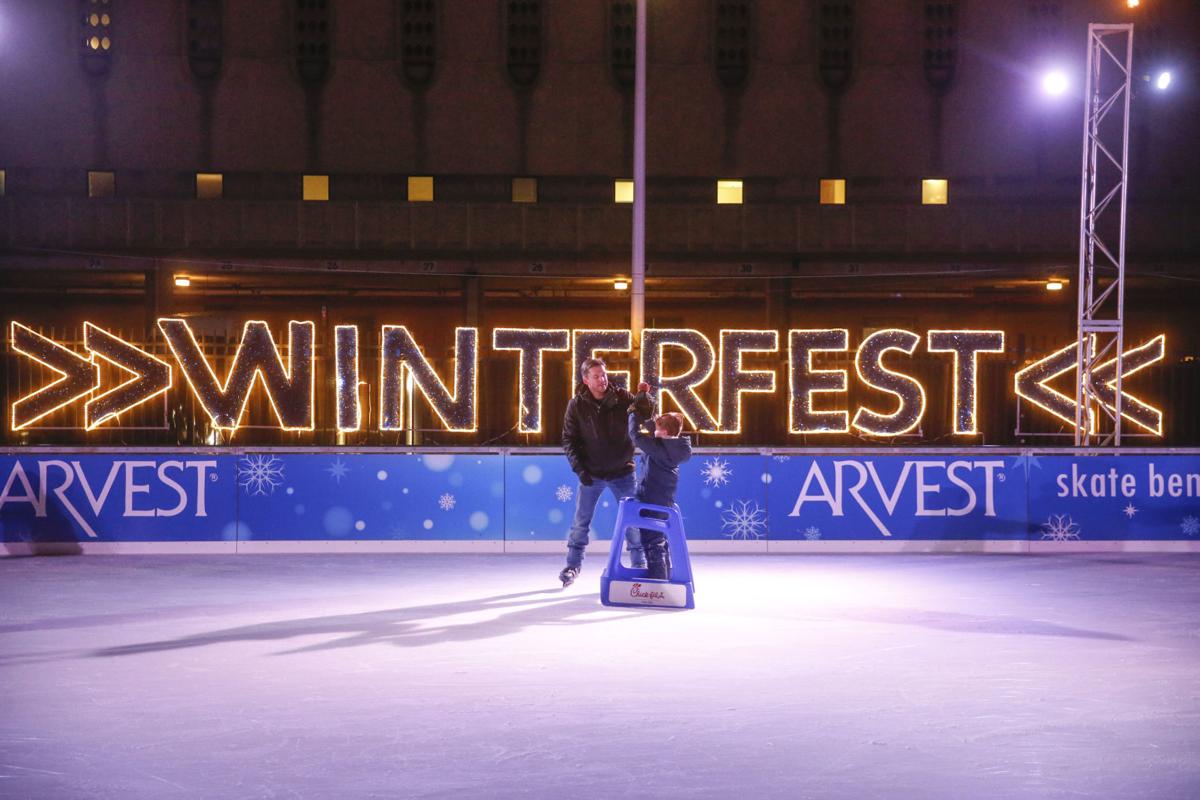 Citing its support of the city's efforts to reduce the occurrence of public interactions amid a rapid spike of COVID-19, the BOK Center will delay the start of the 13th annual Arvest Winterfest.
In an announcement Friday, the BOK Center said it will shift the event's opening to Nov. 30. Winterfest was originally scheduled to begin Saturday.
"We plan to keep working closely with (Tulsa County Department Director Bruce) Dart and the Tulsa Health Department and will continue to make adjustments as recommended by them to make sure we provide our guests with the safest experience possible," BOK Center interim general manager Evan Falat said in a press release.
In past years, ice skating took place on an outdoor rink near the BOK Center. Despite a global pandemic, organizers for the event decided it would be held inside the arena with safety protocols in place.
The shift in schedule comes a day after Mayor G.T. Bynum urged Tulsans to assist weary health care workers and strained hospitals struggling to keep the community safe as the coronavirus spreads almost unabated throughout the region.
Whenever Winterfest begins, it will feature an ice capacity more than 8,000 square feet larger than the usual rink on Third Street, an ideal environment for social distancing, officials said.
BOK Center's public capacity will be "drastically capped" at a socially responsible percentage in line with recommendations from the Tulsa Health Department and Centers for Disease Control, according to the release.
Timed ticketing will aid in keeping the ice from being overcrowded. Guests will need to go online to tulsawinterfest.com to reserve a date/time to skate. Each reservation allows the skater 75 minutes of ice time once the ticket is scanned.
Additionally, Winterfest will feature preventative measures as advised by the Tulsa Health Department and the CDC.
No cash or checks will be accepted this season and everyone ages 10 and older will be required to wear a face covering at all times while inside the venue, which mirrors Tulsa's citywide mandate.
---
Video: 'We are not contemplating a shutdown in Tulsa,' Mayor G.T. Bynum says Nov. 19
---
Gallery: How to prepare for a COVID-19 winter
How to prepare for a COVID-19 winter
Get tested now
Assume you have the virus
Stock up on masks
Get a flu shot
Educate yourself about the pandemic
Stock up on ways to survive colds and flus
Simplify your meals
Get moving to stay healthy
Exercise online...affordably
Move your feet
Keep on pedaling
Play in the snow
Boost your mental health
Shop for things that bring you joy
Don't be S.A.D.
Say no to isolation
Say yes to counseling
Optimize your work-from-home space
Zoom better
Explore safe, socially distanced commuting
Don't get caught in the cold
Create an emergency kit
Get set for outside socializing
Garden year-round
Gear up for snowy days
Shop safely outside
Stay safe when voting
Travel the world remotely
Be smart when you socialize
Build your bubble
Concerned about COVID-19?
Sign up now to get the most recent coronavirus headlines and other important local and national news sent to your email inbox daily.