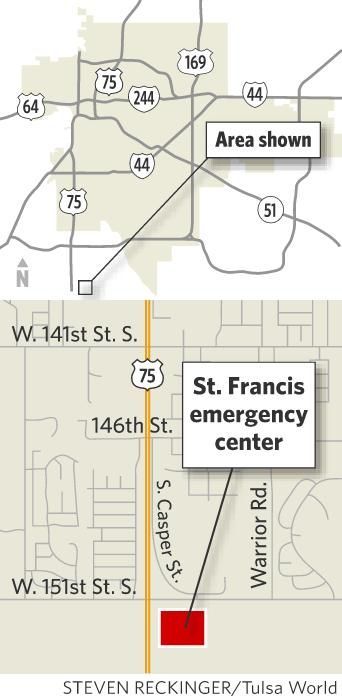 ---
GLENPOOL — It has been over a year since the September announcement of a new $23 million, 49,000-square-foot health-care complex to be built in Glenpool.
With an initial completion date expected in spring of 2017, questions have been circulating due to the lack of construction progress.
The Saint Francis Health Systems released information on Tuesday regarding their new Glenpool location. Construction is to launch within the next week on the southeast corner of U.S. 75 and West 151st Street.
Why the hold up? Groundwork was started last fall, but further construction was delayed due to the State of Oklahoma's permit approvals.
Lauren Landwerlin,, Executive Director of Corporate Communications released a statement:
"The health system received approval from the state for plans establishing the new freestanding emergency room and physician office location in Glenpool. Site work is scheduled to begin next week with a targeted completion date of spring 2018."
Landwerlin did not provide specific details on permit approvals.
Glenpool City Counselor Brandon Kearns, a project manager for Manhattan Construction, said state permitting delays are common at this point in time. With the Oklahoma State Department of Health "being a state agency, they have had turn over within their department. Thus, the lengthy delays," he said. Kearns clarified it was only his best assumption.
Services at the two story facility will include: emergency care, primary care physicians, outpatient services, women's services (mammography, bone density measurement), physical therapy, occupational therapy, diagnostic imaging services and laboratory services.
After completion, the location is estimated to employee 50-60 full-time positions.