The Tulsa Police Department's Real Time Information Center has been up and operating out of City Hall since mid-April.
It's not what one would envision — yet. Four "specialists" sit around tables in a small conference room looking at multiple large computer monitors flashing multiple images — Hollywood Squares-style — of scenes from around the city.
It's their temporary home. At the end of May, the city will begin building out a much larger space across the hall that will be RTIC's actual home.
When it's completed in July, the 12 specialists who will eventually work out of the space will each have their own station. And should the need arise for all eyes to be on one screen, no problem: On the west wall will hang a bank of large screens that, taken together, will project images approximately 32 feet long and 5 feet high.
"So let's say we have a major incident, and we have a good camera feed that's there," said Tulsa Police Capt. Jacob Johnston, who oversees the RTIC. "Instead of six people looking over the shoulder (of a specialist), we can take that image and put it on the wall. And now I can stay in my work station, and I can see what you're looking at."
Mayor G.T. Bynum and Police Chief Wendell Franklin have been strong advocates of the RTIC, saying it would enhance law enforcement's capabilities and effectiveness at a time when meeting minimum staffing requirements has become more difficult than ever.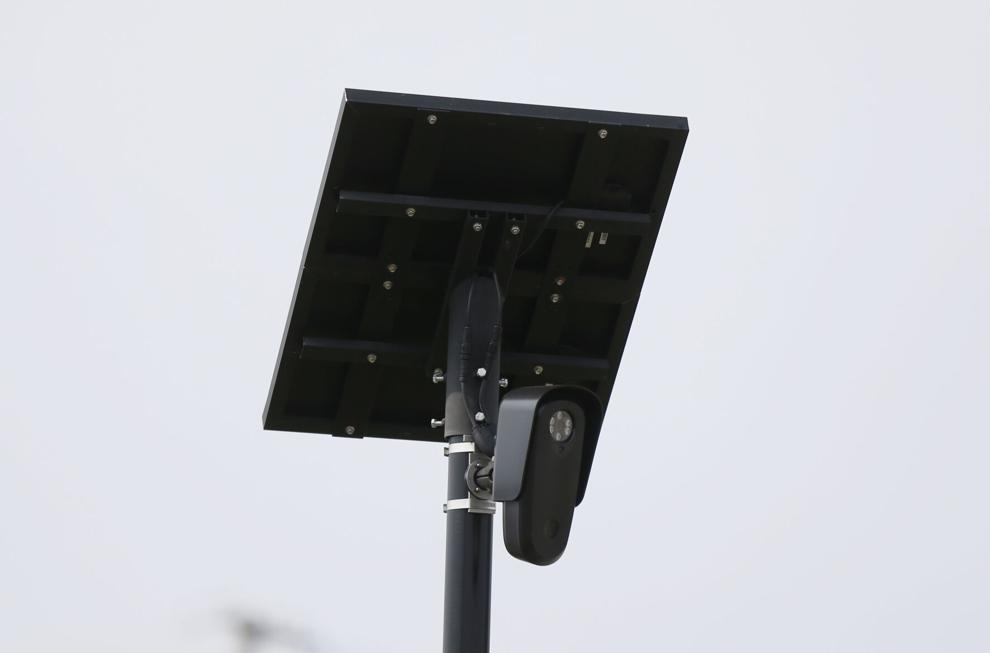 Last year, Bynum proposed and city councilors approved $2.55 million to stand up the program, which has also received some grant funding.
Johnston likes to call it precision policing.
"Let's say that we have a video that we're able to watch the cameras," Johnston said. "What vehicle left (the scene)? I don't need to stop every single black SUV. I'm going to stop the one that has this unique characteristic about it.
"Maybe I got a license plate now. I'm able to send officers to where we've seen that vehicle in the last 30 days, where the vehicle checks back to ... So resources can start going directly to destinations instead of that dragnet approach."
The specialists aren't just watching video feeds. They're monitoring calls being received and dispatched by 911, Johnston said, and accessing information from state and federal arrest databases and other sources that they can share with responding officers.
"We have a policy in place that we're using or a training manual that we're following to tell our specialists, 'Your attention is for things that are happening in real time. Turn your focus to that, provide as much information as you can to those officers,'" he said.
"That doesn't mean they can't see a fire happening and call 911. That doesn't mean that a homicide happened and … we find out a couple hours later, they can't help homicide with the case. But their primary focus is looking at in-progress calls, just-occurred calls. Things that are right now."
The Police Department has for several years been using cameras to help patrol areas, particularly during large public gatherings. Franklin has said cameras were used to help monitor activities surrounding the centennial commemoration of the 1921 Tulsa Race Massacre.
Police also used cameras during the NCAA Wrestling Championships in March and when the singer Lizzo came to town earlier this month, Johnston said.
The goal is to eventually be fully staffed and operate 24/7, Johnston said, but for now the specialists — made up entirely of civilians, some of whom are former law enforcement officers — are working 40-hour weeks with shifts determined by need.
"We're just starting out, learning about how this Real Time Information Center is going to become a part of the Tulsa Police operations," Johnston said. "We're in our infancy, and we're able to provide information to responding officers 60 percent of the time with the tools we have today."
City officials have placed $47.5 million in the proposed Improve Our Tulsa 3 capital improvements package set to go to voters Aug. 8. Johnston said should voters approve the proposal and the Police Department find itself in a new location, the RTIC could move with it.
"It was a part of the consideration when we built this out, that everything here was capable to be boxed up and relocated," he said.
The cameras
The Real Time Information Center accesses more than 200 video feeds from four sources: Flock Safety license plate readers, city security cameras, city traffic control cameras and cameras purchased by the Police Department.
The city will have 46 Flock Safety cameras deployed in high-crime areas when the installations are completed later the month. The cameras capture a still image of a license plate and the vehicle. The system is used primarily to identify stolen vehicles and to help find missing people. It is not used to issue traffic tickets, according to TPD.
Since the Police Department first began using the Flock cameras last year, it has tracked down 198 vehicles flagged in the National Crime Information Center database, leading to arrests of one or more individuals in 146 of those cases, according to TPD records.
The city's security cameras, such as those deployed at parks and other public facilities, and the cameras purchased by police record video that can be reviewed by law enforcement as needed.
The benefit of having cameras that record is that they can fill in the blanks between when a crime is committed and when TPD is notified of the crime, Johnston said.
"What can we find out during that time frame? Can we go back after an officer gets on the scene and look at our video or short-term archived video, if we have anything available, and say, 'Oh, there's the vehicle that fled that we saw,'" he said. "We didn't get a tag number, but we rewind the tape and now we have the tag number. And now we can start sending resources to where that vehicle has been seen, maybe where the owner lives … that type of operation."
The recorded video is typically saved for 10 days, unless it is evidence of an alleged crime, Johnston said.
Johnston's answer is a simple one.
"We are installing our technology in areas that have high levels of crime to improve public safety," Johnston said. "Just like city security, they place their cameras at city facilities."
TPD has already placed cameras in and around 61st Street and Peoria Avenue, Johnston said, and has plans to install them near Chamberlain Park and in the area stretching from 21st Street and Garnett Avenue south to 41st Street and Garnett Avenue.
Cameras are also scheduled to be installed near 11th Street and Garnett Avenue and in the vicinity of Admiral Place and Sheridan Avenue.
"We've got a rubric that has been developed," Johnston said. "So we can look at a handful of things — crime levels, citizen requests, the effectiveness of a camera. It doesn't do us any good to put a camera in the woods."
---
The new Tulsa World app offers personalized features. Download it today.