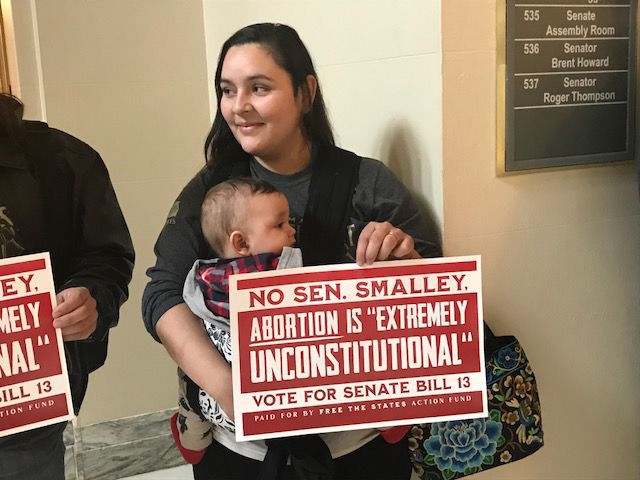 OKLAHOMA CITY — Supporters of a bill that would criminalize abortion lined a Capitol hallway on Monday to push for a Senate committee to hear the legislation, which it is not expected to take up.
About 40 protesters chanted "Senate Bill 13" and "Abolish abortion." They carried signs that read "No Sen. Smalley. Abortion is 'extremely' unconstitutional."
Sen. Jason Smalley, R-Stroud, chairs the Senate Health and Human Services Committee. He said that although he is anti-abortion, he had some problems with the wording of SB 13.
Sen. Joseph Silk, R-Broken Arrow, is the Senate author of the bill. Some changes have been made to the bill, but it still would criminalize abortion, which the U.S. Supreme Court ruled constitutional in 1973.
Senate President Pro Tem Greg Treat, R-Oklahoma City, said he has not seen the bill in its new form. "I have heard it is about a 27-page redraft," Treat said. "I would have hoped there would have been more serious tries to negotiate earlier than the day it is supposed to be heard in committee."
Treat said he didn't think there was a high likelihood the measure would be heard.
"The language that was in the final, introduced version of Senate Bill 13 was very troubling," he said.
Russell Hunter, executive director of Free the States, which seeks to abolish abortion, said abolitionists were at the Capitol to put pressure on Smalley to let his committee hear SB 13.
"It is obvious the people of Oklahoma want this bill to be voted on," Hunter said.
He said the issue should effect the next election.
"Our hope is because of bills like this, representatives and senators will not be able to run on a pro-life platform any more but they will have to be abolitionists," Hunter said.
He said the goal is to find candidates in the primaries who will run on a promise to abolish abortion instead of regulate it.
Tammy Brown of Tulsa joined the protesters on Monday.
"I know that we are all made in the image of God and that abortion is wrong," Brown said. "And, as Christians, it is our duty to stand up against this injustice."
Angelina Hein of Gate held her 7-month-old child and a sign seeking a hearing for the bill.
"To me, abortion is a baby getting the death penalty for the actions of others," Hein said.
Last week, hundreds of people were at the Capitol to show support for abolishing abortion.
The Oklahoma Supreme Court in 2016 nullified an initiative petition effort that sought to criminalize abortion.
Proposed State Question 782 would have made those who perform or receive an abortion guilty of murder. The ACLU of Oklahoma successfully challenged it.
Get local news delivered to your inbox!
Subscribe to our Daily Headlines newsletter.