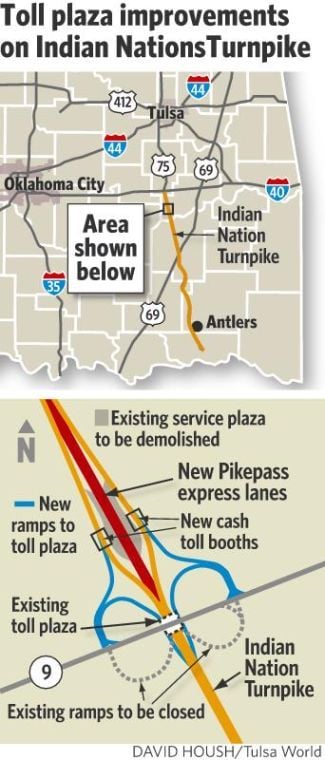 OKLAHOMA CITY — The Oklahoma Turnpike Authority on Tuesday approved $23.6 million for improvements on the Indian Nation Turnpike south of Henryetta.
The funds will cover relocating the exiting toll plaza in McIntosh County underneath the bridge on Oklahoma 9 to the soon-to-be demolished service plaza just north of it, said Tim Stewart, OTA executive director.
A new service plaza is expected to open Dec. 19 near mile marker 67, south of the existing plaza. The funds will also cover realigning the road for safety, building new ramps to and from Oklahoma 9 and demolishing the service plaza at Antlers.
The improvements will include straightening out the roadway, said Jack Damrill, an OTA spokesman.
"There is a lot of work going into the single project," Stewart said.
The current toll facility, being on the turnpike under a bridge on Oklahoma 9 and close to the service plaza, causes problems, he said. The area has the highest accident rate in the entire turnpike system, Stewart said.
The OTA also approved $6 million to renovate its headquarters in Oklahoma City.
The renovations will include new wiring and heating and cooling systems, replacing a leaking roof, making the facility more accessible to those with disabilities, building an annex, and security and phone system upgrades.
Barbara Hoberock 405-528-2465