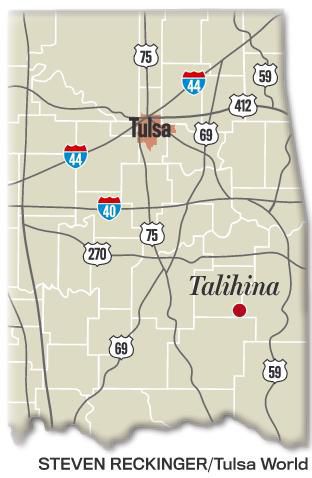 ---
A physician assistant who resigned in the wake of a patient death at the Oklahoma Veterans Center at Talihina has a history of disciplinary action and has already been rehired at another veterans center, the Tulsa World has learned.
Oklahoma Department of Veterans Affairs officials said previously that four staff members — one physician assistant and three registered nurses — had resigned after Vietnam veteran Owen Reese Peterson was found with maggots in a wound and later died on Oct. 3.
Only after following up on an anonymous tip with Veterans Affairs officials did the World learn that the physician assistant was rehired a month after his resignation and is now working at the veterans center in Lawton.
"We didn't try to mislead the reporter. She asked for the resignation date. He resigned from Talihina," Shane Faulkner, public information officer for the Oklahoma Department of Veterans Affairs, said Friday.
Faulkner released the names of the four employees to a reporter, but the Tulsa World is not naming the individuals because no criminal charges have been filed in the case.
Jeff Smith, district attorney for LeFlore and Latimer counties, said he has yet to receive a report from Veterans Affairs, but the agency indicated it would forward information to his office.
A check of the four health care workers' state credentials turned up no history of disciplinary action against the three registered nurses who resigned in the wake of 73-year-old Peterson's death. But the physician assistant who resigned Oct. 14 and was rehired Nov. 14 has had two disciplinary actions against him by the Oklahoma Board of Medical Licensure and Supervision, including one for which he is currently serving a five-year probation.
According to state licensing records, the physician assistant was first put on probation in 2005 for two years following a narcotics violation. He surrendered his license in June 2014 following a complaint of "unprofessional conduct." According to records, the complaint alleged that he was not being properly supervised, as is required for all physician assistants, and was being identified to callers as a doctor.
His license was reinstated in late January — more than 18 months after its surrender — and with five years' probation.
Doug Elliott, deputy director at the state Department of Veterans Affairs, said the physician assistant was first hired in February at the Lawton/Fort Sill Veterans Center and was transferred to Talihina in late August or early September.
"We knew about the disciplinary action. We do a background check on all PAs, doctors and nurse practitioners prior to them entering our building," Elliott said. "In this instance, he had to have supervision eight hours per week, meaning there has to be a doctor there. That was imposed by the medical licensure board."
Asked how common it is for Oklahoma veterans centers to employ medical professionals with a history of disciplinary action by the state, Elliott responded, "I would say probably 30 percent of our physicians and mid-levels have some type of glitch on their record. Some of our doctors are pristine."
Lack of a pain pump
At issue is how Peterson, a U.S. Army veteran from Texas, came to have maggots growing in a wound when he was a patient at the Talihina center.
Oklahoma Department of Veterans Affairs Executive Director Myles Deering told the Tulsa World last week that the maggots in Peterson's wound were discovered while he was still alive but that they were not the cause of his death.
"He did not succumb as a result of the parasites," Deering said. "He succumbed as a result of the sepsis."
Sepsis is a potentially life-threatening complication of an infection.
The only thing that Veterans Affairs officials and Peterson's son, Raymie Parker of Atlanta, seem to agree on is that the man needed a morphine pump for pain management.
"Everyone on the patient side wanted him on a pain pump," said Elliott, who is responsible for the operation of all seven homes operated by the state Department of Veterans Affairs.
Parker said hospice workers told him that a morphine pump could be inserted so his father could regulate pain so that he could stand to have the bandages on wounds on his legs changed.
But Parker said staff at the center would not go along with it. He said a veterans center staff member told him the pump was death and that he was not in the business of killing.
"My dad's legs, from the knee down, were failing and atrophying," Parker said. "At some point, it was going to cause sepsis. He did not want his legs cut off due to his religious beliefs. He wanted to die as a whole man. I explained this to the administration and to the medical doctors and was ignored.
"My problem with the whole thing was had they increased his meds to the level he could have his bandages changed, the maggots, the bugs, wouldn't have been an issue, but I was continually shot down by the medical staff — not the floor staff, the senior medical staff."
Faulkner, public information officer for Veterans Affairs, said Peterson could not be treated with a pain pump at the Talihina center because it lacked a medical director to oversee it.
"The pain pump that the son requested would have made his care a little bit more comfortable. Because of the lack of a pain pump, there was a lot of refusal by the resident for (wound) care," Faulkner said. "We did increase his pain medication. However, we could not supply the pain pump because of no medical director in the facility."
Staffing challenges
The Talihina Veterans Center's website boasts its location "on a beautiful 600 acre site at the western edge of the mountainous Ouachita National Forest," grounds "adorned with huge native pine and oak trees, three fishing ponds, patios and other outdoor activity areas," and "a full time staff of doctors, registered nurses and other medical personnel (who) assure the patients the highest quality of care."
But Veterans Affairs officials describe the reality there lately as far from idyllic.
In Elliott's 18 months with the department, the Talihina center has been through three doctors who have overseen care there as medical director, with time lapses in between.
"That's how bad it is," Elliott said. "The problem is trying to get a doctor who will stay very long in Talihina. It is a very rural area, and it is difficult to find someone who wants to stay in long-term care in rural locations like that when you can go make half a million somewhere else."
Talihina is about 150 miles southeast of Tulsa.
Before Elliott hired a new Talihina medical director two weeks ago, he had to increase the salary for the position by 25 percent to $250,000 to attract an applicant.
It was during the most recent lapse of 2½ months between medical directors that Peterson died. On Friday, Elliott explained that that is important because a medical director must be on site to manage pain pumps like the one Peterson wanted.
"The issue is that a hospice company was brought in for end-of-life care. Because there wasn't a medical director, he probably should have been transferred to an inpatient (hospice) treatment center," Elliott said of Peterson.
A facility on notice
Faulkner explained that the state Department of Veterans Affairs cleared the physician assistant of any wrongdoing in the Peterson matter because he had increased the patient's medication and there was nothing more he could do without a medical director on site.
"Once we found out he was really not culpable in this situation, we did give the Lawton facility permission to rehire him," Faulkner said. "That's why we felt it was OK to bring him back. He did everything in his power, and that is something we discovered in our investigation.
"If he had never resigned, I think in the course of investigation, he would have been cleared. But he chose to resign when the whole thing fell out."
The Oklahoma State Department of Health on Oct. 13 received an incident report from the veterans center in Talihina and "determined that the facility fully investigated the incident and took any appropriate actions," said Jamie Dukes, an Oklahoma State Department of Health spokeswoman.
The agency has denied a request to provide the report, saying it contained identifying information that is prohibited by law from being released.
No minutes are posted on the agency's website, but Faulkner said at the Oklahoma Veterans Commission's most recent meeting in November that officials put the public on notice that the Talihina Veterans Center might not be long for this world.
"The lack of a medical director in the Talihina facility for so long definitely impacted us with this case. That is why the possibility of closing Talihina has been broached — and relocating it to a larger location such as McAlester — because of the difficulty we have in finding medical staff."
Still, any replacement for the Talihina facility, which opened as the Eastern Oklahoma Tuberculosis Sanatorium in 1921 and was converted to a nursing home under the Veterans Commission authority in 1975, is still a ways off.
"This is years down the road. We don't know where we would go if we did go. We don't have property (in McAlester). It takes several years to build a facility like that," Faulkner said.
So why not just shutter the place if a doctor to run it properly is so hard to come by?
"We really don't want to put 175 veterans out on the street," Faulkner said. "We do have a medical director on staff now. We're hoping this one sticks around now."