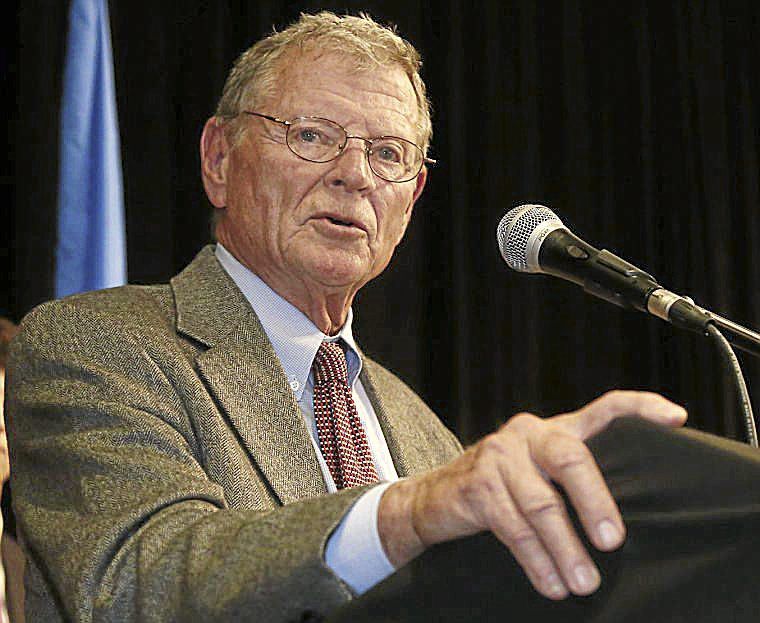 U.S. Sen. Jim Inhofe and his staff pushed back Wednesday against suggestions that he sponsored legislation that would make it easier for him to maintain his pilot's license.
Inhofe, 81, is an avid flier and primary sponsor of the Pilot's Bill of Rights 2, a follow-up to general aviation legislation he sponsored several years ago.
The Pilot's Bill of Rights 2 includes revisions to general aviation medical requirements. These include a shift from reliance on Federal Aviation Administration-certified physicians for medical checks to personal doctors, and changes in the way pilots grounded for certain medical reasons, including cardiovascular disease, may regain flying privileges.
Inhofe underwent bypass surgery two years ago.
"The general aviation community for years has been very upset with the way the FAA has managed health care-related issues," Luke Holland, Inhofe's legislative director, said by telephone Wednesday. "It's really very onerous to get medical certification if you've had any sort of condition (that) in the judgment of the FAA — which is sometimes way behind common sense — inhibiting your ability to fly.
"It almost always leads to a huge rigmarole that ultimately allows an individual to get certified but after they've spent thousands and thousands of dollars to convince a doctor that they've never met, who works for the FAA, that they're medically fit to fly."
Holland said objections to the medical provisions in Inhofe's bill were addressed Wednesday in a "mark-up" session of the Senate Commerce Committee, where the final version of the bill was drafted.
The most serious of those objections were brought by Sen. Bill Nelson, a Florida Democrat who wanted stronger provisions for pilots with histories of heart disease, mental health issues and neurological disease.
Holland said those issues were dealt with in an amendment by Sen. Joe Manchin, D-West Virginia.
Holland said the changes would not affect Inhofe much and would encourage pilots to seek treatment through a private physician rather than avoid a diagnosis that might jeopardize their license.
Inhofe said he supported Manchin's amendment.
"The FAA's medical certification process is bureaucratic, burdensome and discourages pilots from disclosing and treating medical conditions that could impact their ability to fly," Inhofe said. "With this amendment, the bill provides a new medical certification process for qualified and trained pilots that encourages a robust dialogue between pilots and their personal physician."
Inhofe's bill has 68 co-sponsors.
Randy Krehbiel 918-581-8365