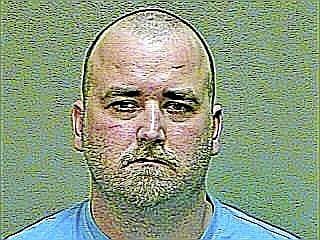 For the first time, the man who destroyed the Ten Commandments monument at the Capitol describes his mental health descent into psychosis, his actions leading to that moment and his road to recovery.
Michael Tate Reed II stated in a letter that his psychotic breaks led to getting inspiration from a Dracula movie, thinking Michael Jackson's spirit was in meat, believing he was the incarnation of an occult leader and attempting to contact Lucifer's high priestess he called Gwyneth Paltrow.
Reed, 29, was released from Norman's Griffin Memorial Hospital in January under an agreement with Oklahoma County District Attorney David Prater for continued treatment, therapy and family support. He is diagnosed with schizoaffective disorder.
Reed rammed his truck into the concrete statue Oct. 24, rendering it to pieces. He made threats against President Barack Obama, set money on fire and walked into a federal building to spit on pictures. These actions came after days of erratic behavior.
The incident drew widespread attention because the monument had been a source of debate about whether it should be placed on public land. It also highlighted Oklahoma's No. 2 national ranking in the rates of mental illness and serious mental illness.
An email from Reed was sent to the Tulsa World circulation department on Monday. Reed's sister was notified of the letter on Wednesday.
"I was hesitant on writing this, but I think it would be a good way to share with others what happened to me back in October," he wrote.
In the letter, Reed describes how voices in his head became his reality, how his family tried to get him treatment and how recovery is helping him. At the end, he apologizes.
"I am so sorry that this all happening (sic) and wished I could take it all back," Reed said.
The letter is written in one block of text, beginning with his time as a student in August 2013 at Victory Bible College in Tulsa. Within a few months, he had a dream. He appears to pinpoint this as the start of his mental health decline.
It is common for people who are religious and in a psychotic state to have elements of their faith wrapped into their hallucinations and delusions, say mental health experts.
"It wasn't a normal dream, and it was more vivid than any other that I have had. The main point of the dream was that Satan would be attacking me," he wrote.
Reed dropped out due to a lack of money, but the voices continued. Later that year, his first psychotic breakdown occurred when he locked himself in one of the CityPlex Towers, one of the large buildings near Oral Roberts University. Police took him to a mental health facility, where he was released after a month into his mother's care in Fort Smith, Arkansas.
"After a little while there, I started to hear my thoughts talk to me in a way I haven't ever experience (sic), so I once again started to believe what I was seeing and hearing," he wrote.
Mental health experts say symptoms of schizoaffective disorder manifest in the late teens through age 30 and include hallucinations, delusions, paranoia, episodes of depression and manic moods. It is treated by finding the right combination of medications and receiving therapy, according to the Mayo Clinic.
Within weeks of being home, Reed drove to Kentucky to outrun a storm he thought was evil and following him. He took pills while there and started hallucinating on the drive back.
"The voice had told me if I didn't stop the cars, people would die. The voice told me the cars were all carrying meat that was infected with the spirit of Michael Jackson and it was a killer virus," he wrote.
He couldn't bring himself to crash into the cars, so he said he let go of the wheel and ended up in the median. He was arrested and held for 10 days in jail on drug charges.
"After making it home to my mom's, shortly after, the delusions started again. My mom and sister were trying to get me help, but the whole time I thought they were enemies," he said.
His family admitted Reed for a 30-day stay in a mental health facility in Arkansas. Reed said he does not remember the first 20 days. When released to his mother's care 10 days later, Reed said he spent the next year being quiet.
Reed was to have a monthly shot for his antipsychotic treatment, but it was $900 after insurance benefits were applied. He was able to get two shots but then could no longer pay. He tried to stay stable with the therapy and the other medications.
Eventually, he got a car and an apartment.
"Soon after moving into my apartment, the voices were in overdrive," he said. "Upon moving into my apartment, I started to hear that Satan was the real God, and God the Father was a cruel god because he visits the sins of the father on the sons.
"At the time, I didn't have a grasp on why he does that, so with that verse, Satan had me hooked into his lie. It took three days, and I was all for this Satan being god thing. Even after growing up with God and reading the Bible, nothing was there to keep me from believing this lie."
At this point in the email, Reed drifts into statements about his devotion to God.
After the incident, several lawmakers denounced Reed's actions as a religious or political statement. Rep. Mike Ritze, R-Broken Arrow, called it "an act of violence." Ritze donated the monument over the objections of the American Civil Liberties Union.
Reed's family insisted this was his illness, nothing more.
"I am a born-again Christian who speaks in tongues, and I Love God, Jesus and the Holy Spirit. I love going to church, and I love reading the Bible. Anyone who knows me knows this is true. I want to share with lost people that God's love is real," Reed wrote.
After watching a movie about the fictional Dracula, Reed states he was convinced to follow Satan.
"The voice kept having me do things to show my obedience starting with my hair being shaved to next tearing up my guitar my father gave me," he wrote.
Reed blamed his missing keys on a theft by an angel and ended up walking to a river to throw in his wallet, phone and shoes. Once getting to his mother's home, he destroyed all her electronics.
His sister was able to calm him. But after she left, he headed to Oklahoma City after withdrawing all his money from a bank. He was convinced he was the reincarnation of British occult leader Aleister Crowley.
Reed states how to ran into the monument, set the cash on fire before running away and drawing a symbol on his forehead to reach Satan's priestess called Gwyneth Paltrow. As he walked around the grounds, he saw a dinner occurring in a Capitol room and a person waved him away.
"I thought it was the church of Satan awaiting me so I made a gesture of (Crowley's) to identify myself," he wrote. "I left and kept thinking I would be taking (sic) up in a UFO and given a new body."
After being arrested and detained by federal officials after making threats to the president and vice president, he settled down, he states.
"When they left me by myself, a voice I knew wasn't evil spoke to me, and all it said was 'Satan is a Liar.' As soon as I heard it, the delusions left, and I set there crying and shocked that this went this far and I was powerless to stop it," he wrote.
While in treatment, his doctors found a combination of medications he can afford. His family developed a support system and know more about what to expect and do when a crisis develops.
Reed states he has "visions" or "daydreams" about God showing him a future preaching.
"I am now able to attend church on a regular basis — to a wonderful church with wonderful people," he states. "I know one thing that this might have been meant for my bad, but God says he can make it turn out for my good. I'm thankful for my family and friends and all those who worked on my case."
Ginnie Graham 918-581-8376
Be the first to know
Get local news delivered to your inbox!