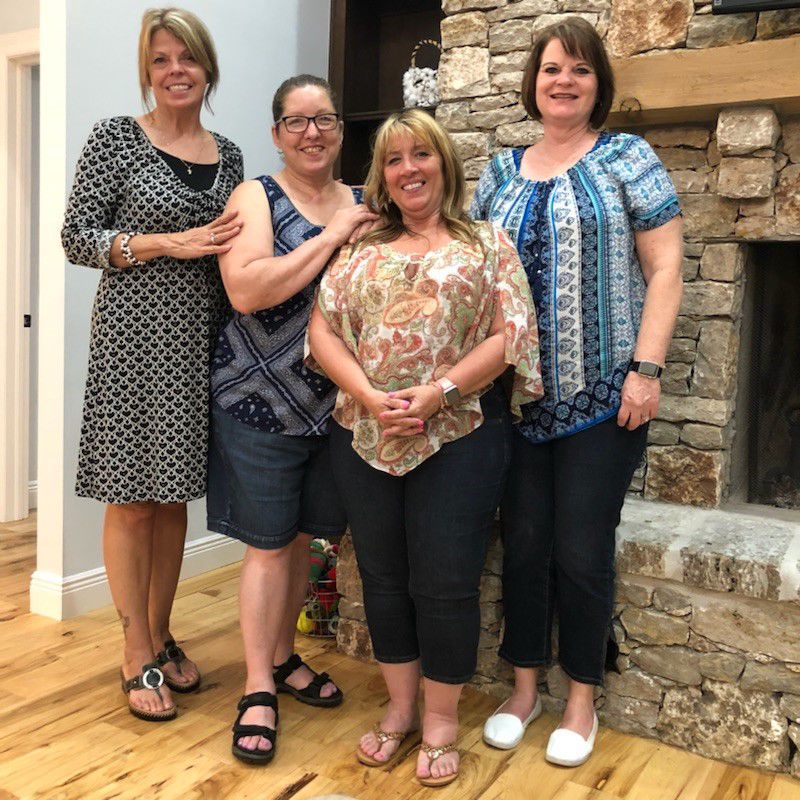 When Lisa Wooters told people a couple of years ago she was interested in volunteering with a ministry for women coming out of prison, it was met with skepticism.
"I'm not going to lie, my own family said, 'Oh, really? Are you sure you should do that?'" Wooters said. "They were hesitant about whether to be supportive."
The resistance came with the expected concerns: Are the women really wanting to change? Is it safe? Will this take all my time? Do I have anything to offer? Are special skills needed to make a difference?
That is not an unusual reaction, making it an ongoing struggle for prison assistance programs to recruit volunteers.
Oklahoma's lock 'em up approach has crippled the state financially and in social costs to families. Oklahomans want more mental health treatment and alternatives before prison is considered.
The state has been No. 1 in the female incarceration rate for decades, and the Prison Policy Initiative puts Okahoma as the overall leader in putting our residents behind bars.
Recent systemic changes include passage of State Question 780, which reclassified some drug and property offenses as misdemeanors. Lawmakers have gotten the message more needs to be done.
But front-line programs working directly with prisoners are constantly looking for volunteers. They are still fighting the same stereotypes that prisoners face.
Several nonprofits are working on the front-end of incarceration to keep people from prison through alternative court programs, such as Women in Recovery and the 1st Step Male Diversion Program.
Wooters never considered this type of volunteerism until a former inmate provided a testimonial at her church about the Stand in the Gap Ministries program Women in Transition.
"This woman was reunited with her mother, daughter and grandchildren, and I thought about how there were four generations all affected by her incarceration and Stand in the Gap," Wooters said. "They were so clear that all it really takes is your time. Just about three hours a month. I thought I could do that."
Her Christian faith played a role because of its teachings to minister to prisoners and others in need.
After attending training and meeting with another former inmate who graduated from the program, she was placed with Connie Golden, who now gives public testimonials about the experience.
"I got into this ministry thinking I was going to build her faith. Well, it's the opposite. She so built upon my faith on a daily basis," Wooters said. "We have built each other's faith."
Stand in Gap Ministries has offered the Women in Transition program for more than 20 years. While in prison, women can attend one of its workshops, which is the first step in qualifying for post-release mentoring.
The ministry works with about 10 transitional housing centers across the state to determine which women are ready for the small group program. Eligible women are assigned a "spiritual family" of about four volunteers.
The group meets twice a month for about a year. Each session lasts about 1½ hours.
This group approach gives clients varying perspectives and takes the pressure off volunteers to be the sole mentor.
"I wouldn't have done it one-on-one. I would have been too scared," Wooters said.
"I love what Stand in the Gap does. I love that it doesn't require anything more of me than being a friend to someone.
"Everybody needs a friend, someone who really, truly cares. Many of these women aren't used to that. They are not used to unconditional friendship."
For women completing the entire program, the recidivism rate is less than 10 percent. Last year, Stand in the Gap reunited 85 children with their mothers, who were once in prison.
Executive Director Francois Cardinal said the demands for the program are rising. The goal this year is to serve 75 women, which will take about 300 volunteers.
Currently, it has about 175 volunteers from 50 different churches. Just three years ago, about 25 women were being served a year. Last year, it increased to 62 women.
"We are bridge welcoming them back into the community," Cardinal said. "We will walk beside them because we want them to be successful. We are telling them we are willing to invest in them and want them to feel a connection."
The program is not one-size-fits-all. There is not a checklist of things to do. Volunteers are given a set of guidelines and advice, but most of it is just talking.
Sometimes, a woman may not know how to get utilities established. Other times, they may need tips and encouragement on parenting.
"We are not fixing them. God does the heavy lifting," Cardinal said. "What we bring is ourselves.
"No special skills are required. It's a thoughtful journey. It takes relationship development equity and thought."
Cardinal said recruiting is done through social media, quarterly luncheons, church presentations and word-of-mouth.
"The need is always going to be for volunteers," Cardinal said. "This is so much about the road less traveled ...
"But we have an established program operating for more than 20 years that works and is safe and effective."
Having relationships with others not living chaotic lives are a step out of returning to their old ways.
"They really want to be normal but just don't know how," Wooters said. "Showing them a normal family — and things we take for granted as a normal life — is what they want but don't know how to get there.
"They don't want that old life anymore but need help."
If Oklahomans are serious about criminal justice reform, then these types of programs need to be ramped up to meet demand.
That doesn't just mean money, it means volunteer time from people who look past stereotypes and fears.
"Giving a few hours a month to someone in need like a woman in transition from prison is the hugest gift you could give. It's huge," Wooters said. "It's better than donating millions to a nonprofit. There is nothing better than giving someone time and unconditional love."
Ginnie Graham 918-581-8376
Twitter: @GinnieGraham