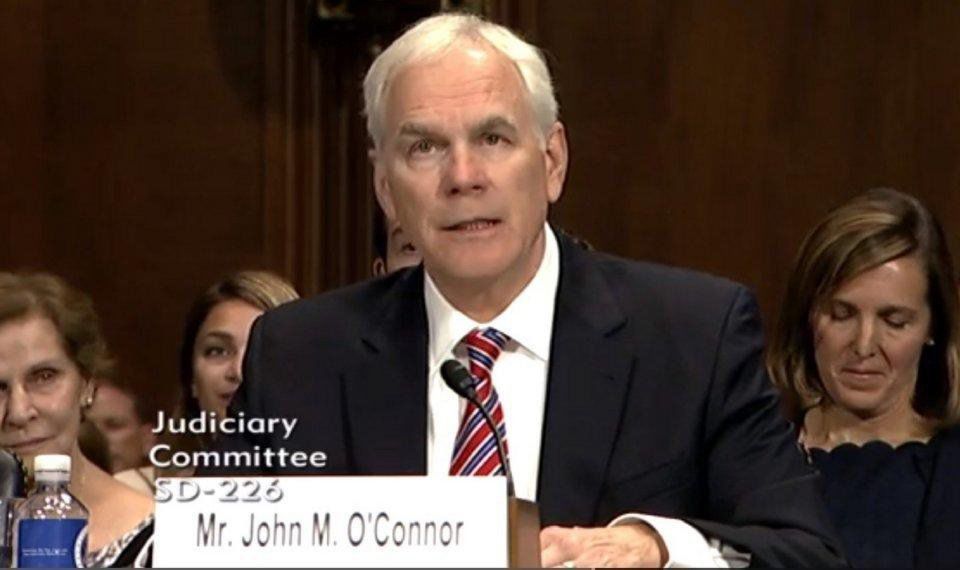 Tulsa attorney John O'Connor, whose nomination to be a federal judge was postponed by a Senate committee Friday, was twice investigated by the Oklahoma Bar Association, was sued for allegedly engaging in shady billing practices and was found to be unanimously unqualified by 15 attorneys on a national committee.
Emails and letters between the American Bar Association and Senate Judiciary Committee show the ABA twice reviewed O'Connor's history and talked with more than 50 people who know O'Connor before taking the unusual step of rating him unanimously unqualified for the federal judgeship President Donald Trump nominated him to earlier this year.
Those documents paint the picture of an attorney with a lengthy but undistinguished career and very limited experience in jury trials, federal court proceedings or criminal law. They suggest O'Connor was hired by Oklahoma Insurance Commissioner John Doak, for whom he had hosted political fundraisers, despite a lack of experience with insurance law. Perhaps most damaging, they indicate O'Connor's actions are ethically dubious, such as charging clients unusually high fees and, in one case, allegedly scheming to increase his own profits.
O'Connor adamantly denies that the picture painted by the ABA is an accurate portrayal of him and his career. He maintains that his legal work is excellent and follows all rules of professional conduct.