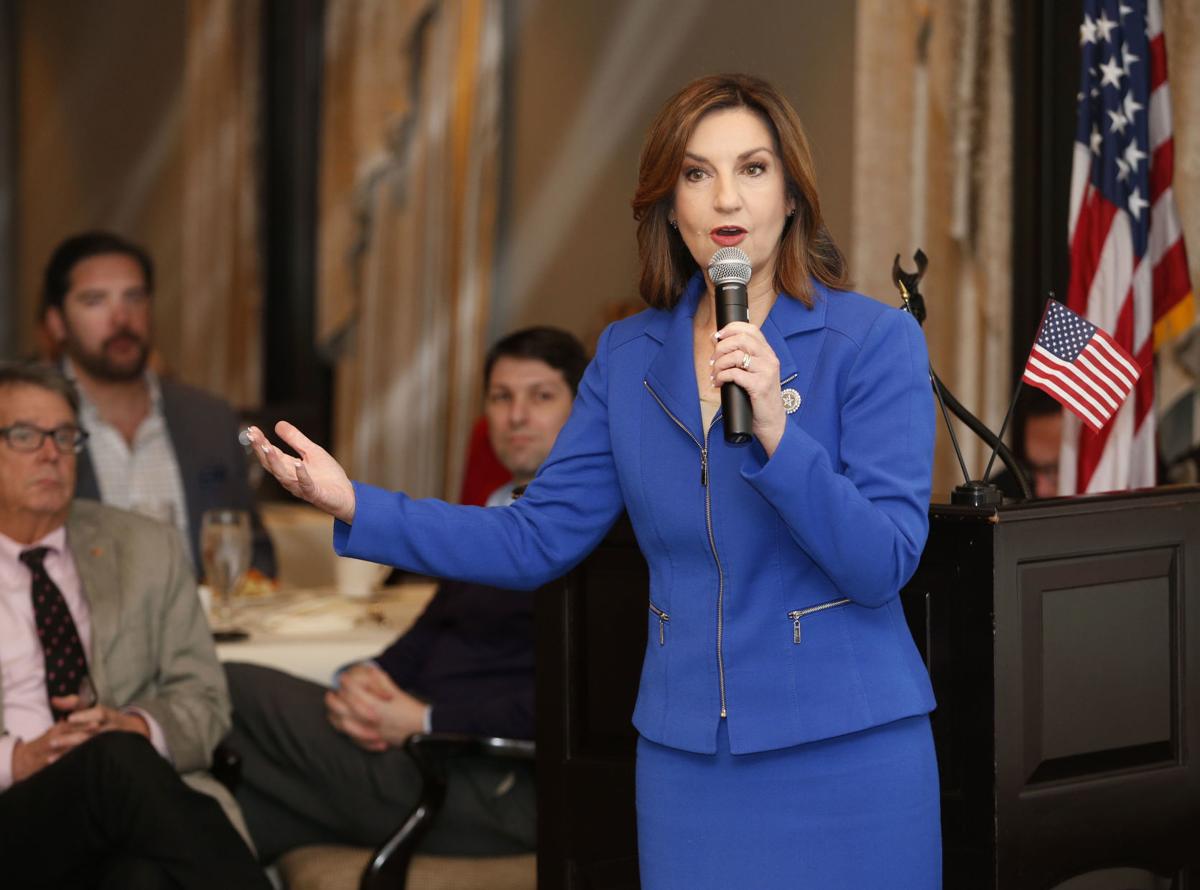 State Superintendent Joy Hofmeister fielded questions Friday about accountability, implementing new reforms and a statewide virtual charter school that is under investigation by state and federal law enforcement.
Hofmeister, a Tulsa Republican, won re-election to a second term in November's general election. She came to the Tulsa Republican Club's monthly meeting to speak about Oklahoma's new school report card system, which was unveiled to the public in late February.
"Our governor, Kevin Stitt, has set a vision for us to be a top 10 state. And I believe we can do that. We have that as our mission right now — as a state who embraces education for all kids," Hofmeister said. "My conversation with you is really about a plea to say let's be impatient with quality. We need high-quality teachers, … but we also must embrace where we are right here today."
Hofmeister's administration spent two years developing a new school report card that de-emphasizes the single-letter grade but still meets requirements under state and federal laws.
The new system features grades for multiple school performance indicators and highlights student achievement gaps and chronic absenteeism, which she said was "very different" from previous grade cards.
"We need to look at what happens with students when they're in that school for a year. All students should be growing — they all deserve to have the opportunity to grow and be challenged," Hofmeister said. "Chronic absenteeism is another indicator ... this is all about why is a child chronically absent? In the past, it was simple attendance rates. What this reveals is who is chronically absent, meaning they're missing more than 10 percent of the school year."
She explained that in addition to addressing the deficiencies of past school rating systems, the new system takes into account the replacement of the federal No Child Left Behind Act with the Every Student Succeeds Act, or ESSA — a change that made adopting the new school accountability system inevitable.
And Hofmeister said Oklahoma's new public education framework has received higher marks in national reviews and comparisons.
She said the state's newly adopted academic standards for math and English/language arts moved the state up from a 47th place ranking in 2015 to 17th in 2017 by Education Next.
And she said a new study by the University Council for Educational Administration at the University of Virginia just deemed Oklahoma's plan for compliance with the federal ESSA among the top nine in the nation.
When it came time for questions, a woman inquired about new reform efforts or accountability measures in exchange for the state's recent increase in funding.
Hofmeister said she had been outspoken in her support for Senate Bill 441, which would force more school districts to return to five-day school weeks by allowing only those with high-enough academic outcomes and proof of cost-savings to continue four-day weeks.
The measure passed the Oklahoma State Senate on Thursday and moves next to the House of Representatives for possible consideration.
"Those schools are contributing to loss of momentum for students," Hofmeister said of those with four-day weeks. "That's a reform — there are some who don't like that."
A man asked for Hofmeister's take on Epic Charter Schools, the operator of the state's largest virtual charter school, as well as two centers in Tulsa and Oklahoma City that blend online and in-person learning.
In late February, the Tulsa World was the first to report that the Oklahoma State Bureau of Investigation is once again investigating Epic. Public records obtained by the World indicate that allegations that some Epic Charter Schools students are dually enrolled in private schools appear to be at least one line of inquiry by federal investigators from the U.S. Department of Education's Office of the Inspector General.
"What must occur, in my opinion, is greater transparency," Hofmeister said. "Those are public dollars, and we must know how all of that is coded. In traditional public schools, every single penny is coded and submitted into our system. There is not that level of transparency as it currently exists. I believe that will change this legislative session."
Earlier this week, House Bill 1395 sailed through the Oklahoma House with bipartisan support in a 95-0 vote. It moves next to the Senate.
The measure would require virtual charter schools that contract with education management companies for the operation of the schools to report financial transactions expended on behalf of the schools, including salaries of superintendents, administrators, board members, managers and owners. It would also add conflict of interest restrictions on employees and annual training requirements for charter schools' governing board members, just like at traditional public schools.
Andrea Eger
918-581-8470
Twitter: @AndreaEger