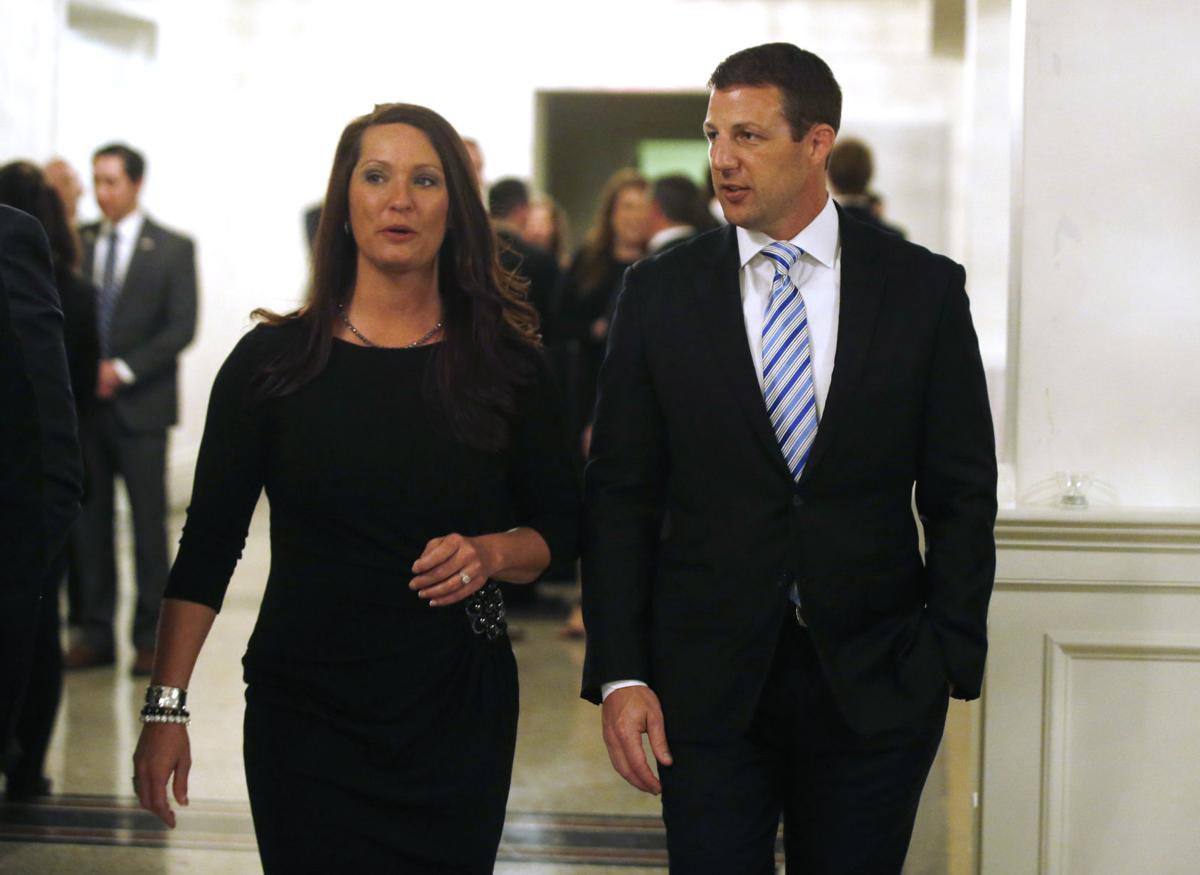 Second District Congressman Markwayne Mullin will seek a fourth term, saying he has come to believe that his 2012 campaign promise to serve only six years in Congress was ill-advised.
"The last thing we want is to make people think we're going back on our word. That made this difficult," Mullin said Monday night. "At the time, we were sincere. But where we're at today is a different situation."
Mullin and his wife, Christie Mullin, publicly announced his decision in an 11-minute video released on social media Tuesday morning.
"We understand that people are going to be upset," Mullin says in the video. "We get that. We understand that. I'm not hiding from that. Because we did say we're going to serve six years."
The Mullins say they made their decision based largely on Mullin's belief that he can "make a difference."
"Our process was, 'Can we make a difference?'" Mullin says in the video. "I don't want to just be up there occupying a seat. I've seen such a turnaround with this new administration, with President Trump, that when we came to a conclusion, the answer was yes — yes, we can make a difference.
"It's important for Oklahoma to have people in a position to make a difference. The only way we can do that is to have people in key places."
Mullin is deputy Republican whip and belongs to the far-reaching House Energy and Commerce Committee. He serves on three Energy and Commerce subcommittees — Energy and Power, Health Care, and Digital Commerce and Consumer Protection.
He also has a reputation as a Republican who can work with Democrats and even counts a Kennedy — Massachusetts Rep. Joseph Kennedy III, grandson of the late Robert F. Kennedy — among his close congressional associates.
"I didn't have any idea what politics was like," Mullin said Monday night. "I was surprised at how difficult it is to get something done. In the private world, if I have an idea, I just do it."
Mullin won a crowded 2012 Republican primary and defeated Democrat Rob Wallace and independent Michael Fulks in the general election to take the seat previously held by Democrat Dan Boren.
Mullin has said he entered the race primarily because of frustration with federal regulatory agencies, and in recent weeks he has said he believes that the administration is listening to his and other lawmakers' concerns and is acting accordingly after years of ignoring them.
Trump "kind of gets people riled up, and I'd handle things differently, but I kind of understand his frustration," Mullin said.
The Mullins said one reason for the original three-term pledge was concerns about the stress on their family and their Broken Arrow-based plumbing business. Those concerns, they said, have been alleviated.
Mullin said he frequently has at least one of his five children with him when he is in Washington, and he said all of them encouraged him to seek a fourth term.
"I talked to my 13-year-old (Jim) last night," Mullin said. "I told him if he didn't want us to do this, we wouldn't. He said he wanted us to."
Mullin was re-elected without much opposition in 2014 and 2016 but could encounter some resistance this time because of his three-term pledge and because of some furor over town hall meetings this spring. He was recorded on video telling constituents in Jay that taxpayers didn't pay his salary, and he canceled a town hall in Tahlequah over a disagreement with the Cherokee Nation Marshal Service over security.
Randy Krehbiel
918-581-8365
Twitter: @rkrehbiel