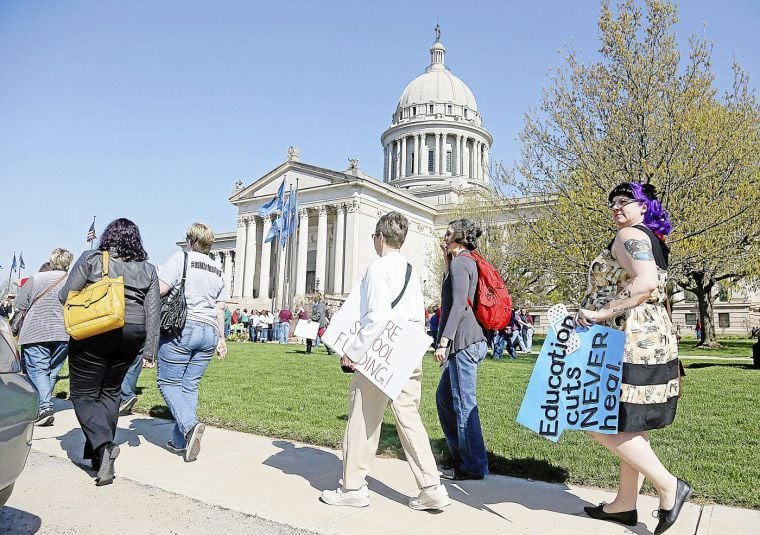 ---
An earlier version of the list of candidates with this story had incorrect information for John Croisant. He is from House District 67.
At least 30 public school educators, spouses of public school educators, local school board members and other supporters with school ties from across the state are planning to file en masse for legislative races on Wednesday afternoon.
They include Oklahoma's Teacher of the Year and national Teacher of the Year finalist Shawn Sheehan, Blanchard Public Schools' superintendent and two Tulsa Public Schools teachers.
"Imagine the teacher caucus in the Legislature — we've been needing that for years," said John Waldron, a longtime teacher at Tulsa's Booker T. Washington High School running for state Senate. "We were looked at as people who maybe showed up for a rally once a year but wouldn't do much else. Now we're doing something else. We are going to turn these districts into classrooms and teach the good people of Oklahoma that something's got to change."
Sheehan, a Norman High School teacher who is currently in the running with only three other teachers for National Teacher of the Year, said he decided to run only after being asked to do so two weeks ago.
"That's not something that's ever been on my radar," said Sheehan, a registered independent running for Senate District 15. "The tipping point for me was being involved with the standards-writing process as a math teacher. It was very frustrating to me that just a handful of individuals could derail the work of thousands of educators in our state with push-back in the days before the Legislature was going to act on them. Three of those individuals were from out of the state. I was just like, 'This is not acceptable.' "
Sheehan said he was "anxious to get back to teaching" but he feels a responsibility to take a stand against the status quo at the state Capitol.
"I can't just go right back to my classroom knowing what I know now and having had the conversations that I've had over the last year," he said. "There's too much work to do. It's heavy on my heart that I won't be teaching next spring if I'm elected. But what's worse is kids in Moore, Cordell, Glenpool, Tulsa need help, and what's going on is not OK."
Brian Jackson, who works at nonprofit education program Junior Achievement Tulsa, is also a Sand Springs city councilor and husband to a Sand Springs Public Schools teacher.
He said he felt compelled to run for state office after he witnessed an interaction between a lawmaker and a school teacher constituent last year that troubled him deeply.
"The senator was talking to a teacher from Sand Springs, and the senator stopped her mid-conversation and said, 'No, no. I don't want to hear anything more. I've heard this rhetoric from your superintendent,' " Jackson said. "I was blown away, and that really started the embers, the flames to know that I would one day be a candidate for (Senate) District 37. That is not the way you talk to a professional educator, besides a constituent."
Blanchard Superintendent Jim Beckham is a 36-year veteran of public schools, including many years as a teacher and coach at Duncan High School. He said he had never even contemplated running for state office before this year.
"I'm a Republican, and they have completely embarrassed me at the Capitol — the people in charge in my party. We have hundreds of state agencies that spend money hand-over-fist, and at the same time we eliminate almost every revenue source we have. What did they think would happen?" he said. "I got tired of complaining about it from my superintendent's chair, so I figured I need to put my money where my mouth is."
Beckham is running in House District 42, and even though he's not a professional politician, he thinks he's qualified because school leaders have no choice but to balance their budgets year in and year out.
"Even lay people know we were in trouble when oil was $100 a barrel, and now that it's dropped through the floor it's put our economy in shambles," he said. "That's why I'm running — at least I can add, subtract, multiply and divide."
John Croisant, a 10-year teacher at Tulsa's Edison Preparatory Middle School, said it was only in the past week that he decided to run in House District 67.
He taught previously for four years in New Orleans in public and private schools before returning to his hometown of Tulsa with his young family. He teaches pre-Advanced Placement geography; he serves as girls soccer head coach over middle school, JV and varsity teams; plus he works mornings as breakfast coordinator.
"I moved back to Tulsa from New Orleans with my wife because we wanted a good, free education for our son," Croisant said. "We couldn't afford private schools, and that's what you had to do there if you wanted a good education for your children. That's where we're going now in Oklahoma."
Croisant said he's not buying the excuse that Oklahoma's state budget is solely in crisis because of oil and gas industry challenges, and he can't imagine schools being stretched any more thin than they already are.
"Texas has $40-a-barrel oil, too, but they pay teachers $15,000 more. We've got to fix our budget," he said. "It's already about the haves and have-nots. I'm so lucky at Edison that our soccer parents can support our kids. We play Central, and their kids are wearing four different kinds of jerseys, some 15 years old. That's what it comes down to."
The other Tulsa teacher running — Waldron, a Booker T. Washington social studies teacher since 1999 — has been honored as Tulsa Teacher of the Year and winner of the Oklahoma Foundation for Excellence's prestigious Medal for Excellence award in secondary school education.
He was one of the first educators to announce his candidacy and says since then, he's knocked on 3,000 doors in Senate District 39. The office is currently held by Brian Crain, a term-limited Republican.
Waldron said he's found that Tulsans are highly informed about the toll that state funding levels are exacting on classrooms and support services and extra-curricular activities for students.
"This is not a political question any more, it's a social question. It's about how we live our lives and kids' abilities to go to decent schools," he said. "Teachers know a lot of people; they've affected a lot of people's lives. They're in touch with students, former students and lots of parents. Young people are experiencing the effects of these cuts more than anyone else."
Then he added: "When we begin to use those networks to change the politics of this state, we become a force, a movement. That's what we've finally been driven to."