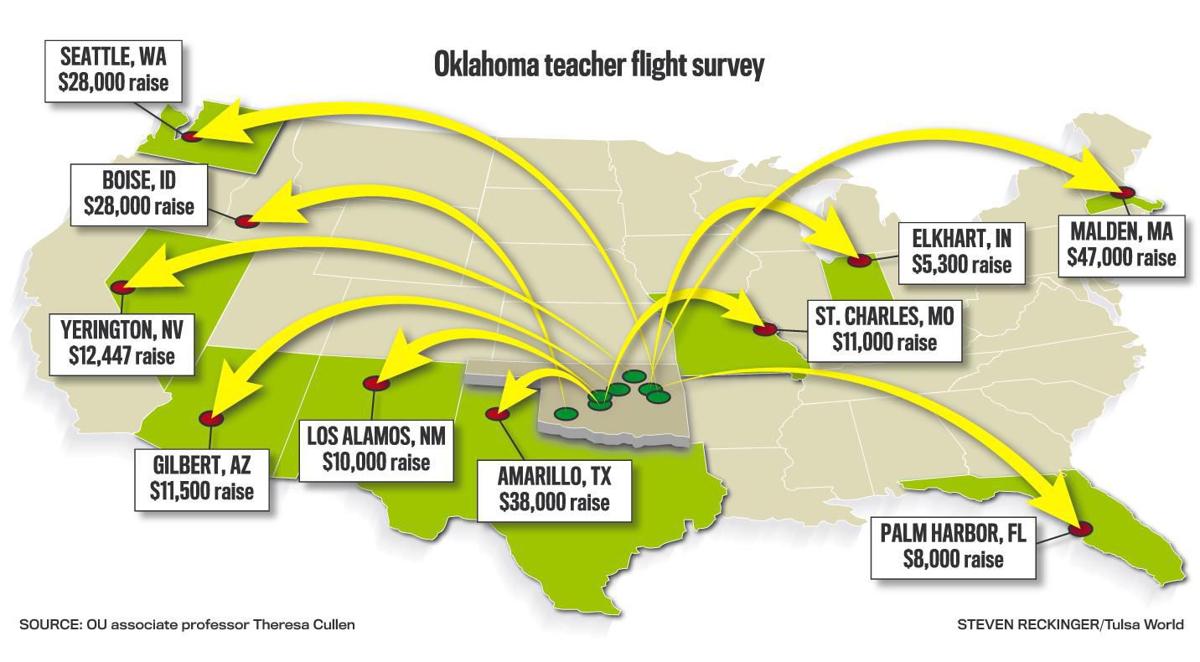 Hundreds of teachers who have left Oklahoma told a University of Oklahoma researcher the economic and personal reasons why they did. Responses boiled down to higher pay — $19,000 more on average— a lack of respect and feelings of hopelessness.
More than 250 former Oklahoma teachers responded to the online survey, which asked why they left and how much the pay difference was. All told, the respondents are collectively making $4.5 million more in their new state than they did in Oklahoma.
The survey, conducted by associate professor Theresa Cullen in the OU College of Education, crystallized for her the oft-publicized problem the state faces.
"I feel as though we're losing out on some really productive members of society that could be part of our communities. People who would be good neighbors," said Cullen. "People who would enhance the Oklahoma environment because they're teachers. ... There's a certain work ethic about being a teacher. There's a reason that you become a teacher, and it's a commitment to your
Cullen is still working to understand the information her survey gathered. It's not quite scientific, she admits.
It was largely conducted through social media, and she found respondents on active education Facebook pages — people who are already engaged in education issues. Taken alone, it is just a snapshot of the state's teacher shortage, not a comprehensive view of the entire problem.
However, the reasons given for leaving the state in Cullen's survey — hopelessness and a lack of respect — match what individual teachers have told Tulsa World about their decision to leave.
"Yes, I'm getting a raise of almost $20,000 — and that's a big help to my family, especially with two kids about to be in college. But it's not just salary," LeAnna Snyder, a former Tulsa Public Schools teacher who moved to Texas, told the World last year. "It's retirement, it's class size, it's supplies. It's about kindness and respect."
Government data provides another snapshot of the state's teacher flight.
Lynn Gray, an economist with the Oklahoma Employment Security Commission, shared employment statistics with the World that showed in the first quarter of 2016 — the latest data available — 440 people employed in the sector of the economy that houses K-12 and higher education left the state for a job in a neighboring state. The data does not specify which job those people held in Oklahoma.
"The report does not specify what industry they worked for in the new state — only that they left a job in (Education Services) in Oklahoma and went to the listed state," Gray said in an email.
Of those, 131, by far the most, went across the Red River to Texas. In Cullen's survey, about 133 teachers who left Oklahoma went to Texas, and 52 more went to another neighboring state. There's long been a pipeline of Oklahoma-educated teachers heading south once they graduate college, but about half of those leaving are among the state's highest educated.
About 48 percent that filled out the survey have a master's degree, said Cullen, which would make them among the most educated, and potentially highest earning, Oklahoma teachers.
"They're really highly trained. That's what's leaving, and we're replacing them with people who are emergency certified and have no training in education," said Cullen.
In the first four months of this fiscal year, the state board has approved 44 percent more emergency teaching certifications than in the entirety of the previous year.
The total for the 2017-18 academic year is now 1,674, compared to 1,160 in 2016-17.
Samuel Hardiman 918-581-8466
Twitter: @samhardiman