---
If Texas is like a whole other country, as the state's tourism slogan goes, then Oklahoma is its chief teacher exporter.
The latest Tulsa teacher to pack up her classroom and head 270 miles south is LeAnna Snyder, former fifth-grade teacher at Carnegie Elementary School.
"Leaving Carnegie is one of the hardest decisions I've ever made. My stomach was in knots for months," Snyder said, as her eyes welled with tears. "I feel like I'm letting the children down — and my district — but I've stayed here as long as I can."
Snyder's departure for a Dallas suburb wasn't just personally devastating. It even caught the notice of Tulsa's top public school educator, Superintendent Deborah Gist.
"Teachers do what they do because they are dedicated, passionate professionals. Once you have joined a school family, you come to know your colleagues well and your students and their families well. It's not an easy thing to pick up and leave those people," Gist said. "Teachers are making these heart-wrenching decisions only because we, as a state, have put them in that position.
"We need everyone in Oklahoma to react and to come together to solve this critical problem."
Every time Gist has pressed the issue of Oklahoma's worsening teacher shortage this summer, she has mentioned the loss of a highly respected, mid-career teacher because that teacher didn't just decide to pick up and leave her colleagues and students.
She decided to split up her family and move alone to Texas so she could quickly sock away more money for her kids' college educations.
The name and face behind Gist's anecdote is 46-year-old Snyder.
'It's not just salary'
Snyder and her husband met as kids in the sixth grade at the First Baptist Church in Norman and married right after she graduated from Oklahoma Baptist University. Her teaching career began in 1992 and followed her husband's ministry work in Kentucky, Tennessee, Missouri and Kansas before they returned home to Oklahoma eight years ago to be near their aging parents.
"When we moved here, we intended to stay here. And when I started at Carnegie, I told my husband, 'I want to stay here forever,'" Snyder said.
At Carnegie, located on East 56th Street midway between Harvard and Yale avenues, Snyder said she enjoyed a collegial work environment and a level of student and parent support second to none, including private schools. And she's grateful to TPS for instructional advancements and new professional challenges and opportunities, such as curriculum writing, that she credits with growing her skills.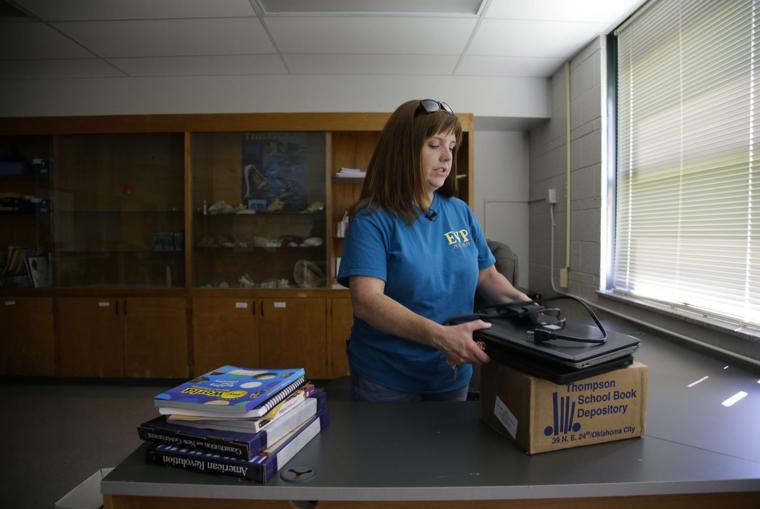 LeAnna Snyder, former teacher at Carnegie Elementary, brings supplies back to her old classroom at Carnegie just days before she left for Grand Prairie, Texas and her new teaching job at Colin Powell Elementary, in Tulsa, Friday, August 5, 2016. JESSIE WARDARSKI/Tulsa World
"If you needed something, all you had to do was ask. If you even mentioned not feeling well, there would be a card on your desk the next day," Snyder said. "Carnegie topped my education career, and TPS gave me a lot of experiences I never had. I'm a different teacher than I was eight years ago."
So why is Snyder now the newest second-grade teacher at Colin Powell Elementary School in Grand Prairie, Texas?
A host of compensation and school funding issues that gnawed and gnawed at her until she just couldn't take it anymore.
"Yes, I'm getting a raise of almost $20,000 — and that's a big help to my family, especially with two kids about to be in college. But it's not just salary," said Snyder. "It's retirement, it's class size, it's supplies. It's about kindness and respect. When you walk into that building in Texas, it's clean, it's not old, it's sharp-looking. It felt safe."
Snyder has always taken on extra duty assignments to increase her earnings from Tulsa Public Schools, and she worked extra jobs during the summers. She's taken on private tutoring clients and retail jobs, and also been paid to mentor new recruits who come to Tulsa each summer from across the country for Teach for America's Summer Institute training.
Even so, she counted herself fortunate among her colleagues at TPS because she wasn't one of the single working parents holding down second and third jobs year-round to support their families.
"The 17th, 18th or 19th of the month, teachers are sitting there eating what's left in the house — because they only have $10 or $20 in their checking account," Snyder said. "The public thinks we're making this up, but it's the truth."
Despite teaching for more than two decades, Snyder ended 2015-16 making $38,020 because of Oklahoma's salary and retirement limitations of five years' credit for out-of-state experience. On Monday, her first day at Grand Prairie Independent School District in suburban Dallas, she started making $57,670 — an increase of nearly 52 percent.
"When I started at TPS, instead of being paid at year 17, I'm paid at step five," Snyder said. "A lot of my friends I graduated with are looking at six, eight, 10 years before they retire. Me, I was looking at a minimum of 16 years because I left the state. I know that sounds very petty of me, but school nurses are given all their years' credit. And in TPS, they're bringing in (district) leaders from out of state and they're getting adequate compensation to come here.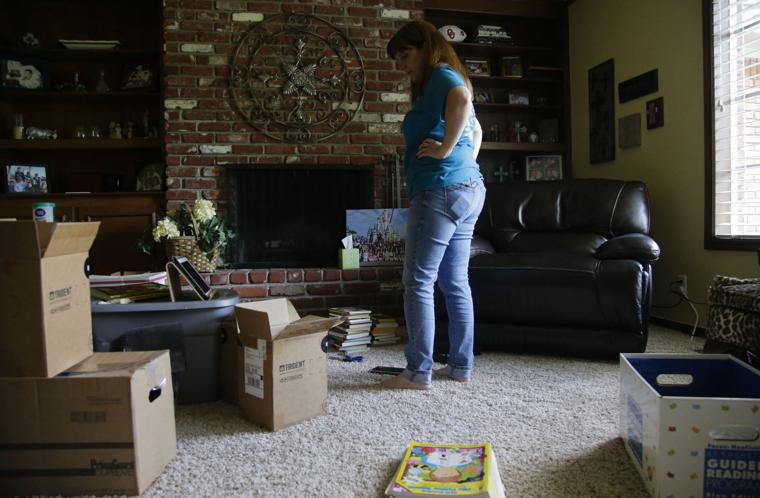 LeAnna Snyder, former teacher at Carnegie Elementary, stares at the boxes of kids books on her living room floor Aug. 5. JESSIE WARDARSKI/Tulsa World
Out-of-state issues
Snyder is among hundreds of teachers who have been leaving Oklahoma for Texas every year, said Lauren Callahan, a spokeswoman for the Texas Education Agency. Callahan said her agency's certification department found that Oklahoma tops its list for most out-of-state teaching certificates reviewed from September 2010 through August 2015.
Robyn Miller, Oklahoma's deputy state superintendent for educator effectiveness and policy research, said the Legislature just agreed to remove barriers to out-of-state teachers having their teaching certificates recognized here, but more work remains.
"We've asked ourselves, 'Do we even have many people coming to Oklahoma?' The only data we have found is that there were 170 in 2014-15 that were attempting to apply for certification in our state," Miller said. "We've moved some things forward, but issues like this certainly impact morale."
The five-year limit on credit for out-of-state teaching experience was set in statute in 1955 and is "generous by national standards," said Tom Spencer, executive director of the Oklahoma Teachers Retirement System.
After a little checking with Texas, he was surprised to learn the Lone Star State goes up to 15 years, by contrast.
"It's kind of baked into the cake that a pension plan is less portable than a 401(k). There are a lot of pension systems around the country that are trying to make them a little more portable," Spencer said. "We're going to be working with the (Oklahoma) State Department of Education to see what, if anything, we can do. We're certainly willing to talk about things that are either no-cost or low-cost."
He added, "Certainly, retirement is not irrelevant, but the fact is, the state of Texas is paying teachers a lot more than we're paying in Oklahoma and more pay increases their potential for retirement savings."
'I feel bad that I'm leaving ... but I have to'
Snyder leveled with Superintendent Gist about her decision to leave for Texas when she first met her in late spring. She was touched when Gist wished her well.
"She told me she did not want me to leave, but she said she understood," Snyder said.
Gist said the same scenario has played out numerous times since she took the helm at Tulsa Public Schools in July 2015 after decades of working in public education in a number of other states.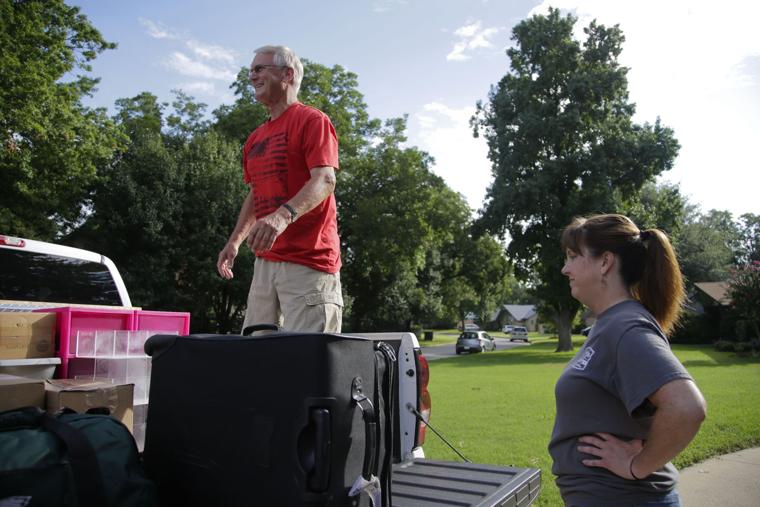 LeAnna Snyder and her father, Lee Murray, pack the bed of his truck with school supplies and personal belongings the morning of her move to Grand Prairie, Texas, on August 7. JESSIE WARDARSKI/Tulsa World
"It's particularly difficult for me to watch happen because I did the same thing 30 years ago. I graduated from the University of Oklahoma and was aggressively recruited and offered significantly more to teach in Texas," Gist said.
Today, Gist oversees the second-largest school district in the state, which is struggling to keep pace with a staggering amount of teacher turnover from year to year amid a deepening shortage of applicants.
While the overall number of positions to be filled from last summer to this summer fell from 499 to 322 because of budget reductions, TPS saw a dramatic downturn in its number of teacher applicants.
Since January, TPS received 811 applications, compared to 1,152 during the same eight-month period of 2015, a reduction of 30 percent. Officials in many suburban districts have reported similar decreases in their applicant pools.
"Right now we are all just trying to staff our classrooms," Gist said. "We have recruited from suburban districts and elsewhere in the state, plus colleges and universities, career-changers and teachers from out of state."
Gist said she was struck by Snyder's personal sacrifice for her family — and the great irony of her story, which is the family's decision to have their daughter finish out her education at Tulsa's Edison Preparatory School because of the quality and rigor of her experience in that Oklahoma public school.
"The only reason we're splitting our family up is Edison," Snyder explained. "That school is fabulous. The teachers my daughter has are phenomenal, and she's in the AP Capstone program there, and I'm not pulling her out of that. Both of my kids have gotten a fabulous education in Tulsa, and the quality has gotten better and better over the years."
Making up her mind to leave Tulsa was a tearful, gut-wrenching process that dragged on for months because of her concern for her students and colleagues at Carnegie Elementary, not her family.
"My marriage is strong, and our family supports are strong, so we'll be OK. We had been discussing this as a family for two years. I was stuck with not making any advancement with my retirement and salary," Snyder said. "I feel bad that I'm leaving the students, the parents and the teachers at Carnegie. But I have to."
After reporting for duty at 8 a.m. Monday in Grand Prairie, Snyder was upbeat about her new school family — and she learned she wasn't the only fresh face who had been hired away from Tulsa Public Schools.
Colin Powell Elementary School's new kindergarten teacher is Stephanie Suender, formerly of Tulsa's Robertson Elementary School.