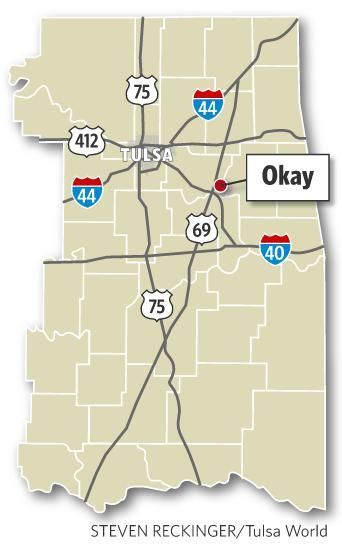 OKAY — A rural school district in Wagoner County has taken up arms in an effort to deter school violence.
Okay Public Schools erected four signs on campus this week, warning visitors bent on breaking the law that they might want to think otherwise.
"Having a sign in your front yard saying 'this is a gun-free zone' just tells the idiots, "Come on in," because we can't defend ourselves," Superintendent Charles McMahan said Wednesday in a telephone interview.
"(Okay's) sign might be enough to send somebody down the road looking for some other soft target. If that's what it does, it's helping our school district out."
The signs, reading "Please be aware that certain staff members at Okay Public Schools can be legally armed and may use whatever force is necessary to protect our students," are a follow-up to a school gun policy approved by the school board in August, McMahan said.
The policy states that administrators who meet criteria set out by the state and school board may bring to campus a gun concealed on their person or kept in a locked box, the superintendent said.
Okay established its policy after Oklahoma House Bill 2014 was signed into law in May. That legislation created the Special Reserve School Resource Officer Act, allowing certain people to carry handguns on public school property.
"Being a small, rural school, we've always been trying to figure out what's best for our kids security-wise," McMahan said.
He said the requirements in Okay's policy exceed those of the state, which require anyone who carries a handgun on school property to have a concealed-carry license and be certified by the Council on Law Enforcement Education and Training.
Okay is about 48 miles southeast of Tulsa. The school district has a kindergarten-through-12th-grade enrollment of about 420 students.
McMahan, who declined to say whether he carried or had access to a gun on campus, estimated that fewer than 5 percent of district employees are armed.
"We're trying to do everything possible for the safety of our kids," he said. "We've tried to think out every detail.
"I'm not saying we have. If we see something else that needs to be adjusted, we'll go through and rewrite the policy and have the board approve it."
Rhett Morgan 918-581-8395