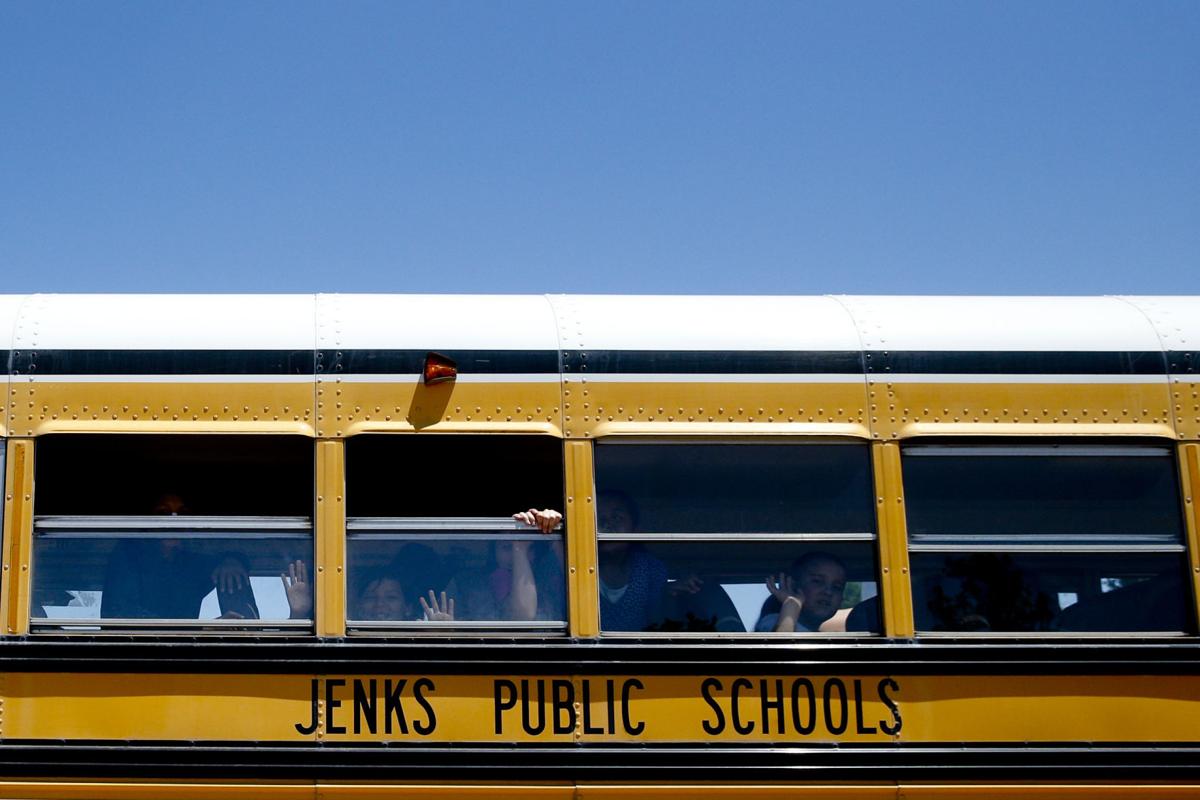 A contracted sex-education speaker whose comments drew backlash from students this week won't be asked to return to Jenks Public Schools, a district spokesman said Thursday.
One Jenks High School senior posted on Facebook demanding an explanation for the presentation from Shelly Donahue, who was contracted to speak in an assembly with the school's entire senior class.
In the post, which has been shared more than 800 times, Brooklyn Wilson called the speaker's comments "demeaning" to girls and "belittling" to broken families.
She wrote that the presentation included the direct quote, "Do you know why girls are so desperate and always text guys first? Two words: Daddy. left."
"How dare our school allow a statement so demeaning to girls and so belittling of broken families to be presented to a class of such impressionable and already insecure seniors," Wilson wrote. "'Daddy' leaving is a life changing and heartbreaking situation, but to stereotype and undermine girls by calling them 'desperate' for having the confidence to text a guy first is SO OUT OF LINE."
The intent of the assembly was to fulfill a state requirement to share information with students about HIV and AIDS, said Rob Loeber, a spokesman for the school district.
It was Jenks' first time to contract with Donahue, and the agreement was that she would give an educational presentation about AIDS, Loeber said.
High school administrators spoke to Donahue about the content of her presentation before the assembly, Loeber said, but, "unfortunately, some of the content and the tone of the presentation did not meet the expectations of JHS administrators."
In another Facebook post, Wilson shared a photo of a slide from the presentation that reads, "Sexually speaking: men are like microwaves; women are like crock pots."
She added in that post that the presentation was run by a Christian organization, which she called an inappropriate and "ignorant violation" of students' varying beliefs.
Loeber said that although Donahue's website indicates that she presents a Christian-based program, "there is also mention of a specific secular program which can be implemented for use at public schools."
"She gave assurances to our administrators that her presentation would be secular, not religious. Regrettably, she did not adhere to those standards," Loeber said. "Some of her comments strayed outside the realm of sex education or AIDS education. Those statements certainly would not be echoed or endorsed by Jenks Public Schools. Because of those misrepresentations, Ms. Donahue will not be asked to return."
Wilson wrote on Facebook that the sex education presentation was, "as usual," based around the idea of abstinence, which she called an "unrealistic and ineffective approach to teaching safe sex."
Loeber said Oklahoma statutes dictate that any school that provides sex education must ensure that one of its primary purposes shall be to educate students on the practice of abstinence.
The assembly was for high school seniors only, and students in other grades at Jenks receive various kinds of sex education, Loeber said.
Those include "developmental films" for fourth graders; AIDS education for fifth, eighth and 12th graders, as required by law; and additional sex education provided by Jenks employees for seventh, eighth and 11th graders, Loeber said.
After attending Jenks Public Schools since kindergarten, Wilson wrote that she was "genuinely so upset and let down by a school I gave my trust and faith to" and if she were a parent, she would be furious about sending her child "to school and this is the way they are treated, with shame, guilt, and embarrassment being used as a way to try and prevent sex."
"It is heartbreaking the hate I was shown today by the adults who are supposed to be our leaders and protectors, and I cannot let it go unnoticed," she concluded.
Wilson met with an assistant high school principal afterward to share her concerns, and it was a "productive conversation," Loeber said.
Other students also expressed concerns about the presentation and have been "encouraged to share their thoughts" with high school administrators, he said, adding that there were also "many students who had a positive response to the presentation."
"The reaction was certainly not one-sided," he said.
A phone call to the number listed on Donahue's sex education website was not returned Thursday afternoon.