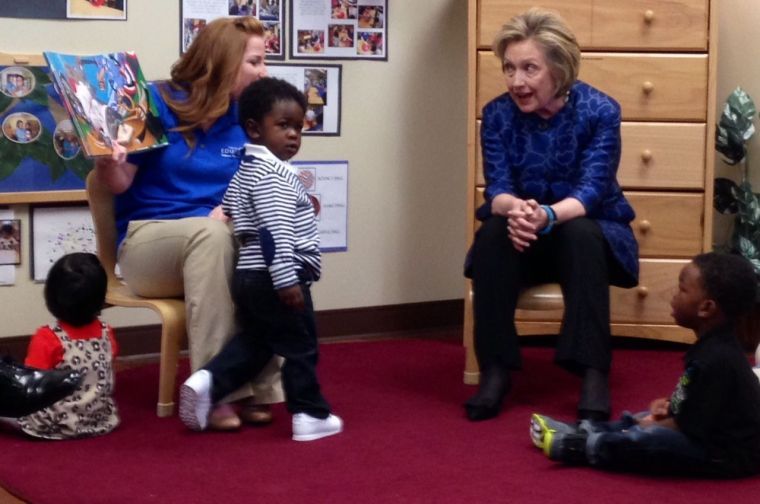 ---
Former Secretary of State Hillary Clinton was in Tulsa on Monday to help launch an initiative to improve children's readiness for school and discuss with local leaders the success the city has had in early childhood education.
"Talking is Teaching" is a new effort to empower parents and caregivers to boost young children's brain development and build their vocabularies by increasing the number of words they hear spoken to them every day.
Children will usually know 500 words by the age of 4.
The goal of the initiative is to increase that to 1,100 words by talking to them.
The campaign will use things such as place mats, grocery carts and other visual means to encourage parents and remind them of the importance of talking to their children.
"When you talk to that little infant from the moment you meet him or her, when you read, when you sing, you are building brain capacity. You are creating the opportunity for that child to live up to his or her God-given potential," Clinton said.
"We know that truly parents and grandparents are a child's first teachers and that talking is teaching and that's what this campaign is all about."
Clinton and billionaire philanthropist George Kaiser spent time with a group of children at the Educare No. 2 site, reading and singing along to "Take Me Out to the Ball Game."
Clinton later thanked Kaiser and the George Kaiser Family Foundation for their commitment to early childhood education and for creating a model for the rest of the country.
"He knows it is never too early to invest in the next generation," Clinton said.
"You can't ever give up on any child, and the earlier you start the less likely it will be that you are even facing that difficult situation."
She also praised Tulsa's Educare centers and CAP Tulsa's early childhood education programs.
"They demonstrate ... that their vocabulary is improving because of their access to early childhood education," Clinton said. "We want to go beyond because not every child can be in an Educare and not every child can be in a high-quality preschool program. We have to use many more outlets."
Clinton added that Tulsa has a well-deserved reputation for what it has done to promote and implement early childhood education.
"We know, those of us who care about early childhood education, that Tulsa has made more investments, thought more comprehensively and has people in all sectors of society already on the path toward trying to give every child the best possible start in life," she said.
"Talking is Teaching" is a partnership between the George Kaiser Family Foundation, CAP Tulsa, Tulsa Educare and Too Small to Fail — a joint initiative of Next Generation and the Bill, Hillary and Chelsea Clinton Foundation.
"We believe deeply and have invested significantly in the proposition that very early engagement in the lives of young children is the best path to ensure that all of our children have the best shot at achieving the American dream," said Ken Levit, executive director of the George Kaiser Family Foundation.
Clinton met with Levit, Kaiser and other community leaders to discuss the initiative and the impact it can have in Tulsa and beyond.
"High-quality, early childhood education includes the role of mom and dad and the role they can play by simply talking to their kids, pointing things out as they're walking through the store, often and every day," said Phil Lakin, CEO of the Tulsa Community Foundation and a city councilor.
"Kids are babies, babies are kids and the importance of that communication is what we talked about today."
The religious, medical and retail communities were joined in the discussion by spiritual leaders and government officials with a focus on what Tulsa is doing well as a community when it comes to early childhood education.
"Tulsa does a lot of good things, but one of our greatest things that we have delivered to the nation is our commitment to very early and early childhood education," Lakin said.