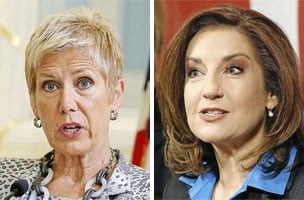 State Superintendent Janet Barresi's campaign has requested all communications records between Jenks Public Schools employees and Republican challenger Joy Hofmeister dating back to 2007, a move Hofmeister said is just another "public intimidation tactic."
Barresi's campaign manager, Sam Stone, made the Open Records request by letter on Jan. 28 and asked that they be available for inspection by Feb. 10 or Feb. 17.
"It's part of doing our research on Joy. We're trying to flesh out her positions on the issues," he said.
The records request is part of typical campaign research to find out where Hofmeister stands on issues, not an attempt to dig up dirt on the only Republican challenger for the state's top education post, Stone said.
"If the point of this is to get an idea of how she feels on certain issues, it seems to me the better use of the taxpayers' money and everybody's time would be to ask her directly," said Bonnie Rogers, chief information officer for Jenks Public Schools.
Hofmeister owns a local franchise of Kumon after-school math and reading programs and is a former public schoolteacher.
The request also asked for copies of any contracts between Hofmeister and/or Kumon and the district. Rogers said there are none.
"It is certainly not a surprise to learn that Janet Barresi is scrambling to dig up dirt on me or anyone else who asks questions or dares to hold her accountable for her failed leadership," Hofmeister said. "This is her style. It is nothing more than an attempt to bully and intimidate."
All four of Hofmeister's children have attended Jenks Public Schools since kindergarten. Only one child, a son, remains in Jenks Public Schools. He is a senior.
She also has been a member of the board of the Jenks Public Schools Foundation.
As both a parent and board member, Hofmeister has had extensive communication with Jenks school employees, Rogers said.
Any communication between Hofmeister and a teacher regarding a child — — including Kumon students —— is exempt from the request because it is a student record, Rogers said. But they must be accounted for in a privilege log.
"The amount of information is so large, it is taking a lot of time," she said.
Rogers has worked since receiving the request compiling thousands of emails and correspondence between Hofmeister and any Jenks school employee and she has still only made it to 2011. The district's email archive only goes back to October 2009.
So far, she has pulled up 3,661 emails and used four reams of paper to copy them.
Hofmeister also was a member of the state Board of Education early in Barresi's term, where she often questioned and sometimes criticized the way Barresi and her administration were handling things.
She resigned from the board last year as she considered campaigning for the post.
"I don't know what they're looking for," Rogers said. "So far, what they will find is that Joy has been an active parent, an active board member of the foundation and involved in her business."
---