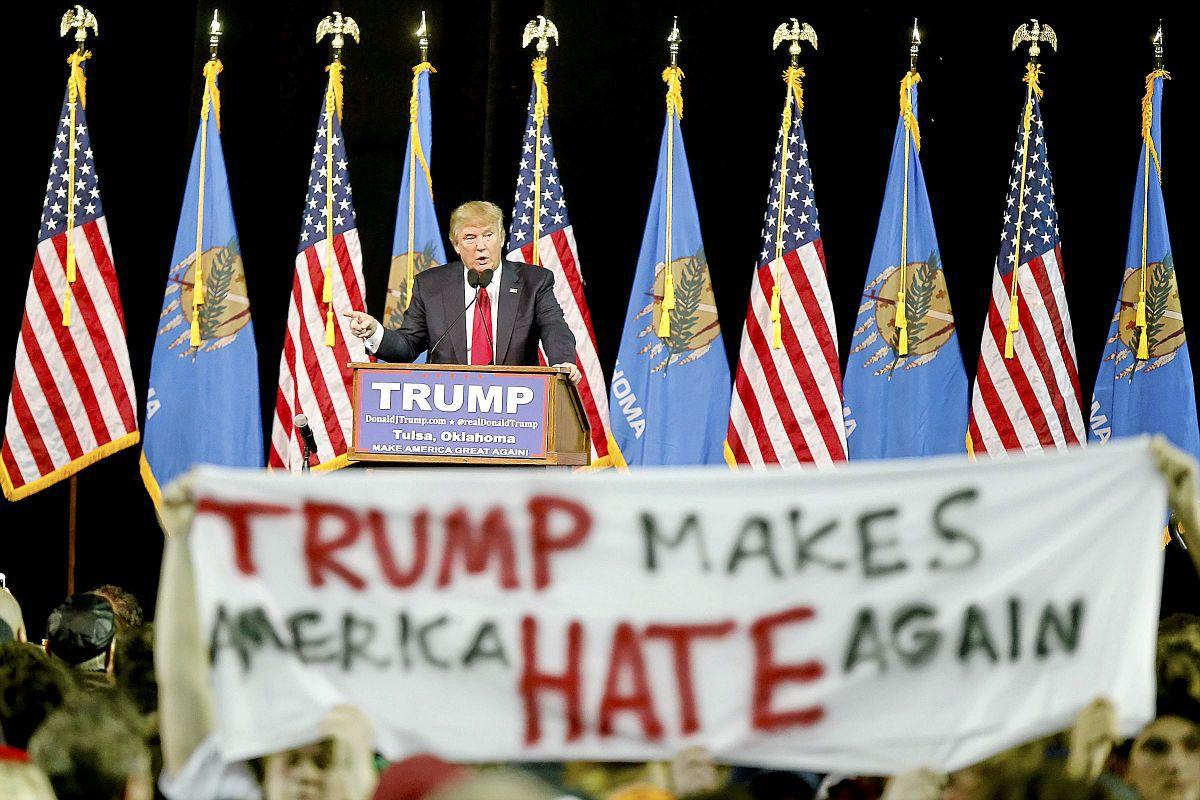 ---
With their protest sign — a sheet carrying the words "Trump Makes America Hate Again" — tucked away deep in one of their shoes, a group of high school students nervously made their way into the center pit at the Mabee Center for Donald Trump's rally on Wednesday.
More than a dozen students from Booker T. Washington, Edison and Bishop Kelley high schools were among the protestors who showed up at the rally.
Noah Miracle, a Booker T. junior, said the group went because they think it is important to stand up for what they believe in.
"We've really had the idea of freedom of speech drilled into our heads in school since a young age, so this was really an opportunity to apply these things to the real world," he said.
"It was important to remind Trump and his supporters that while different political ideologies are completely acceptable, hateful and divisive rhetoric is not."
Miracle said Trump is "openly corrosive to civic life and American values."
Kieran King-Sellars, a Booker T. sophomore, was one of two students who came up with the idea to protest.
King-Sellars said he was upset when he heard Trump was coming to town because he considers Trump a racist.
"Our only course of action was to protest," said King-Sellars, whose sister, an activist in Virginia, was also kicked out of a Trump rally for protesting.
King-Sellars' parents told him he was not allowed to miss school and go protest at the rally, but he decided to do it anyway.
"I didn't feel like two weeks of being grounded and losing my car was worth not going with my group of supporters to go against someone or something that I believed in," he said.
King-Sellars said his parents are not Trump supporters and that they aren't grounding him for protesting. Rather, the punishment is for disobeying them after they told him not to go.
King-Sellars and a fellow protestor were also wearing shirts that said "We are all immigrants."
King-Sellars said he thinks the protest went well and that the group accomplished its goal — having its message seen by both Trump and the cameras before being kicked out.
"We didn't get beat up, so that was great," he said.
The banner was ripped out of the students' hands eventually, and Trump supporters then stomped on it, Miracle said.
When they were on their way out, Miracle said, a man pointed at one member of the group and said, "You can go to prison with Hillary," a reference to Hillary Clinton. Many Trump supporters were wearing "Hillary for Prison 2016" on Wednesday.
The group of students who protested together knew each other from school and through mutual friends. Though they didn't all personally know each of the other members of the group, Miracle said it didn't matter.
"We all had one goal in mind, and that was to stand up for what we believe in and stand up to the awful sentiment the Trump campaign has been spreading," he said.