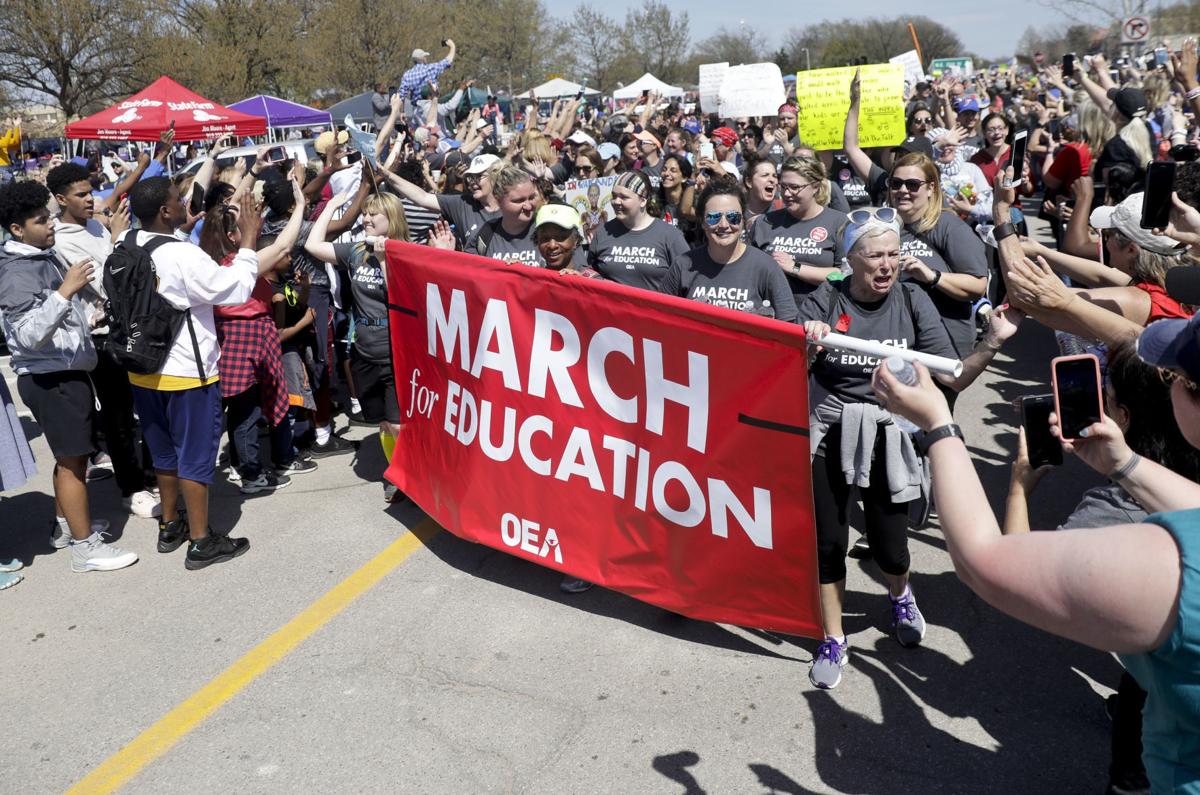 A batch of bills making their way through the Legislature would outlaw forms of free speech, put protestors in Oklahoma prisons and legalize vehicular homicide.
These proposals are framed as protections but actually attack the First Amendment. This is being embraced in the heat of a nationally tumultuous political moment but have long-term consequences for all Americans, right- and left-leaning.
Community activists speaking out against the bills call them dangerous and anti-freedom. We agree.
The bills come from Republican lawmakers who aren't happy with how protests have been handled in the past year. Rather than engage in more free speech, they want to bring out a muzzle.
A number of laws already exist for when protests turn violent or when free speech morphs into harassment or libel.
More than 300 people have been charged in the Jan. 6 attack on the U.S. Capitol. In the weeks after the killing of George Floyd in Minneapolis, more than 10,000 people were arrested in protests across the country.
Those laws are working. But Oklahoma lawmakers want more punitive measures.
House Bill 1674 from Rep. Kevin West, R-Moore and co-authored by Rep. Kevin McDugle, R-Broken Arrow, would grant immunity to drivers who hit protesters. The House passed it 79-18.
It was inspired by the Tulsa Black Lives Matter protest that spilled onto Interstate 244 and led to a confrontation with an armed driver. But would this law have shielded the neo-Nazi who ran over and killed a protestor four years ago in Charlottesville, Virginia?
Similarly, Senate Bill 806 would put protestors in prison for up to 10 years for blocking traffic.
House Bill 1822 sets up a list of prohibited activities during protests at the state Capitol. Some are no-brainers, like no missiles or throwing rocks. But others ban amplification that could "disturb other persons" and assembling "in such a way as to obstruct sidewalks."
Rallies attracting large, chanting crowds will be loud. That's the point. People might even be on a sidewalk or two.
Under these bills, the thousands of teachers who spent two weeks marching at the Capitol in 2018 would become criminals. Many walked from Tulsa, sometimes ending up in the street. They definitely made some noise in Oklahoma City.
Senate Bill 6 targets harassment originating online, a problem for everyone. But this protects only law enforcement and forbids posting any videos, photos or place of employment. Potentially, this could protect officers acting badly or criminally.
We urge lawmakers to have introspection about these proposals and think through the various scenarios. Look beyond this moment or specific, isolated incidents to the bigger picture. Consider the responsibility of protecting the First Amendment, even for those who are irritating or hold opposing views.
---