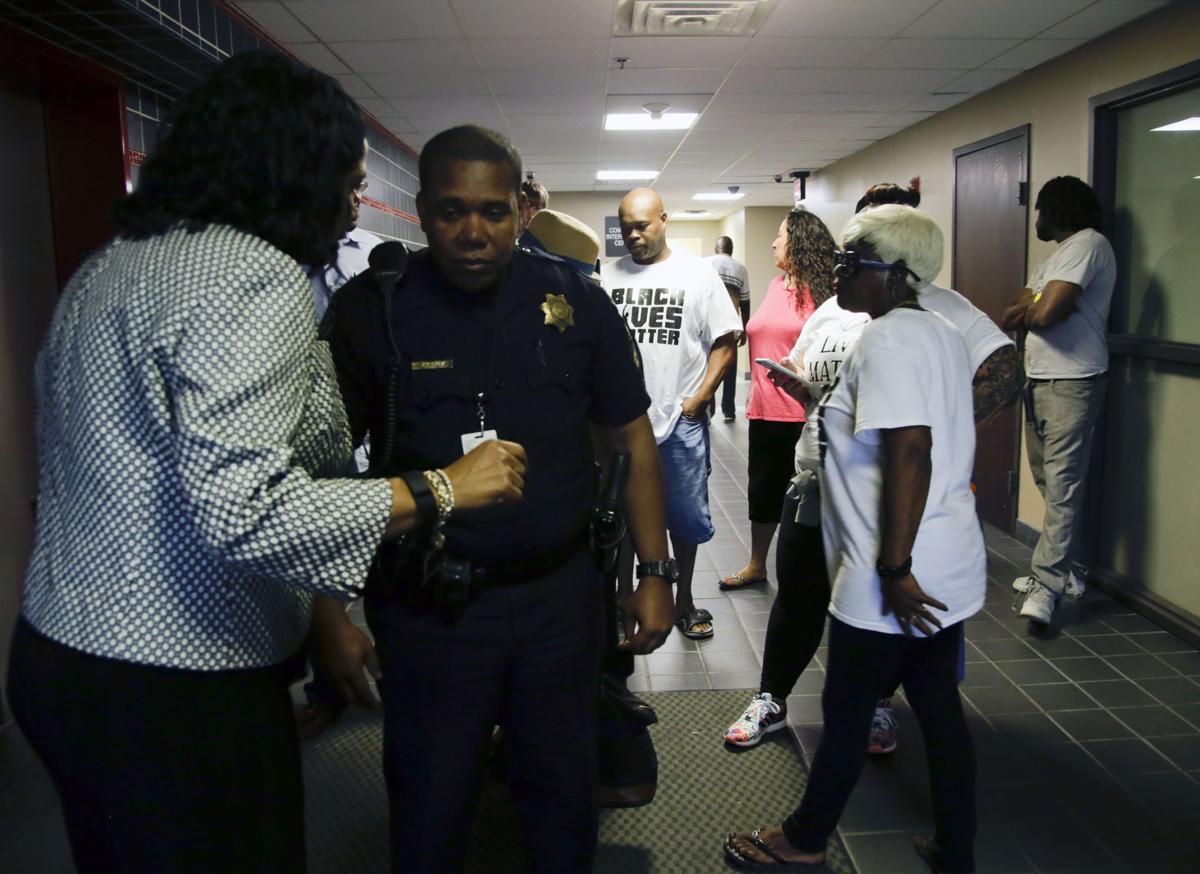 ---
Tulsa police officers are all effectively on-call to respond to emergency situations — such as violent civil unrest — in the wake of the fatal police shooting of unarmed Terence Crutcher.
The department is monitoring social media sites, as well as protests and demonstrations, and will dispatch officers as needed to keep themselves and others safe, spokesman Sgt. Shane Tuell said.
Among other protocol changes since the shooting, Police Chief Chuck Jordan is requiring that officers not respond to calls alone.
For the immediate future, two units will be dispatched to all 911 calls, regardless of whether it's a report of trouble unknown, a 911 hang-up or something more serious, Tuell said.
Officers have also been instructed to be hyper-sensitive of their surroundings when they respond to calls and to not take insults or criticism personally, Tuell said. Any leave requested by officers after the shooting won't be granted for an undetermined amount of time.
"We're asking officers to be — and this sounds like the same old canned answer, but it's true — we're asking them to be a lot more vigilant, because if anyone is going to do anything to an officer, it's going to be a very unassuming call," he said.
In the aftermath of the Sept. 16 shooting, Tuell said the department has received numerous threats, which prompted some of the new precautions, Tuell said.
An outpouring of vulgar and profane comments directed at the Tulsa Police Twitter account caused the department to temporarily disable it. TPD also has been censoring comments on its Facebook page for threats and profanity, Tuell said.
In addition to threats through social media, Tuell said he's aware a street sign for Lewis Avenue in north Tulsa has been vandalized with the words "Dead cops."
Tuell said the sign was concerning, adding: "It is just dumbfounding to me that someone would take the time to go to a public roadway and put something specifically to harm others for the simple fact of what they wear and what they do for a living.
"It is a form of discrimination to discriminate against officers, and it's very sad," he said.
Tulsa County Sheriff's Office deputies also feel the tension between citizens and law enforcement, and many are on edge, spokeswoman Casey Roebuck said.
"I think that sense has been there since the Dallas police shooting, Baton Rouge. That's been there for a while now," Roebuck said. "This just kind of kicks it up a notch on the local level."
The Sheriff's Office has also implemented a two-unit per call protocol and is urging deputies to be vigilant of threats when dispatched to locations.
Detention officers at Tulsa Jail — who don't carry weapons — have been instructed to come to and leave work in plainclothes and change into uniform once they get to work.
This is because, without weapons, they can't defend themselves "if something goes down," she said.
Deputies are also in communication with TPD so they'll be ready to respond if a large-scale demonstration turns violent, Roebuck said.
Tuell added that none of the new measures, as well as police officers' presence at protests, were instated to hamper citizens' right to assemble and protest.
"We have a vested interest to make sure this city remains calm and doesn't spark off like in Carolina. We've been very lucky that the citizens we serve allow for the process to work like it's intended to," Tuell said, noting demonstrations so far have been peaceful.
He said officers are monitoring those protests to make sure they stay peaceful and intervene if they don't, such as if a "radical" interrupts and begins acting violently.
"That's not good for them, it's not good for us," Tuell said.