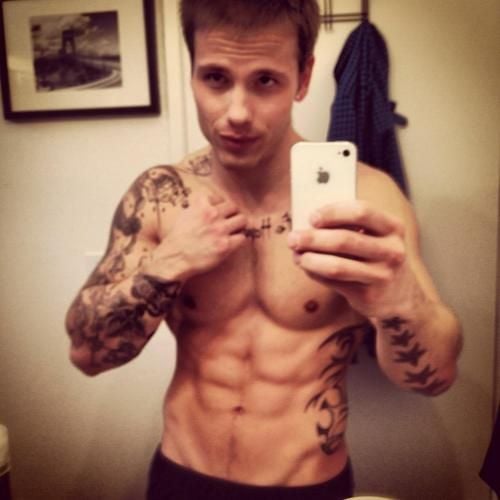 A Tulsa man accused of sexually assaulting as many as 11 women was convicted of first-degree rape by a narcotic or anesthetic agent on Thursday.
The jury deliberated two hours before returning a guilty verdict against Ashley Reed Pullen, 31, and recommending a life sentence.
He cast his eyes down at the defense table before him as the verdict was read. After hearing the decision, he nodded, looked upward and appeared to mouth a prayer.
Pullen declined to undergo a presentencing investigation, which would have required him to return to court at a later date for sentencing. District Judge William Musseman then imposed the jury's recommendation.
Tulsa County prosecutors charged Pullen for acts against a single victim, but court documents detail investigative findings of 10 other possible victims, all of whom met Pullen online, where he used a fake name.
Forensic analysis and expert testimony revealed that Tulsa police recovered three liquor bottles in which evidence of a date rape drug was confirmed and four more in which evidence of the drug was "indicated but not confirmed."
Musseman allowed four of the other women to testify against Pullen during his trial this week, reminding jurors by admonishment before each one that their testimony alone should not be used to convict him and should only be given whatever weight the jury deems appropriate.
All five, including the 24-year-old victim, testified to friending a man named Corey Davis on Facebook. Davis' profile photos were those of a California model. In most of the cases, Davis and the women would converse via Facebook and text message for a few weeks before making plans to meet in person at his residence in the Bradford Apartments, 564 E. 32nd St. North.
He told some of the women that the speaker of his phone was broken so he couldn't take voice calls, according to court documents.
The women would arrive at the apartment, but Davis would text that he wasn't home yet or had left to run an errand and that he would send his roommate — Pullen, who went by Ash — to meet them. Davis, via text message, and Pullen would then repeatedly ask the women to take a shot of liquor with him. After waiting sometimes hours for Davis, the women would relent, according to their testimony, and lose memory of what happened after two shots.
The five witnesses testified to nearly identical incidents they said occurred Jan. 6, 7, 23, 24 and 25, 2013. Two of them told the court that they woke up as they were being raped. The others woke up next to Pullen and noticed strange details such as their clothing being out of place as if they had been redressed or an empty condom wrapper nearby and had physical sensations consistent with sexual activity or intuitive suspicions of having been raped.
The inability of many of the women to recall what happened limited prosecutors' ability to charge Pullen with more than one count but additional charges are still a possibility, said Assistant District Attorney Ben Fu.
One of the possible victims researched a photographer's copyright on Davis' photos and confronted Pullen on the fake page. She said he admitted the ruse to her and said, "Girls liked him better when he was Corey Davis." A former roommate testified that Pullen told her he created fake online dating profiles and said he "wasn't attractive enough" to use his own photos or identity.
The investigation also revealed, and prosecutors moved to introduce, five other possible victims who were not allowed to testify. Two of those arranged to meet men they had become acquainted with online through websites such as Myspace in 2008 and Plentyoffish in April 2013. The other three had planned to meet with Davis in January and February of 2014 and had interacted with him on Facebook.
Pullen was arrested March 6, 2014, and police subsequently served two search warrants on his apartment, seizing liquor bottles — more than a dozen in total — and other containers, such as a nail polish bottle and a children's bubble container, in which date rape drugs are typically stored.
A forensic chemist for the Tulsa Police Department testified to the tests he conducted on the evidence and his finding of gamma hydroxybyturate, also known as GHB or the date rape drug, and gamma butyrolactone, or GBL. He told the court the two compounds convert back and forth from one to the other when in a liquid form.
A sexual assault nurse explained during the trial that the drug is clear, odorless and tasteless; can render someone unconscious or immobile in minutes; and metabolizes through the bloodstream in 12 hours, making it undetectable on a toxicology test after that point.
In closing arguments Thursday, Assistant District Attorney Jenny Proehl-Day compared Pullen to a bear hunter who lays out bait for days or weeks in the anticipation of hunting season. The bears develop a false sense of security as they return for food without being harmed until the day they're killed.
"Ashley Pullen is a baiter, but he's not baiting bears," she told the jury. "He's baiting people. He's baiting women."
He even used his 5-year-old son, who was present in the apartment during some of the alleged assaults, to give them a false sense of security, she argued.
Public defender Chuck Sullivan countered that "just because something is immoral … doesn't make it illegal" and admitted Pullen was a jerk by deceiving the women with fake profile pages.
He contended the evidence didn't prove Pullen raped the women, referring to a Facebook message one of the women sent to Davis regarding her sexual encounter with Pullen in which she said "LOL, I was wondering when you were going to find out."
"Do you 'LOL' get raped?" he asked the jurors.
Sullivan pointed to a negative result for GHB that the police department's tests returned on a vodka bottle of the same brand the victim allegedly consumed. But prosecutors would later point out that it was collected weeks after the alleged assault when Pullen was arrested.
Sullivan said the women's allegations were based on anger after they discovered Corey Davis didn't exist.
Fu then presented the state's closing argument, reminding the jury that constant warnings about the dangers of meeting people online are "because Ashley Pullen might be out there."
He asked the jury to consider recommending a sentence of life without parole for Pullen and for them to "brand him as the rapist he is."
The four-man, eight-woman jury convicted Pullen of first-degree rape by a narcotic or anesthetic agent and an alternative charge of first-degree rape. The guilty verdict on both counts gave prosecutors the choice of which charge to drop, and they elected to dismiss the latter.
Fu told the Tulsa World he was "very pleased" with the jury's decisions.
"What they decided was what Mr. Pullen had done was such a risk to the rest of us that he just could not be amongst us any more," he said.
Proehl-Day added a warning against the dangers of social media, adding she hoped the verdict sends a message to other would-be sexual assailants.
Sullivan had a similar message on the importance of Internet safety. He said he and co-counsel Lindsey Holguin were disappointed with the verdict but they respect the process.
Police records show Pullen, a soldier in the U.S. Army, was convicted in 2002 and 2003 of indecent assault against two female privates while he was stationed in Colorado.
Amanda Bland 918-581-8413