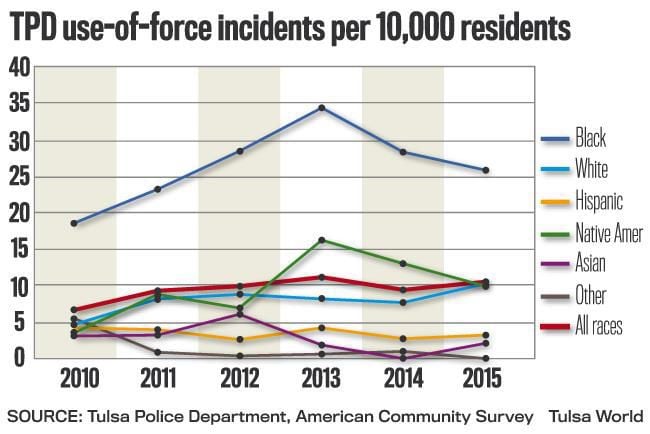 An African-American in Tulsa was about 2½-4 times more likely to have force used against him or her by a Tulsa police officer in the past six years than a Caucasian, according to a Tulsa World analysis.
That figure rises to approximately 3 to 5 times more likely when blacks are compared against all other races combined.
The Tulsa World compiled Tulsa Police Department use-of-force data by race from 2010 through 2015 and paired it with American Community Survey demographic numbers to determine per-capita use of force rates each year in Tulsa.
More broadly, the chasm regarding race and policing in America is illustrated several ways — including use of force — in a new national survey by the Pew Research Center.
Notably, there is a large racial disparity in opinions of whether law enforcement officers in their communities utilize appropriate levels of force on suspects.
The survey shows that three-quarters of whites compared to only a third of blacks believe their local police agencies do an excellent or good job using the correct amount of force in each situation. That same gap splitting whites and blacks also exists in views on whether their local police departments hold officers accountable for misconduct and treat racial or ethnic groups equally.
Pleas Thompson, NAACP Tulsa chapter president, on Friday said law enforcement leaders, elected officials and religious leaders must come together to draft new policies concerning how officers interact with the city's residents.
Referencing the survey's findings, Thompson said most whites haven't experienced the treatment blacks have endured from police over the decades, which now garners more attention as violent encounters increasingly are caught on video.
"They've never had to have a conversation with their kids or brothers about how to react if and when they are stopped by police in order to get out of their situation without either being killed or mistreated," Thompson said.
"Because they haven't been subject to that, of course they would tend to think everything is OK. But everything is not OK."
Tulsa Police Chief Chuck Jordan said his department is evaluating its training and what other training it may be able to provide to address issues such as implicit bias.
"We are open to exploring all avenues of training and policy in order to better police our community," Jordan said.
TPD uses of force
In 2015, Tulsa police officers used force against blacks about 2½ times more than whites, at respective rates of 25.67 and 10.29 per 10,000 residents. All races excluding blacks had a rate of 7.83, meaning African-Americans were subject to force approximately 3¼ times as much as everyone else.
Use-of-force rates involving the city's black population increased each year from 2010 to a peak in 2013, before trending downward in 2014 and 2015.
That high in 2013 saw force used against blacks approximately four times more than whites, with rates of 34.22 and 8.23 per 10,000 residents, respectively. All races except blacks were a rate of 6.99, so force was used against them 5 times more than all others.
The department's overall use-of-force rate, inclusive of all races, bounced around from 2010 through 2015. The peak occurred in 2013 at 11.09 per 10,000 residents, with a secondary high in 2015 of 10.52.
Thompson, as the leader of the local NAACP, said there appears to be a policing philosophy of a war on crime that lends itself toward provoking violent police encounters. Not only that, he added, but many blacks who get swept up in the war on crime don't have the financial wherewithal to help them break free of the criminal justice system's revolving door.
Those issues are why all involved parties must be willing to sit down and alter the philosophy and approaches to law enforcement, Thompson said.
"Until that changes, not only in Tulsa but everywhere, you're going to have things keep popping up like what is happening in Tulsa and in different parts of the country," Thompson said.
Jordan said each Tulsa police officer goes through 10 hours of de-escalation training as part of a 40-hour block that also encompasses related teachings from defensive tactics to mental health. The police chief said de-escalation is a component the department attempts to incorporate into every part of its training.
"What everyone forgets is all the instances each day where officers apply good de-escalation techniques," Jordan said.
A confidence gap in policing
Pew Research Center in its survey also reported blacks and whites differ on the root causes of African-Americans' fatal encounters with police. The survey found that blacks are 25 percentage points more likely than whites to say the deaths of blacks at the hands of police are "signs of a broader societal problem and not merely isolated incidents."
The Pew Research Center, a nonpartisan entity that looks at issues and trends, published its survey Thursday. It was conducted just prior to the Tulsa and Charlotte, North Carolina, police shootings.
Tracey Meares, a member of the President's Task Force on 21st Century Policing, has undertaken research that points to transparency and trust as keys to unlocking a better form of policing in America.
Last week during a media briefing, she contended law enforcement should re-orient itself to focus on public security rather than public safety. Meares, a professor at Yale University's law school, said the U.S. has fallen into "a kind of policing that justifies crime reduction as its own warrant."
"And that's a problem because crime reduction is not self-justifying."
Meares said agencies have settled into "aggressive and proactive policing" practices to heavily enforce "very low-level infractions" because they believe it's a legitimate approach for reducing crime.
"And that is why I think we see so many instances in which folks with broken taillights or people selling loose cigarettes and so on and so forth are in a situation in which some form of aggressive policing could be the result," Meares said.
She laid out four ideas from her research that "seem to matter a lot" in the public placing trust in legal authority and viewing it as legitimate, whether police, prosecutor or judge:
• A member of the public can participate in policymaking or tell their side of the story in a specific encounter.
• A member of the public is treated with dignity and respect.
• A member of the public is able to ascertain when legal decisions are fair, decisions that are carried out transparently, grounded in fact and neutral.
• A member of the public can see benevolence or good intentions, with a key component being an acknowledgement of past mistakes or wrongdoing.
During the same media briefing, Kami Chavis, a professor and director of the Criminal Justice Program at Wake Forest University's law school, discussed constitutional law.
Chavis explained that under current laws it appears that as long as an officer is justified in using deadly force there is no need to resort to a less-than-lethal force option. She said an important question for dialogue is whether less-lethal force should be an option even when deadly force appears to be justified. Should deadly force be the first or only option?
"So it seems to me that some of these problems that we are seeing with communities of color, the legal doctrines that we currently have are not going to solve them," Chavis said. "But we can perhaps think about solving them through departmental policies and other administrative regulations."
De-escalation is a key concept to consider, Chavis said. Why do we see some of the initial contacts with law enforcement that occur? Why are communities of color policed in such different and aggressive manners that wouldn't be tolerated elsewhere?
Chavis said a "very good counterargument" is that some of these communities are "the most ravaged by crime and they need a heavy hand." However, she said, in her research and talking with those communities they "absolutely" seek security but lesser degrees of policing of minor issues.
"They absolutely want the security ... and really want less policing of these low-level infractions which often do lead to encounters with police officers that can turn violent," she said.
Implicit bias is another critical component, which Chavis called a "very complicated issue." She said officers now must perform many different tasks than what was required years ago.
Agencies must be careful to consider not just implicit bias but an applicant's "proclivity to violence" and "ability to connect" with a community and solve problems.
"But really what we're talking about is an entire shift in the paradigm of policing and the culture surrounding it, again, with the aggressiveness with some of these tactics that are used," Chavis said.
Corey Jones
918-581-8359
Twitter: @JonesingToWrite