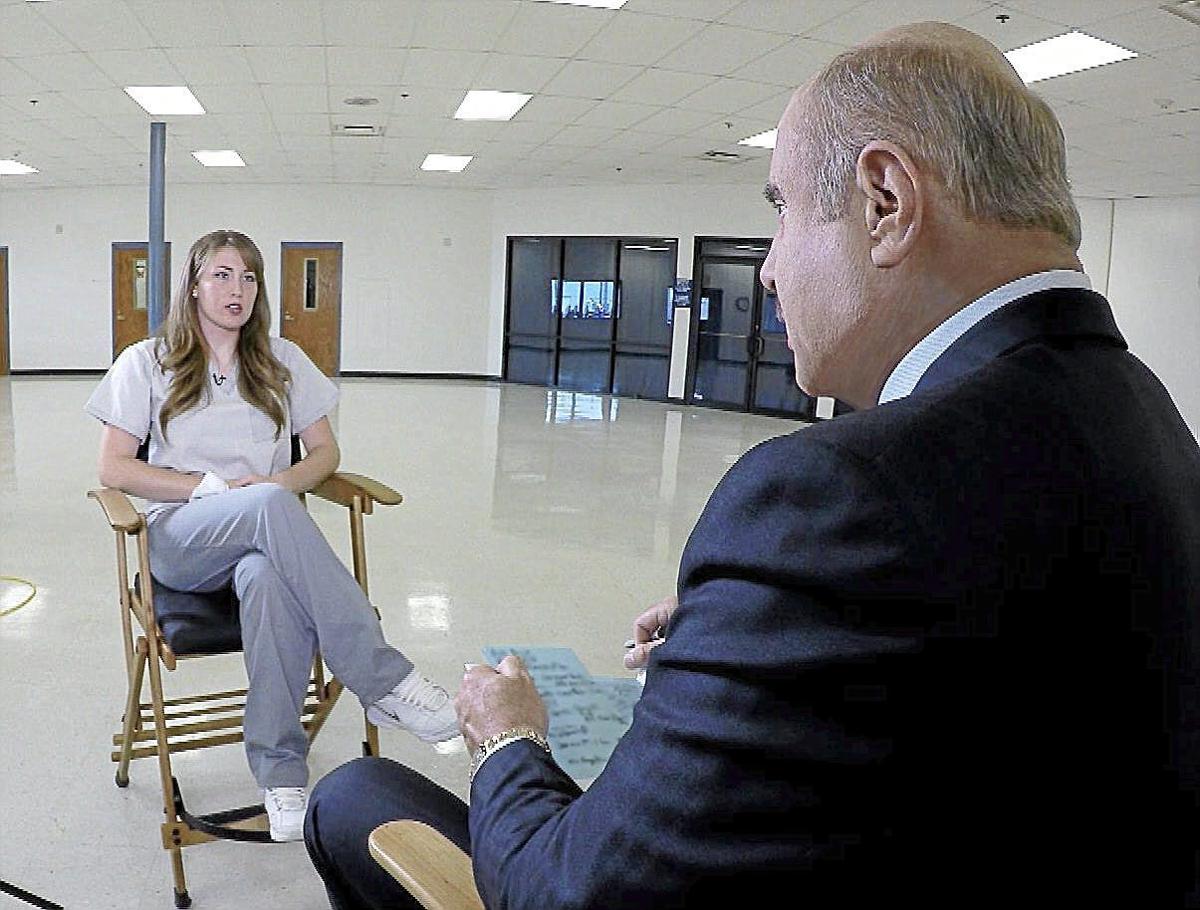 Amber Hilberling screamed that her husband was a coward during an argument with him in 2011, which led to the altercation that ended with his fatal fall from a window at a Tulsa apartment complex, she told the host of "Dr. Phil" during a TV interview that aired Thursday.
"He reached out and grabbed me. And I was pregnant. And he didn't care," Hilberling said. She went on to say that when he did so, "I pushed him off me. The window wasn't supposed to happen."
Phillip "Phil" McGraw traveled in December to Mabel Bassett Correctional Center in McLoud to interview Hilberling, who has spoken to national media outlets multiple times since being convicted of second-degree murder in the death of Josh Hilberling.
---
---
Amber Hilberling, now 24, was seven months pregnant when 23-year-old Josh Hilberling fell 17 stories from the University Club Tower on June 7, 2011.
Recalling their relationship, she told McGraw, "Obviously our priorities were different, and I wasn't going to get him to see that."
The psychologist, in the first few minutes of the interview, told Hilberling that there appeared to be something she had not yet shared about what happened that day.
"I think you're here because your story didn't get told in an effective way," he said.
On Thursday's broadcast, Hilberling discussed information she believes the jury should have heard — centering primarily on allegations of domestic abuse — as well as her attorney's lack of experience in criminal cases.
The following are some highlights of statements she gave during her interview.
On whether she intended to push her husband out the window:
"No, I didn't. The injuries that were shown in the pictures speak for themselves. There was an altercation in which I defended myself."
Hilberling rejected a deal to plead no contest in exchange for a five-year sentence ahead of her trial, in which a jury found her guilty. She was sentenced to 25 years imprisonment with credit for time served and must serve 85 percent, or 21 years and three months, before becoming eligible for parole.
On the statements she made to her grandmother in a police interrogation room before her interview. Prosecutors showed video of those statements at her trial:
"I couldn't believe what had just happened. You expect that things like that are gonna just completely shut you down, like you're going to stop breathing. And then you don't, and you're trying to catch up with reality. And, I mean, there's always going to be a level of guilt because I'm alive and he's not."
In the video, she called herself a "horrible person" and asked what kind of person would push her husband to make him fall out of a window. She told McGraw that she could see how that could be viewed as a confession but maintained "there's so much people don't know" about the couple's volatile relationship.
On her claims she had been subject to abuse during her 11-month marriage and covered it up:
"I was really good at lying. That was our relationship: Josh getting in trouble over and over again and me saying, 'Oh, no, it's not his fault. That's my fault. I did that.' "
McGraw detailed an incident documented in Josh Hiberling's U.S. Air Force file in which authorities reported he threw a plate and attempted to pop one of his wife's breast implants. He was a member of the military but was released due in part to what Amber Hilberling said were drug-related issues.
"He loved to break my phone all the time so I wouldn't have any way of communicating if he wasn't home," she said.
When asked why she didn't report every abusive incident, she said, "I loved Josh very much. I stayed with him for as long as I could. They painted me as a monster. It was breaking my heart just to have him leave. So to intend to kill somebody that you love that much, it couldn't be plausible."
On her defense attorney having no experience with criminal cases:
"I understood when my parents bailed me out initially that he had been a friend of theirs. He was not originally supposed to represent me solely, but ended up taking a personal approach to the case. And he put in his best efforts."
When asked why she put her trust in that attorney, Jasen Corns, she said: "I thought that I could trust Mr. Corns because I saw how interested he was and how hard he seemed to work before all of this. I didn't know how jails worked and courthouses. It was all gibberish to me. I've never been in trouble before."
Corns surrendered his law license last April amid an Oklahoma Bar Association probe into his conduct and cannot apply for reinstatement for five years. He was accused of developing a personal relationship with an elderly client in 2010 that went "far beyond" the professional attorney-client structure and accepting $1 million in gifts and loans from her.
Her parents told McGraw during the show's Wednesday broadcast that they could not fire him as counsel because their daughter was legally an adult.
"My parents tried to get me several times over the course of the two years that we were fighting the case to fire him because they didn't believe that he was competent," Hiberling said. "But I didn't have the heart to do that."
Samantha Vicent 918-581-8321