COVID-19 in Tulsa County is surging well beyond its original April peak, disappointing those who hoped the disease might at least stay somewhat under wraps during the summer heat, like the flu or common cold.
Tulsa County's seven-day rolling average of new cases on Monday more than doubled the peak in April. The county also reported the most new cases on a single day — this amid growing concern about President Donald Trump's campaign rally packing the BOK Center.
Dr. Bruce Dart, executive director of the Tulsa Health Department, said there are "an awful lot" of positive cases now coming out of Tulsa County. He expressed uncertainty about how long or severe the surge might be. He said his concern lies with hastening the spread of the potentially deadly virus at any large-scale gathering, not just an event with political overtones.
"I want people to be safe, and it hurts my heart to think that there's a potential that we're going to have something here where people become exposed to an illness," Dart told the Tulsa World. "We've seen how devastating it's been across the board in this country, and I don't want it to happen to anybody here."
Gov. Kevin Stitt on Monday morning continued to express excitement for Trump's visit and noted that he is exploring other potential venues or moving the gathering outside.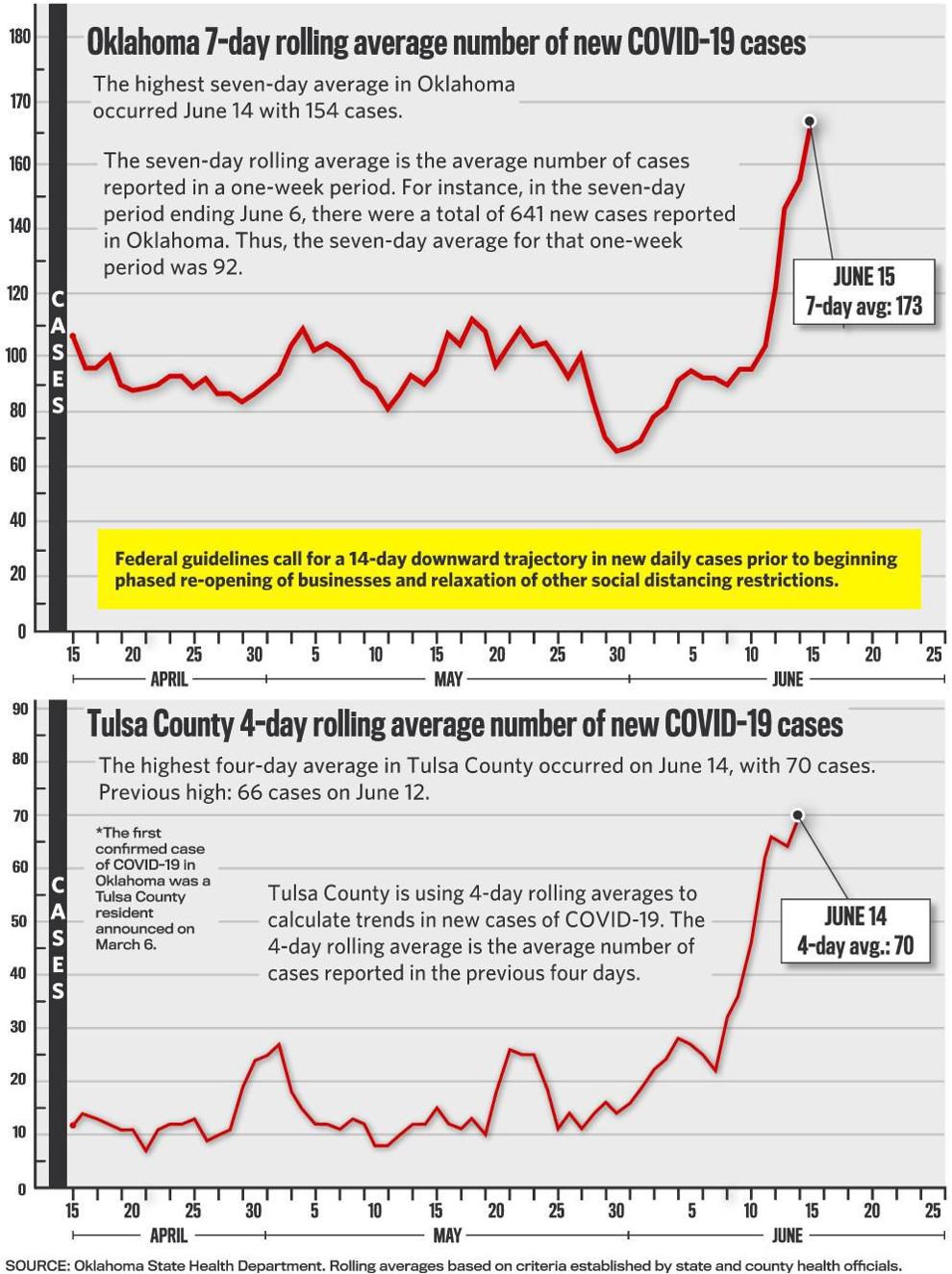 Stitt attributed the rising COVID-19 numbers — not just in Tulsa, but across the state — to Oklahoma testing more asymptomatic people.
However, the overall number of tests performed the week of June 7 (29,003) was lower than what was tested in recent weeks — May 24 (33,354) and May 31 (44,219), according to state data.
"It is in the United States. It is in Oklahoma," Stitt said of COVID-19. "And we can't let it dictate our lives. We have to go about our lives, but we are going to do it with every precaution possible."
Tulsa County reported another 89 positive cases Monday, topping Saturday's single-day record of 82. The one-day high total during the first surge in April was 45, on April 3 and April 29. Tulsa County has exceeded 45 new cases in seven of the last eight days.
The county's seven-day rolling average Monday was 65, 2.5 times the earlier peak of 26 on April 5. The rolling average is the daily average number of cases encompassing the previous seven days.
Dart said he found out on Twitter about Trump's event, originally scheduled for Friday and then moved to Saturday after an outcry about it detracting from the Juneteenth holiday celebrating the end of slavery.
Dart said he hasn't been contacted by any state or federal officials for his expertise or concerns about hosting such a large event while cases spike locally. He said moving the gathering outside would be better than having it inside, but there would still remain a greater risk for spreading the disease.
He said his recommendation to Mayor G.T. Bynum made during the weekend — and for the governor, if he were to ask — is to postpone Trump's rally until COVID-19 isn't spreading so aggressively.
"I recommend we postpone it and do it at a time when the data is telling us the risk isn't near what it is to be indoors like it is today," Dart said. "And frankly, it's tough; because at this juncture I don't know when it's going to be safe. And that's what makes it hard."
Bynum and Dart are holding a news conference Wednesday afternoon to address COVID-19.
The Oklahoma State Department of Health didn't provide a comment Monday afternoon regarding the coronavirus spike. It also didn't provide comment on the public health implications of Trump's rally.
In an online letter sent to Bynum on Monday, 500 health care professionals in Tulsa and Oklahoma asked him to issue a moratorium for large-scale indoor events.
Dr. Jabraan Pasha, an internal medicine physician in Tulsa, said he helped write the letter, which posted at noon Sunday and had gathered approximately 500 signatures by that evening.
The letter states that the Trump event might shake the city's infrastructure, stress its health care systems, and "undoubtedly" cost lives.
"Allowing our city to be one of the first places in the world to host an indoor gathering of this magnitude is not a political matter, it is a public health matter," the letter states. "As our city and state COVID-19 numbers climb at a rate previously unseen, it is unthinkable that this is seen as a logical choice."
There were 186 new cases across Oklahoma reported Monday, which is the third-highest single-day mark for the state. There were 222 and 225 positives reported Friday and Saturday, respectively.
The state's seven-day rolling average for new cases was 173 on Monday — its highest so far. The peak in April was 130 cases.
Stitt said he thinks one of the reasons Trump chose Oklahoma as the site of his inaugural campaign event since the pandemic began is because the state was one of the first to "safely and measurably reopen."
"The vice president kind of alluded to it more than the president did," Stitt said of his conversations with both. "They just wanted to showcase Oklahoma as a state that handled COVID correctly, did it the right way."
Stitt launched Oklahoma's reopening on April 24, against the desires of the mayors of Tulsa and Oklahoma City.
Stitt said that America is a free society, so individuals are free to go to Trump's campaign event or stay home. If a person is immune compromised in any way, he said, "we suggest not showing up."
Oklahoma is positioned well with only 150 people hospitalized for COVID-19 in the state, the governor said, adding that vigilance and precautions are still needed.
Individuals who are hospitalized while awaiting test results, as well as persons already tested positive for the disease, comprise the hospitalizations metric. The state's peak for hospitalizations was 560 on March 30, when turnaround times for test results were longer.
"We have to watch those hospital capacities," Stitt said. "We have to watch that, but we are in really, really good shape from a health care perspective in the state of Oklahoma."
Dart said unfortunately it doesn't appear to be seasonality with the novel coronavirus — at least not yet — given that Oklahoma has become "pretty warm." He highlighted Phoenix, where the temperature has been in the 100s, and said the disease is "really surging" there.
He said it's impossible to predict what might happen.
"It'd be great to see if this virus starts to burn out a little bit in the next couple of weeks, but frankly we don't know," Dart said. "I'm going to follow the data and listen to what it tells us and hopefully have the right conversation based on what the data is saying to us."