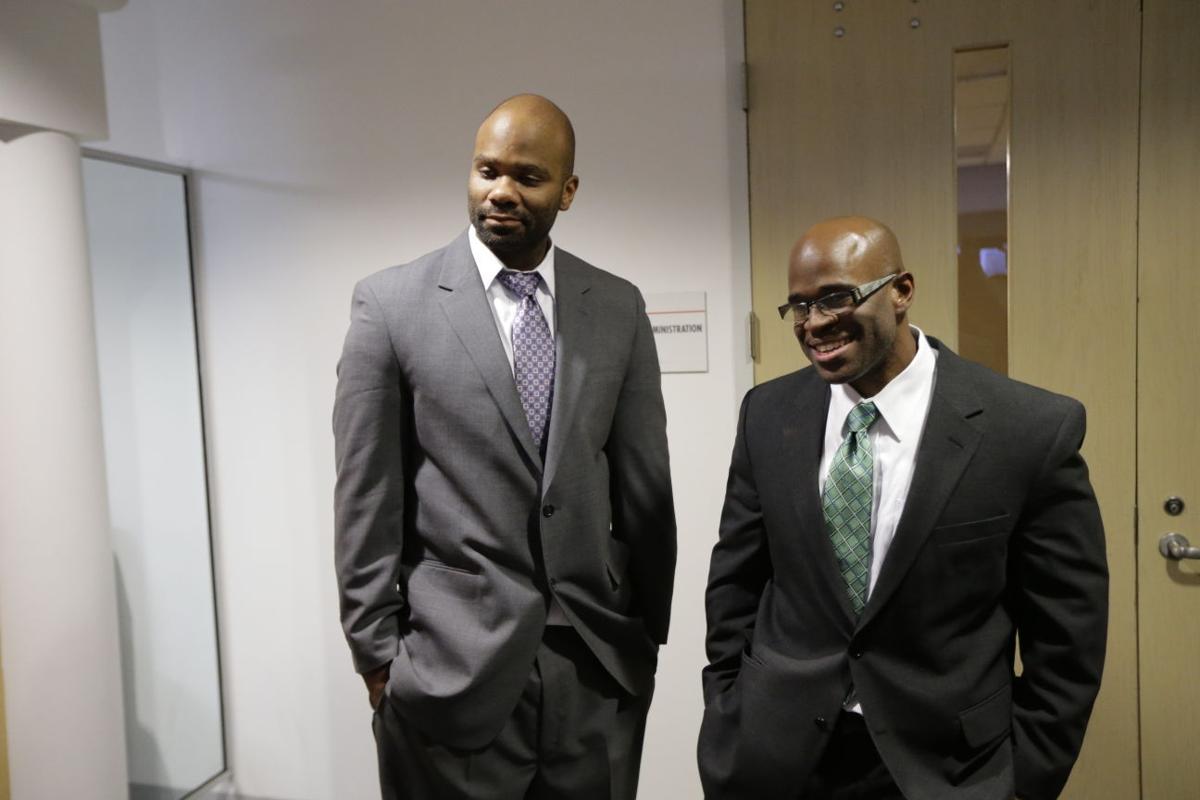 ---
Tulsa County prosecutors are considering appeal options regarding a judge's ruling that allowed two men who had been sentenced to life in prison for murder to be released from custody Monday.
But Malcolm Scott and De'Marchoe Carpenter's attorneys say they are confident that the declaration of their clients' innocence will stand.
District Judge Sharon Holmes on Monday vacated Scott and Carpenter's convictions in a 1994 murder and declared them "actually innocent."
"We are reviewing her ruling and all options regarding appeal," District Attorney Steve Kunzweiler told the Tulsa World on Tuesday.
Those options include an appeal from the post-conviction relief Holmes granted, an application for a writ of prohibition/mandamus and a request for a stay of her ruling pending appeal, Kunzweiler said.
His office is also evaluating the legal and factual basis for Holmes' ruling, Kunzweiler said.
Scott and Carpenter, now 39, were sentenced to life plus 170 years after a Tulsa County jury found them guilty of first-degree murder and other charges related to a fatal drive-by shooting that killed 19-year-old Karen Summers on Sept. 10, 1994.
The shots were fired out of a vehicle and directed at a group of people in the 200 block of East 29th Street North.
Holmes' ruling came in response to applications for post-conviction relief, which presented new evidence not considered by the jurors who found Scott and Carpenter guilty.
After prosecutors gave notice of their intent to appeal the ruling on Monday, Holmes denied a request to stall the release pending that appeal.
Carpenter's attorney Vicki Behenna told the Tulsa World on Tuesday that she believes Holmes' decision to deny that stay indicates that she believes the evidence of Scott's and Carpenter's innocence is "overwhelming."
Behenna is executive director of the Oklahoma Innocence Project, a legal clinic at the Oklahoma City University School of Law, which took on the case in 2011.
Kunzweiler said prosecutors are compelled to consider an appeal partly because of evidence that was not subject to cross examination.
"Obviously, in conviction cases which have gone through the jury-trial process and have previously been affirmed by the Oklahoma Court of Criminal Appeals, we are concerned that statements delivered by a death-row inmate without enduring the rigors of cross examination can result in a reversal of judgment decades later," he said.
He was referring to the statements of Michael Wilson, who on his execution bed publicly declared Scott and Carpenter innocent.
Wilson was executed in January 2014 for an unrelated murder, but days before his execution, he stated in a video interview and sworn affidavit that he was the shooter who killed Summers and that Scott and Carpenter had not been involved.
Behenna emphasized on Tuesday that the evidence of Scott's and Carpenter's innocence consists of more than Wilson's confession, and Holmes in her ruling pointed out that it is corroborated by different sources who came forward at different times.
The new evidence was collected over the past decade by a Tulsa private investigator and the Oklahoma Innocence Project and was presented to Holmes at a hearing Jan. 29.
It includes sworn statements from two men who claim to have been in the vehicle in which Wilson fired the shots, as well as signed affidavits from eyewitnesses recanting what they testified at Scott and Carpenter's trial.
In addition, there is material evidence linking Wilson to the vehicle and weapon used in the drive-by shooting, when no such evidence linking Scott and Carpenter to the crime was presented at their trial, Holmes said in her ruling.
Holmes said there is "reasonable probability, if not absolute certainty" that the two would have received a different verdict if that evidence had been presented at their trial.
Regarding other charges prosecutors might pursue in the case if a higher court upholds Scott's and Carpenter's innocence, Kunzweiler said the statute of limitations will have run out on any crime other than first-degree murder.
"The ball's in (prosecutors') court right now," Behenna said. "We'll respond to it appropriately based upon the decision that's finally made."
Behenna and Scott's attorney Christina Green declined to comment on whether their clients plan to file civil suits alleging negligent investigation or other complaints in connection with the now-vacated convictions.
Arianna Pickard 918-581-8413​