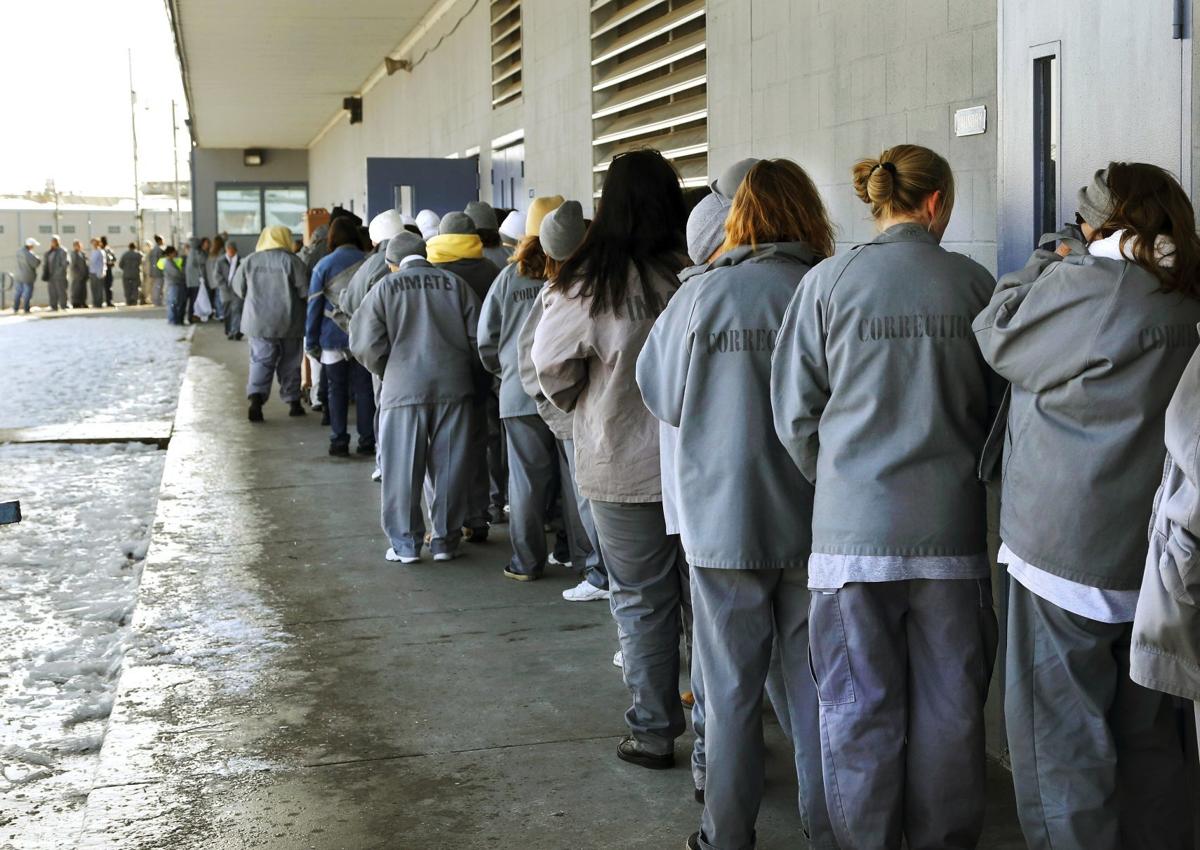 Some state inmates serving 10 years to life in prison for what has been described as "low-level" drug crimes have applied for commutations thanks to the help of advocates and law students.
The 49 inmates and those backing their commutation applications are citing recent changes in state law — and Oklahoma's highest incarceration rate in the nation — as the reason why.
"A lot of these are 20-, sometimes 30-year sentences on a crime that if charged now would be a misdemeanor," said Corbin Brewster, Tulsa County's chief public defender.
Brewster's office assisted Oklahomans for Criminal Justice Reform with creating the list of inmates. The coalition of business and community leaders, law enforcement experts and advocates across the state is led by former state House Speaker Kris Steele.
The state Pardon and Parole Board will take the up the first batch of 23 commutation requests — all female inmates — on Monday in Oklahoma City. The rest are scheduled to be considered next month.
The requests for commuted sentences, if recommended by the parole board and approved by the governor, would only reduce the length of the prison terms. Some sentences could be modified to "time served," but the convictions would remain on the inmate's record.
Push for commutations is spurred by the passage of State Question 780, which starting July 1, 2017, made nonviolent drug possession offenses and low-level property offenses misdemeanors instead of felonies. Steele led the call for the state question, which was approved in November 2016 by 58 percent of Oklahoma voters.
Eight law school students, working as summer interns for Oklahomans for Criminal Justice Reform, helped choose applicants and interviewed them, said Stephen Galoob, associate professor at the University of Tulsa Law School.
Galoob said the effort is aimed at "just making the system work."
"These are all cases and these are all stories that are really powerful," he said. "And a lot of what the students are doing is just telling the stories of the people who are in prison for crimes that the people of Oklahoma don't really think we should be locking people up for."
The eight TU law school students are Kate Forest, Colleen McCarty, Michael Olson, Elijah Johnson, Kendall Conway, Morgan Maxey, Alexandra Fleming and Jarred Jennings. They worked throughout the summer with Galoob to help narrow an initial list of 700 inmates.
The law school students then interviewed a list of 125 candidates housed at 20 facilities across the state before arriving at a final list of 49 applicants.
The experience of traveling to two women's prisons and two men's prisons was "extremely eye-opening," McCarty said.
"I was really scared the first time," she said. "Then you realize they are just another person."
McCarty said she learned through her interviews with inmates that alternative sentencing programs such as drug court are not as "robust" in many rural counties.
Many of those on the commutation request list were initially spared prison if they agreed to participate in drug court.
"Yes, on paper we are giving people a chance, but there are other layers to giving people a chance and it looks different depending on where you live," she said.
Forest, who also visited four prisons to conduct interviews, said talking with inmates taught her that "there is very little that separates us from these applicants — just a series of events and situations."
The parole board uses a two-stage process to consider commutations. During the first stage, the board reviews the application before considering whether to pass the request to a second, more thorough review stage.
At least a majority vote of the board is needed to forward the commutation request to the governor for final consideration.
The parole board considered 477 commutation requests in fiscal 2018, which ended June 30, said DeLynn Fudge, the agency's executive director.
The board passed 19 of the requests to the second stage of its review process, of which 10 were forwarded to the governor with a recommendation that they be approved, Fudge said.
Obtaining treatment for those who might be released from prison will be a priority, said Stephanie Horten, the Criminal Justice Collaborative director for Family & Children's Services in Tulsa.
"If these women are allowed to progress to the next phase, we are committed to helping them find treatment and putting their lives back together," said Horten, whose group includes representatives from Tulsa County's criminal justice system. "At Family & Children's Services, we have a lot of connections and a lot of social workers and therapists and experts in the area who can help us really find the resources they need to deal with the traumas that led them to the criminal justice system in the first place."
The Tulsa Regional Chamber, a member of Oklahomans For Criminal Justice Reform, hailed the commutation effort.
"This work is a symbol of a new era for Oklahoma," said Chamber President and Chief Executive Officer Mike Neal. "We are no longer repeating the policies that made us the nation's most incarcerated state without making us safer. Excessive sentences for nonviolent offenders are a relic of a broken system that legislators and voters have chosen to abandon, and responsible commutations can continue moving us forward."
Curtis Killman
918-581-8471
Twitter: @loucardfan61