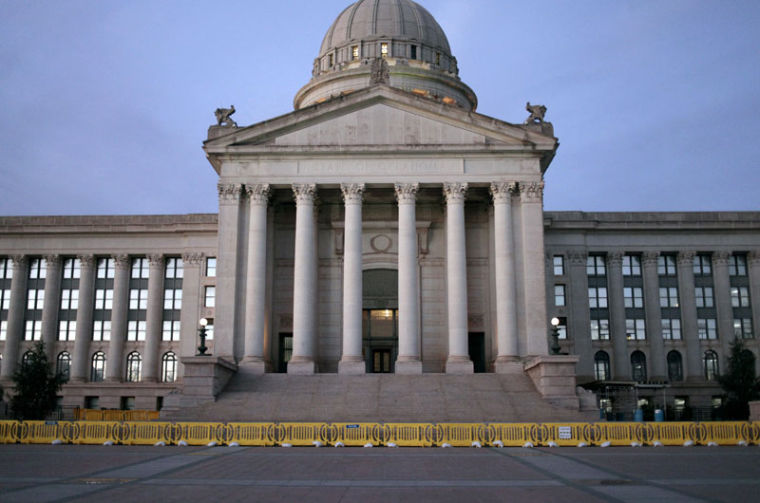 OKLAHOMA CITY -— An Oklahoma lawmaker has filed a bill that would call for a second vote to change the Oklahoma Constitution to ban gay marriage.
Rep. Mike Turner, R-Edmond, on Tuesday said he filed the measure, House Joint Resolution 1076, in anticipation that the state's current constitutional ban on gay marriage would be struck down.
A federal district judge in Tulsa on Jan. 14 tossed out a 2004 voter-approved constitutional ban on gay marriage.
However, U.S. Senior District Judge Terence Kern stayed his ruling pending an appeal, which has been filed.
Kern ruled that it violated the Equal Protection clause of the Fourteenth Amendment.
"Equal protection is at the very heart of our legal system and central to our consent to be governed," Kern wrote. "It is not a scarce commodity to be meted out begrudgingly or in short portions. Therefore, the majority view in Oklahoma must give way to the individual constitutional rights."
Two lesbian couples — Sue Barton and Gay Phillips, and Mary Bishop and Sharon Baldwin — filed the lawsuit in 2004 after the election. Bishop and Baldwin are Tulsa World editors.
After an earlier ruling in Utah, Turner said he had a feeling that the Oklahoma court would do something similar and thought it was necessary to give House leadership the "opportunity" to have "an arrow in the quiver" and a vehicle to proceed if the constitutional amendment was overturned.
He has also filed a shell bill, House Bill 2466, dubbed the "Preservation of Marriage Act." It contains no substantial language and can be modified, as can the other measure.
"I think House leadership will be responsible and wait until we have reached our own legal consensus until we make a move on those," Turner said of the measures.
Turner said he opposes the recognition of gay marriage and believes marriage should be between a man and a woman.
Toby Jenkins, executive director of Oklahomans for Equality, said the public's opinion on the issue has changed in the past 10 years.
Gay people want to be part of the American family and are not trying to redefine it, Jenkins said.
"We want to protect our children and have the same benefits that our neighbors do when they have long-lasting relationships," Jenkins said.
"The law is unconstitutional, and any effort to reinstate it or reinvigorate it is will be a waste of time and money," said Laura Belmonte, chair of The Equality Network.
She said there are more pressing issues facing the state.
"Many Oklahomans really want our legislators to focus on things like improving education, public safety and economic development, and are growing increasingly tired of the Legislature passing bills that are unconstitutional and really do nothing," Belmonte said.
Barbara Hoberock 405-528-2465