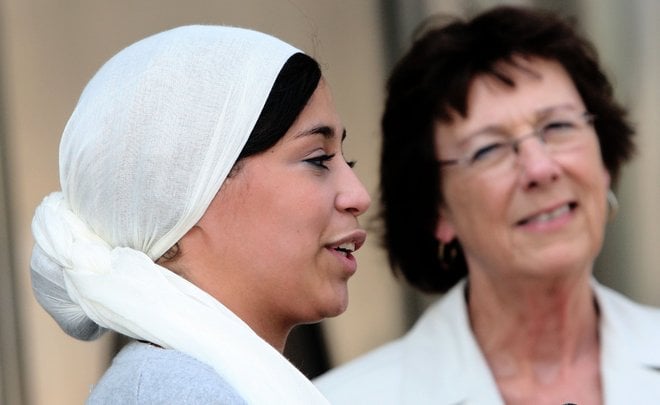 A federal jury awarded $20,000 in compensatory damages Wednesday to a Tulsa woman who was not hired to work at a local Abercrombie Kids store because she wears a headscarf, but jurors opted not to award her any punitive damages.
U.S. District Judge Gregory Frizzell turned down the U.S. Equal Employment Opportunity Commission's request for an injunction against the company.
Still, Samantha Elauf, 20, said she was "very excited" by the outcome and that she is glad she made her situation public.
The EEOC sued Abercrombie & Fitch on Elauf's behalf in September 2009, alleging that the company practiced religious discrimination when it chose not to hire her to work at an Abercrombie Kids store at Woodland Hills Mall in June 2008.
She had worn a hijab - or religiously mandated headscarf - to her job interview.
Frizzell ruled last month that the company failed to establish that granting Elauf an exception to its "Look Policy" would have caused it undue hardship.
Because the judge had already found Abercrombie liable, the only issue before the jury was what - if any - damages should be awarded.
EEOC regional attorney Barbara Seely told the jury during her closing argument that Elauf - who was born in the United States - had never been discriminated against before, hasn't gotten over how she was treated, and will always remember it.
Elauf had testified Tuesday that she felt insulted and disrespected after she discovered that she was not hired because of the scarf.
Seely told the jury that the company wanted its sales associates - or models, as Abercrombie calls them - to look like "cookie-cutter kids."
Abercrombie attorney Mark Knueve said during his closing argument that diversity is very important to the company and that the organization doesn't discriminate.
He did say, though, that the company considers its Look Policy a central part of its success, comparing it toCoca-Cola's secret formula.
Part of the policy prohibits head wear, although the jury heard about several exceptions that had been made during the past few years.
Knueve told the jurors that Elauf should not receive damages, noting that she gained other employment within a few days of not being hired to work at Abercrombie Kids.
While the jury was engaged in what turned out to be more than four hours of deliberations, Frizzell heard testimony and arguments about whether he should issue an injunction against Abercrombie.
Such an injunction would have required the company to notify applicants who wear headscarves to interviews that they may request to be allowed to wear one as a religious accommodation and to provide training to its retail store managers that such notifications must be made.
The injunction also would have required the company to train managers about the company's obligation to provide religious accommodation to applicants and employees and how to recognize when an applicant might need such an accommodation.
Frizzell noted that Abercrombie has changed its interview procedure so that applicants are now told that the company does not permit its models to sport headwear on the job and are asked if they have any questions about that policy.
Elauf testified Tuesday that she did not ask during her interview for any sort of accommodation that would have allowed her to wear a scarf while on the job, saying she didn't know it was necessary to bring up the topic.
The EEOC, not Elauf, is the plaintiff in the case, but Seely told the court at a pretrial hearing that any damages would go to Elauf and not to the agency. Frizzell told the jury Wednesday that Elauf has no legal fees to pay connected to the case.
Compensatory damages were sought for the emotional distress Elauf endured because of the discrimination, Seely told the jury.
Knueve did not give a definitive answer when asked whether Abercrombie intends to appeal.
Barring a successful appeal by the company, Elauf plans to save the $20,000 and apply it toward the costs of opening her own clothing store someday, she said.
When asked how it will compare to Abercrombie, a smiling Elauf said, "It'll be better."
Seely said Wednesday's jury verdict was "icing on the cake" for the EEOC after previously winning on the liability issue.
"Samantha Elauf deserves every penny," Seely said. "She is a courageous young woman who stuck with this case for three years in order to stand up for her rights and the rights of every Muslim woman to work wearing a headscarf."
Muneer Awad, executive director of the Oklahoma Chapter of the Council on American-Islamic Relations, issued a statement Wednesday that said: "This is a victory for every single American in the workforce. ... A Muslim woman has the same right to earn a living as any other individual, and this court made that message clear."
---
David Harper 918-581-8359
Original Print Headline: Jury awards $20,000 in suit