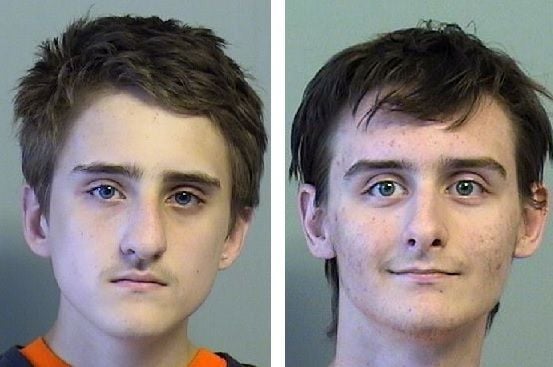 Court discussions will continue next month over how the state can respond to an anticipated insanity defense for a Broken Arrow teenager who is charged in the 2015 stabbing deaths of his parents and three siblings.
Michael Bever, 19, faces five first-degree murder charges and one count of assault and battery with intent to kill. He and his brother, 21-year-old Robert Bever, are accused of stabbing their parents, David and April Bever; as well as their siblings Daniel, Christopher and Victoria, in the family's Broken Arrow home on July 22, 2015. Another sibling was stabbed multiple times but survived.
Robert Bever entered guilty pleas last year to all six counts, for which Tulsa County District Judge Sharon Holmes imposed five consecutive no-parole life sentences and another consecutive life term. The trial for Michael Bever, who was 16 at the time of his arrest, is scheduled to begin April 16.
Holmes presided over a hearing Monday in which District Attorney Steve Kunzweiler asked that Michael Bever be compelled to participate in a mental health evaluation conducted by the state's expert, Dr. Shawn Roberson.
The Tulsa County Public Defender's Office previously had its expert, Dr. Terese Hall, evaluate the teenager, and then-Chief Public Defender Rob Nigh — who has since died — said at the time that Hall's report supports Bever's insanity defense.
Few details about that report have been released, but Kunzweiler said Monday that Hall wrote about seeing Bever exhibit "severe anxiety and stress" when he talked about the homicides. He said that remark suggested that Hall had a substantive conversation with Bever about the facts of the criminal case, and he asked that Roberson receive the chance to pursue the same line of questioning.
Holmes put off a decision on Kunzweiler's request so she could listen to further arguments on the matter Dec. 1. She asked Roberson, who was present Monday, to return to court in case he is needed to testify.
Roberson, according to court documents, attempted to evaluate Bever on June 5 but told Kunzweiler that Bever was not fully responsive with regard to the homicides.
Chief Public Defender Corbin Brewster and Assistant Public Defender Marny Hill argued that their client still has a Fifth Amendment right against self-incrimination. Also, they complained that Roberson had visited Bever in jail without giving the defense proper notice, and that he did not promptly turn over his notes from the meeting.
"We are entitled to raise the defense of insanity without conceding guilt," Brewster said.
Kunzweiler countered that Bever should not be able to give one mental health expert important information concerning his case without also making it fully accessible to another professional.
He told reporters after the hearing that it is important for the prosecution to conduct independent, comprehensive evaluations of defendants who say they intend to present a mental health-based defense.
"From my perspective, the filter through the defense may be different than what the filter might be through the state," Kunzweiler said. He added that the purpose of Roberson's evaluation is to determine Bever's sanity or lack thereof at the time of the killings, not necessarily his guilt or innocence.
Brewster said Bever's matter is "an incredibly difficult case" but one he wanted to take on personally when his appointment as chief public defender became official last month.
"We're going to do the best we can to defend this young man and hopefully tell the whole story," he said.