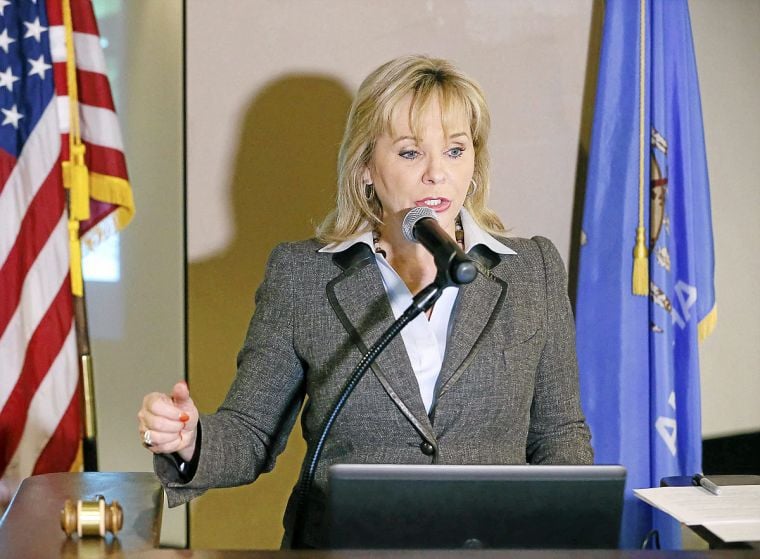 OKLAHOMA CITY — Gov. Mary Fallin on Friday signed a measure adding nitrogen gas to the list of execution methods.
House Bill 1879 was filed after last year's execution of Clayton Lockett using a new, three-drug protocol following difficulties in obtaining one of the original drugs.
The execution has been called a "procedural disaster" by an appeals court and thrust the state into the national spotlight after the inmate spent 43 minutes on the death chamber gurney before dying.
HB 1879 says that if lethal injection is held unconstitutional or is unavailable, an execution shall be carried out by nitrogen hypoxia. Electrocution and firing squad are also other alternatives should nitrogen gas not be available or held unconstitutional.
"Oklahoma executes murderers whose crimes are especially heinous," Fallin said. "I support that policy, and I believe capital punishment must be performed effectively and without cruelty. The bill I signed today gives the state of Oklahoma another death penalty option that meets that standard."
"Nitrogen-induced hypoxia is a painless form of execution that doesn't require any specific pharmaceutical compounds or any medical expertise to administer," said Rep. Mike Christian, R-Oklahoma City, the House sponsor of the legislation.
"It is a far better alternative to the electric chair should lethal injection ever become unavailable, and so I thank the governor for singing this bill into law."
Christian has said lethal injection is on its way out, adding that it has become experimental.
"I think it is dangerous for the Legislature or the governor to pretend by creating this new method of execution that they are adopting some proven method when in fact what they have codified in state law is a highly experimental method of execution that has been banned in many jurisdictions for the euthanasia of animals," said Ryan Kiesel, executive director of the Oklahoma affiliate of the ACLU.
By focusing on finding another process, state lawmakers have missed an opportunity to discuss capital punishment, including asking questions like why does race play such a big role in who gets executed and does the state have safeguards in place to ensure it will not execute an innocent person, Kiesel said.
The law becomes effective Nov. 1.
The measure passed 85-10 in the Oklahoma House and 41-0 in the Oklahoma Senate.
Fallin on Friday also signed Senate Bill 313 that creates a secure online system for accepting voter registration applications.
"Our voter registration rate in Oklahoma is at a record low," said Sen. David Holt, R-Oklahoma City, the author of the measure.
"This bill has the capability to dramatically change that by increasing the convenience of the process significantly."
Barbara Hoberock 405-528-2465