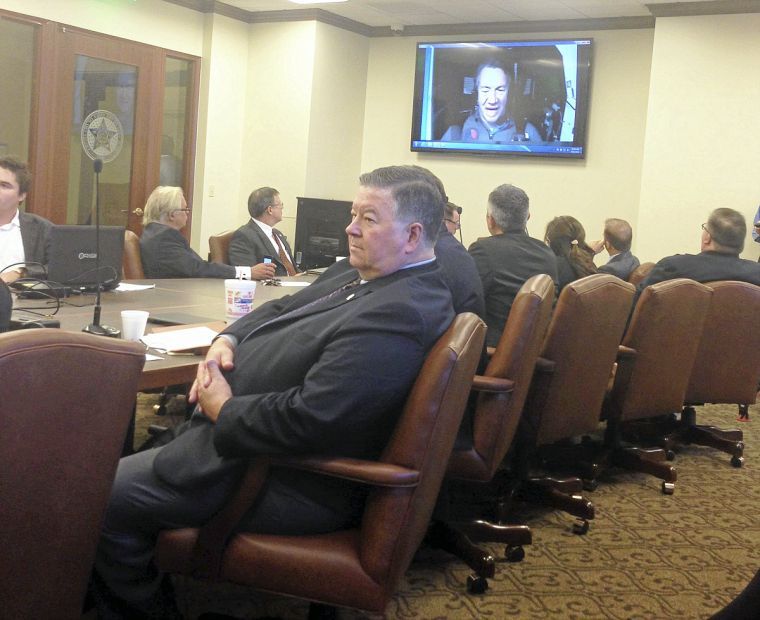 OKLAHOMA CITY — A state lawmaker said Tuesday he plans to file a bill legalizing use of nitrogen gas to execute inmates, calling the method more "practical and efficient" than the current lethal injection process.
Rep. Mike Christian, R-Oklahoma City, said Tuesday that the state can lead the way nationally in coming up with a better way to execute people. Christian is leading an interim legislative study into the issue following the botched April 29 execution of Clayton Lockett.
"We did come up with the idea of lethal injection, and it was very innovative in 1977. Well, we are in the 21st century now, and I think we can do a lot better," Christian said.
"Overwhelmingly, the people of Oklahoma support capital punishment, and at the end of the day, I think they will support this method and I think we will get it passed."
Christian and other lawmakers attending Tuesday's hearing before the Judiciary Committee listened to a presentation on the use of nitrogen gas as a possible means of execution.
Michael Copeland, an assistant professor of criminal justice at East Central University, discussed the results of a study he and others at the university conducted on the issue. Copeland said the study reviewed available literature on the effects of "hypoxia" on pilots, divers and others who are deprived of oxygen.
If people are able to breathe inert gas such as nitrogen and continue to exhale, they quickly become unconscious and die within minutes without distress or pain, he said.
"You're not just smothering somebody," Copeland said, comparing the feeling of such a death to "euphoria." He played several YouTube videos in which young people and adults breathed helium from balloons or bags, began laughing and became unconscious.
Copeland said nitrogen is frequently used in euthanasia, proof that it is considered a humane method.
"For people who plan for their own death, this is the method of choice," Copeland said.
Copeland said his study also found that no doctors or other medical professionals would need to assist in executions using nitrogen.
"There's nothing about this that would be a special, technical medical procedure. … It would be simple to administer."
An investigation into Lockett's execution cited an improperly inserted IV as the main reason it took Lockett 43 minutes to die. The physician hired by DOC did not have the proper size of needle to place an IV in Lockett's femoral vein after numerous IV attempts had failed.
DOC is rewriting its protocol in response to recommendations made by the state investigation. A federal suit by 21 death row inmates claims the state's lethal injection protocol violates the 8th Amendment's ban on cruel and unusual punishment.
Christian said problems obtaining effective drugs for use in lethal injections prompted his interest in exploring other methods. He said opposition by death penalty activists and "European Union" drug companies "have actually created a less humane execution."
"The world is watching what is going on in Oklahoma," Christian said.
Lockett's execution earned worldwide condemnation as well as a nationwide review of the death penalty by the U.S. Department of Justice.
Two state lawmakers questioned Copeland's findings that recommended use of nitrogen in executions.
Rep. Emily Virgin asked Copeland why no doctors took part in his study.
"I can't help but notice that none of the people on this list are medical professionals," said Virgin, D-Norman.
Copeland responded that the American Medical Association and other medical associations generally ban their members from taking part in executions. He said members of the University of Oklahoma medical school's faculty declined to assist in the study.
Department of Corrections Director Robert Patton, who attended the hearing, agreed that "it is a challenge" to find doctors willing to take part in executions. As he left the hearing, Patton declined to comment to reporters, citing the ongoing legal challenge to the state's execution protocol.
Rep. Cory Williams, D-Stillwater, said his constituents may question whether execution via nitrogen gas inflicted enough pain. He said studies have shown the death penalty does not deter crime, though the public generally believes it does.
Using nitrogen gas in executions "has been discussed since at least 1995," he said.
"The reason it hasn't been adopted is because people perceive it to be a non-vengeful form of killing, and would not be a deterrent," Williams said.
Ryan Kiesel, executive director of the American Civil Liberties Union of Oklahoma, called the interim study "a fool's errand."
"The larger issue that I think all Oklahomans ought to be concerned about with — whether or not they support capital punishment — is that there are fundamental failures in our criminal justice system that lead to the conviction and sentencing to death of innocent people."
Kiesel noted the pained expressions on some lawmakers' faces Tuesday as they watched a video showing different methods of execution. The video included the electrocution of a dead pig, which caught on fire, and a mannequin's head popping off during a hanging demonstration.
"Just measuring the reactions from some in the committee today, I think that when you see them grimacing over video showing the electrocution of a circus elephant or the gassing of what appeared to be a rabbit, I would hope that their disgust would be tenfold at the idea that we might do that to an innocent person. So that's the real question that lawmakers need to be considering."
Lawmakers have not considered earlier proposals by the ACLU and others to place a moratorium on executions in Oklahoma while the issue is studied.
Christian said he expects to receive a final report from East Central University within 10 days and that he would begin drafting a bill to file before the upcoming legislative session.
"I think lethal injection is on its way out. I think this should be the primary method," he said.
Asked whether he thought Gov. Mary Fallin would sign such a law if it were passed, Christian said: "It would be up to her. She can veto it."
Ziva Branstetter 918-581-8306