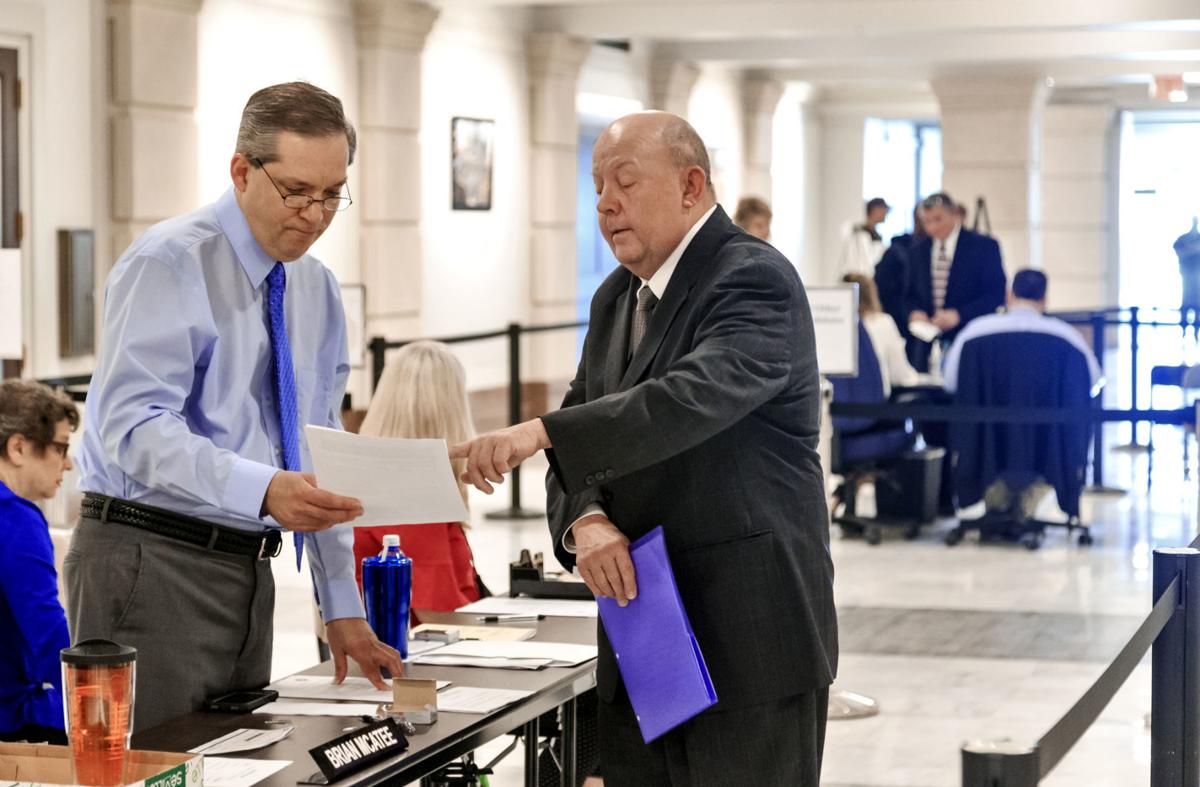 OKLAHOMA CITY — When the candidate filing period closed Friday at the state Capitol, a record 794 people had signed up to run for state and federal offices.
"It is the most in recent history," State Election Board Secretary Paul Ziriax said.
Candidate filing also brought a few surprises.
Rep. John Bennett, R-Sallisaw, said he would not run for re-election for House District 2, citing the need to spend more time with his family.
"I have fought the good fight and can proudly say that no matter what the cost I stood strong, but I can no longer ask my family to endure the hardships that come with this job," Bennett said in an announcement statement. "It is time for me to stand strong for them now."
Bennett is one of the more controversial members of the Oklahoma House. He has said Islam is a cancer that needs to be cut out and is an outspoken critic of the religion.
Rep. Cory Williams, D-Stillwater, is also not seeking re-election to House District 34. Williams said he is running instead for district attorney for Logan and Payne counties. He is a supporter of criminal justice reform.
Four senators and 15 representatives drew no challengers and will retain their seats.
State Superintendent Joy Hofmeister drew two Republican opponents and will have a primary.
Linda Murphy of Edmond and Will Farrell of Tulsa filed to run against her.
Murphy said she is running because the state needs leadership. She said a lack of leadership at the State Department of Education resulted in an outside organization being able to control policy decisions. She was referring to the recent teacher walkout.
"I am just saying no outside organization should have the microphone and dictate what happens at the Capitol," Murphy said.
Murphy in 1994 made a failed run for the post against Democrat Sandy Garrett.
Then-Gov. Frank Keating tapped Murphy for his education secretary, but she failed to get Senate confirmation.
Democrat John Cox of Peggs has also filed. Cox lost to Hofmeister in the general election in 2014.
Larry Huff also filed as an independent.
Hofmeister, of Tulsa, is seeking a second term.
Meanwhile, a third Republican and a Democrat filed for attorney general on Friday.
Angela Bonilla of Glenpool filed as a Republican. She is an attorney and is making her first run for office.
She said watching teachers come together to advocate for better funding motivated her to run for office.
"I am tired of sitting on the sidelines and wishing things would change," she said. "Now, I am hoping I have the opportunity to make change from within."
Incumbent Mike Hunter of Edmond is seeking a full term.
Gov. Mary Fallin appointed Hunter to serve the remainder of Scott Pruitt's term after Pruitt was tapped to serve as EPA administrator.
Republican Gentner Drummond of Hominy has also filed for the post.
Oklahoma City attorney Mark Myles filed as a Democrat.
Ten Republicans, two Democrats and three Libertarians filed for governor. Fallin is term-limited and can not seek another term.
State Auditor and Inspector Gary Jones filed for governor, saying he has a lot of grass-roots support.
"People are looking for solutions," he said. "I will step up and solve problems."
Tulsa teacher Cindy Gaete, a Democrat, filed within minutes of the deadline. She filed against Rep. Meloyde Blancett, D-Tulsa, for House District 78.
She said it is important that all candidates clearly express their positions.
Republican Paul Royse and Gene Bell, a Libertarian, also filed for House District 78.
Filing began Wednesday and ended at 5 p.m. Friday.
---
Friday filers
Here is a list of candidates who have filed to run for office so far on Friday. Filing period ends at 5 p.m. (Candidates from Tulsa unless otherwise noted)
Governor: Gary A. Jones (R), Cache; Blake Cowboy Stephens (R), Tahlequah; Eric Foutch (R), McLoud
District 1: Andy Coleman (R), Owasso; Amanda Douglas (D), Broken Arrow; David Matthew Hullum (D); Gwendolyn Fields (D), Oklahoma City; Mark Keeter (D).
District 2: John McCarty (R), Afton; Clay Padgett (D), Soper; Richard Castaldo (L), Grove; Virginia Blue Jeans Jenner (D), Wagoner.
District 3: Frankie Robbins (D), Medford
District 2: Barbara Crisp (R), Claremore
District 8: Marlena Nobles (I), Eufala
District 10: Gary Lanham (R), Hominy; Amber Roberts (R), Hominy
District 18: Eric Tomlinson (R), Broken Arrow
State House of Representatives
District 2: Tom Stites (D), Sallisaw; Jim Olsen (R), Roland.
District 5: Ed Trumbull (D), Grove; Elizabeth Boney (R), Salina; Tonya Rudick (R), Eucha
District 8: Carl Parson (R), Inola
District 10: Kevin Stacy (D), Delaware
District 12: Stan Sanders (D), Wagoner
District 13: Jolene Armstrong (D), Muskogee
District 14: Jack Reavis (D), Muskogee
District 17: Marilyn Welton (R), McAlester
District 18: David Smith (R), McAlester
District 23: Craig Hoxie (D), Stephen Frazier (D).
District 29: Jeremiah Ross (D), Bristow; Jesse Goodwin (D), Kellyville.
District 30: Kent Glesener (R), Sapulpa; Chuck Threadgill (R)
District 33: Brandon Phillips (D), Stillwater; Jason Shilling (R), Perkins; John Talley (R), Stillwater
District 34: Trish Ranson (D), Stillwater
District 36: J. Paul Ganzel (R), Hominy; Jordan Lauffer (R), Skiatook; Sean Roberts (R), Hominy; David Dambroso (R), Broken Arrow.
District 66: Angela Graham (D), Sand Springs
District 68: Christopher Brobst (R), Glenpool; J. Lee Miller (L); Karen Wright (R); Heather Chenoweth (I)
District 69: Michael Mitrik (D), Jenks; Andy Richardson (D), Jenks.
District 70: J.J. Burnam (D)
District 71: Mark Kosinski (R), Ben Croff (R), Beverly Atteberry (R), Tulsa
District 74: Bradley Peixotto (R), Owasso.
District 76: Shelley Brumbaugh (R), Broken Arrow
District 77: Todd Blackburn (R)
District 78: Paul Royse (R), Gene Bell (L), Cindy Gaete (D).
District 79: Teresa Marler (I), Matthew Lee (R), Brian Pingleton (D).
District 80: Janice Graham (D), Broken Arrow; Mackie Moore (D), Broken Arrow; Stan May (R), Broken Arrow.
District 98: Jeremiah Herbert (R), Broken Arrow; Laura Steele (R), Broken Arrow; Kilmyn Easley-Graf (D), Broken Arrow
House District 16: Justin C. Calvert, Broken Arrow