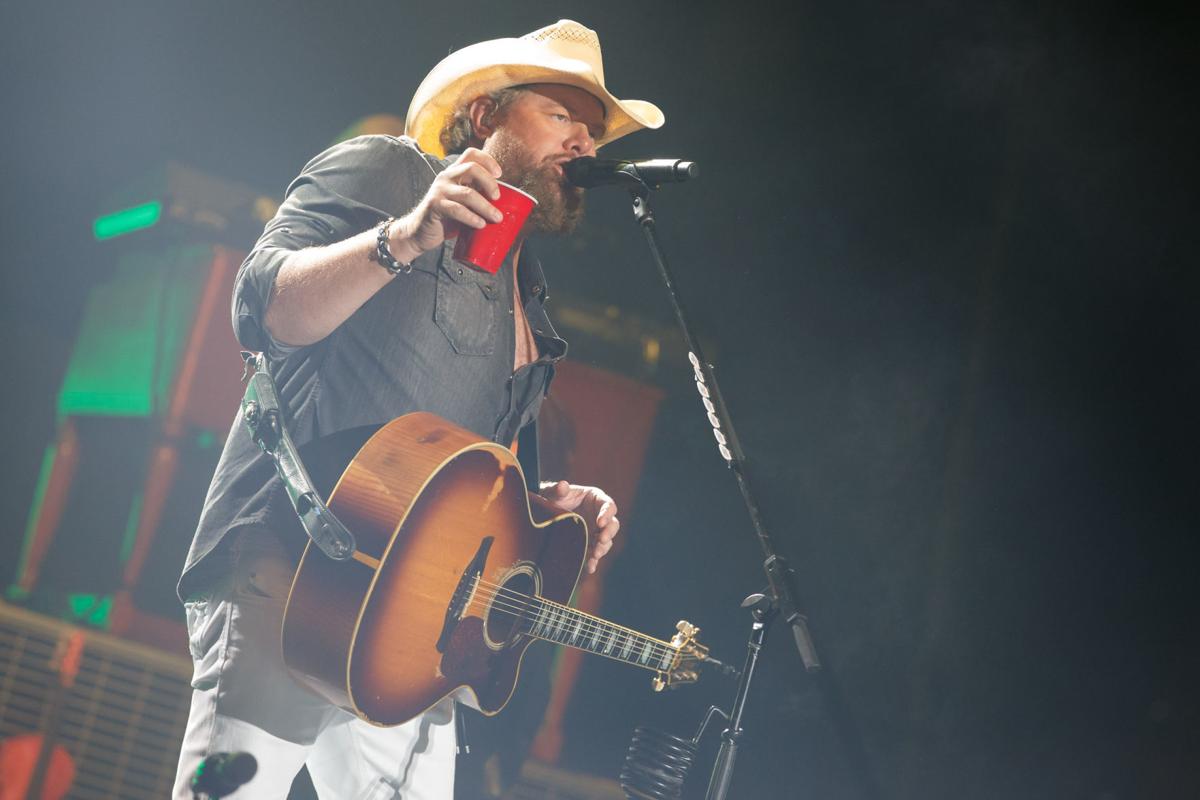 ---
Finally making his way to the BOK Center, Toby Keith showed his home state Friday night that he's as good as he ever was.
Fans sang along throughout the night to hits spanning Keith's longs career spanning back to the early 1990s, and Keith's commanding presence on stage with his strong voice and talented band gave those fans exactly what they wanted.
With his career laid out in the set list, it's clear the consistency with which Keith writes and sings. He calls back to a different time in country music, with a voice, a pedal steel guitar and a horn section that would seem at home on stage with Keith's icon Merle Haggard. But Keith has shown his staying power with even up to his latest single, "A Few More Cowboys."
Keith's influences from the late Haggard were clear. Before a medley of Haggard songs, Keith talked about Haggard taking a young Keith in when he tried his hand at Nashville.
"He's one of the cats that took me in," Keith said. "I had some magical moments with a true musical icon of any genre."
After early sound issues were mixed to the appropriate levels, Keith's voice was strong and clear. The deep power behind it was especially impressive on long notes that kept the pitch, so strong you could almost feel the vibration. He's a force on stage, inviting to the audience with his interaction but strong and serious when the song called for it.
Keith was recently inducted to the Songwriters Hall of Fame, and several of his hits spanning decades show how he's able to capture a scene and tell a story, other songs that express his opinion and more than show his playful side, with Keith delivering them all with the appropriate flair.
A simple stage kept the focus on Keith and his band, which was a big band that included a horn section that added a richness to each song, a new level that was clear on songs like "Beer For My Horses."
Other songs on the set list included "I Wanna Talk About Me," "Red Solo Cup," "Who's Your Daddy," "Wish I Didn't Know Now," "Does That Blue Moon Ever Shine On You," "I Love This Bar" and more.
Friday was Keith's first BOK Center show, but he's familiar with Tulsa. He got his start with the songs he wrote "in an old trailer house in Moore" performing them to fans in smaller bars.
"Y'all remember Tulsa City Limits," Keith asked with a nostalgic smile. "Oh, Tulsa City Limits. We burned that place down."
Whatever the song, whatever the era of Keith it was, fans knew they were getting a genuine and authentic performance from an enduring country musician.
Jerry Wofford
918-581-8346
Twitter: @jerrywofford
Be the first to know
Get local news delivered to your inbox!