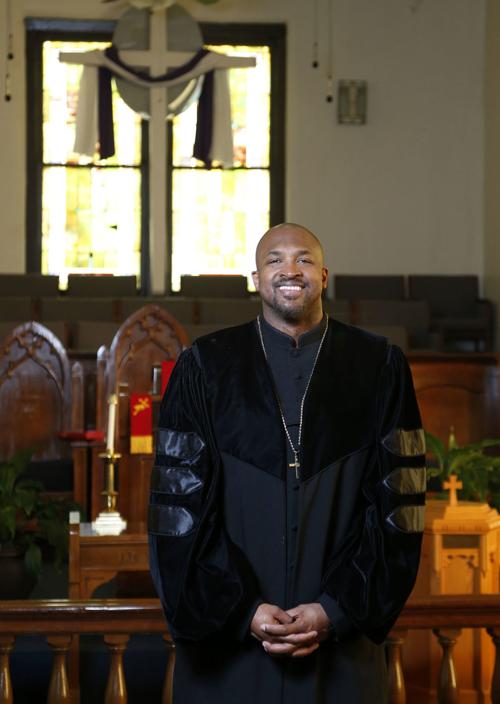 The Rev. Robert Turner wasn't supposed to be here.
Here means any number of circumstances for Turner.
Turner admits he never envisioned himself living in Tulsa. He had lived all of his life — until 2017— in Alabama with his wife and two sons.
He also couldn't fathom leading historic Vernon AME Church in the Greenwood District, either.
Moreover, Turner didn't see himself even being a clergyman to begin with.
Nope. None of that was the plan.
But there he was, standing just outside the steps of City Hall with a bullhorn to his mouth on an early October afternoon imploring in the distance "The Greenwood that you shop in, the Greenwood you go to baseball games to watch, it is a crime scene."
Turner wanted to remind the public of the 1921 Tulsa Race Massacre. He also requested the city and its leaders make amends for the generational damage done nearly a century ago as a result of the event.
"It was really a continuation of something God kind of put on my heart to do as far as calling the city for repentance and recognize what happened in 1921 as the massacre that it was," Turner explained of the demonstration that day.
The awareness of the massacre's impact, Turner said, was not where it is supposed be, in his estimation.
"We do love this city," he said. "We do love this state and we want her to fulfill her potential," said Turner. "I really see a city that has wonderful potential and be a model for the world. I think the massacre can be an example for how the world can handle trauma."
God, he said, led him to march — to put all those countless prayers into tangible action.
And that's what Turner has done since his arrival in Tulsa. He was baptized by the fire of everything that involved the fatal officer-involved shooting of Terence Crutcher that forced the city to confront race and policing. Since then, he's called for police accountability and reparations for race massacre victims.
Turner, in a sense, is an activist who just so happens to be a pastor. It is a role that has garnered him respect among residents of Greenwood even though he's not a native son.
"I came to Tulsa not to do this," said Turner of his current situation. "I wanted to just pastor. I thought I was going to do birthday parties, baby showers and communions."
These newfound unexpected responsibilities, he found, is something to embrace.
"All of this kind of chose me," he said. "I definitely didn't choose to come to Tulsa. I definitely didn't choose to come to Vernon. But the problems that we have now, I can't live with. I have to do something about it."
15 Tulsans who did incredible things in 2019. Read each Tulsan of the Year story. 
Be the first to know
Get local news delivered to your inbox!