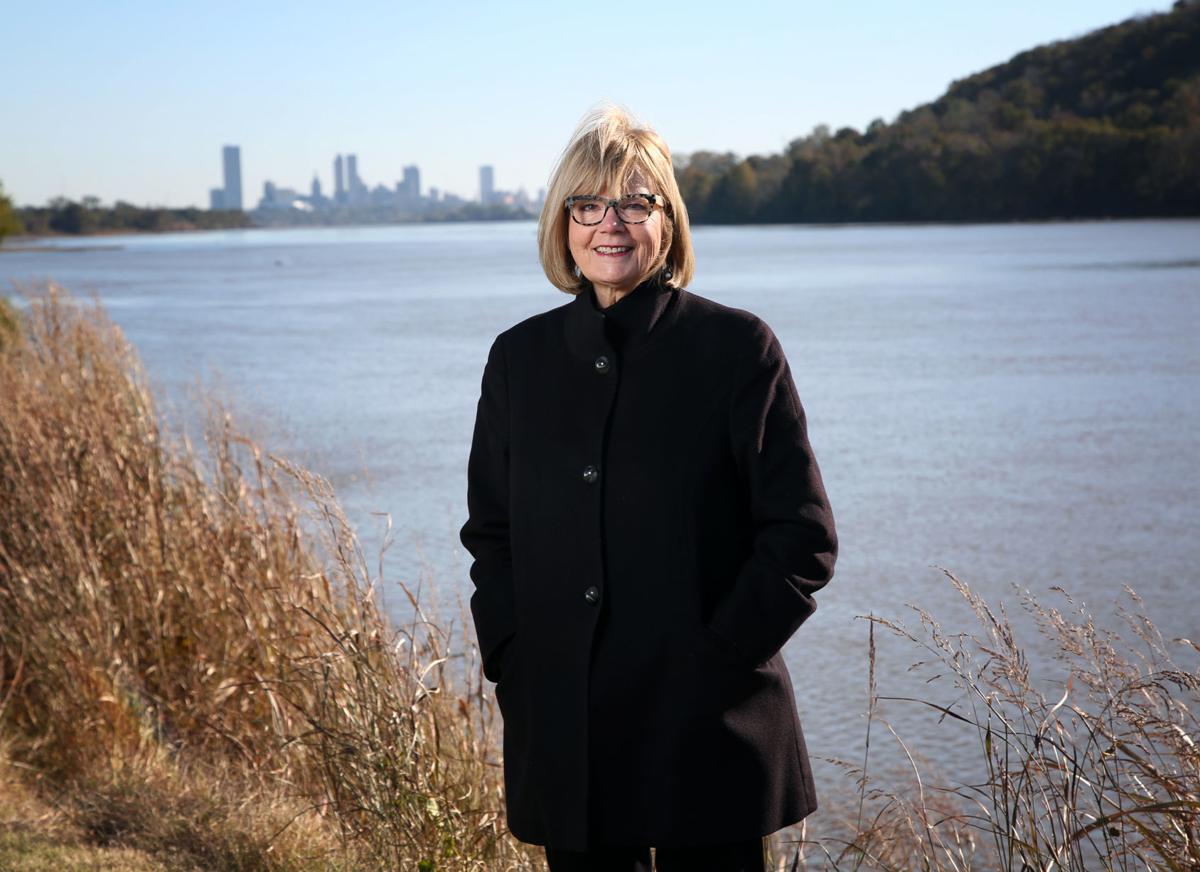 Tulsa County Commissioner Karen Keith is more personality than politician.
This is a good thing — as politicians go, she's easy to like.
Maybe it's her unwillingness to take herself too seriously.
She was a news anchor once, you know. And a "weather girl" — her words. And a sports anchor.
It was many years ago, in Colorado Springs, Colorado, when the Muskogee native was just starting out in the TV business.
"No one showed up," she says. "It was pitiful. It was pitiful."
She laughs. There's a lot of that when Keith talks to you. A lot of laughter and genuine goodwill.
Don't be fooled: She plans to run for a fourth term next year, and though she says one of the great joys of the job is the people she meets, that's not what's kept her in the game all these years.
She likes to get things done.
"It is very rewarding," she says. "It is impossible to be bored, absolutely impossible."
Underwater
Since taking office in 2008, Keith has played a critical role in advancing multiple projects. She was the driving force behind the construction of the county's Family Center for Juvenile Justice. She helped Iron Gate find a new home, and she represented the county in the city-led effort to build low-water dams in the Arkansas River.
The Family Center will open in December. Iron Gate's new home is up and running, and the long-awaited overhaul of Zink Dam begins next year.
The timing hasn't been quite so good for the project that has consumed more of Keith's time and energy than any other: fixing the approximately 20-mile levee system that runs from Sand Springs to west Tulsa.
"When I got here, there was this controversy that the U.S. Army Corps of Engineers was having the levees decertified," Keith says. "Once you started digging you realized how compromised they truly were, and to get them fixed was going to be a long process."
A process, it turned out, that was nowhere near complete when the rain started falling, and falling, in May, leaving Keith to face her worst nightmare: the levees failing.
"It was just that the rainfall wouldn't stop," says Keith, 66. "I became an addict: There is a little app on the phone, so I was pulling it up every day and checking, where was the water at Keystone (Lake) in the flood pool."
The levees held, but not without a few hair-raising moments. Keith credits the coordinated efforts of multiple local, state and federal agencies with helping Tulsa County avert a potential catastrophe.
"We had an issue with those levees," Keith says, noting the hundreds of boils — or mini water volcanoes — that popped up on the land side of the levees as the water in the Arkansas River rose.
"Fortunately, the governor called out the National Guard immediately, so we had a huge contingent from the Corps, and then we had the National Guard, walking those levees back and forth," she says.
Keith's correct: The catastrophe never happened, but plenty of people lost their homes, their lives as they knew them gone forever.
Nearly 300 properties in Tulsa County took on 18 inches or more of water, according to Tulsa Area Emergency Management Agency, with another 200 taking on less than 18 inches.
The flooding is estimated to have caused more than $86 million in damages countywide.
Karen Keith is one of the Tulsa World's 2019 Tulsans of the Year for her efforts to mitigate that suffering. At no time has her work in public office been more instrumental — and noteworthy — than the days she spent helping the flood-ravaged residents of the Town and Country addition west of Sand Springs.
"Some of my neighbors (just) now are getting back in," she says. "But it really concerns me."
Yes, Keith, a Tulsa resident, calls the Town and Country residents whose lives she helped rebuild her "neighbors."
And to think when she first showed up in their neighborhood, residents like Jeremy Herrington wanted nothing to do with her.
"I was ready to give her a piece of my mind," he says.
Zigzagging around
When Keith showed up at Town and Country in late May for an informal neighborhood meeting, most of the community was underwater. Many of the residents, including Herrington, had no flood insurance.
So he wasn't the only person ready to give her hell.
An entire front yard full of people were there to hear what she and 1st District Congressman Kevin Hern had to say.
Instead, she let them do the talking.
All of a sudden, someone was listening to them. All of a sudden, she'd established a bond with the people she was there to help.
"She said we didn't give you appropriate warning," Herrington says. "I respect that. … I respect integrity, and she showed me both her heart and integrity."
Keith still feels that way.
"I think we absolutely needed to give better notice to the residents at Town and Country," she says. "I've talked to the Corps about that. But long-term, nobody should probably be living there."
She recalls those weeks of turmoil as a whirlwind of activity that had her zigzagging from Town and Country to the levees to news conferences at the Emergency Operations Center.
"Every day there would be several things that needed to be done," Keith says.
Joe Kralicek, executive director of TAEMA, says Keith's years of experience in local government were invaluable during the crisis.
"Certainly, reaching out to people, if there was somebody I needed to get hold of, she probably knew them," Kralicek says.
Todd Kilpatrick, commissioner for Levee District 12, says when he needed something during the flooding, Keith made sure he got it.
"Anything that we needed she would get," Kilpatrick says. "Whether it was sandbags, sandbag machines. … She is great, she really is.
"She is like cotton candy, what's not to like."
Not just any 'weather girl'
Keith rebounded from her pitiful days as a 'weather girl' and sports anchor in Colorado Springs to become one of the best-known television personalities in Tulsa. She anchored the news on KJRH Channel 2 and was the longtime host of "Oklahoma Living."
But it was later, during her years in former Mayor Bill LaFortune's administration and at the Tulsa Chamber of Commerce, that she caught the public service bug.
"I started thinking, after we passed Vision 2025, how much fun it would be to implement Vision 2025 instead of being on the outside," she says.
People advised against running for county commissioner, and that was all she needed to hear.
"I was like, OK, I'm still going to do it."
All these years later, she's so glad she did.
"I have loved this job, warts and all," she says.
What Keith would love more than anything, though, would be to stick around one more term. She wants to be there to dig a ceremonial shovel into the ground when work begins on the new levees. That could happen within two years — or about 14 years after she first started fighting for them.
"It just takes a long time to get the attention of the Corps, but we did that."
15 Tulsans who did incredible things in 2019. Read each Tulsan of the Year story. 
Kevin Canfield
918-645-5452
Twitter: @aWorldofKC