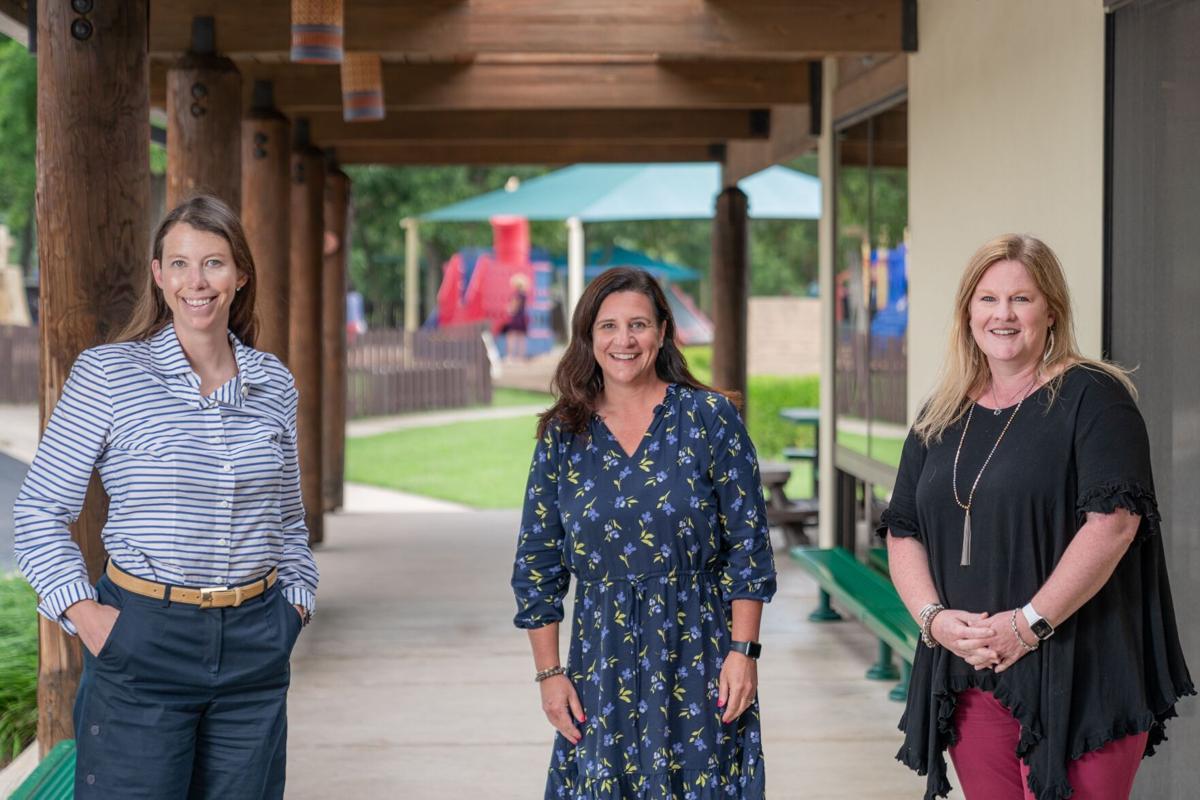 Classrooms have long been the purview of women but not so much the administrators' offices.
Times change. And nowhere is that more apparent than at Holland Hall, where this year, women are leading all three branches of the private school — the Upper School, the Middle School and the Primary School.
Nothing about being a working mother is easy, but all three say their jobs at Holland Hall temper the stress.
"I am so lucky that I work at a place that really prioritizes taking care of working parents," said Frances Fondren-Bales, who is in her seventh year as head of the Upper School and has a 2½-year-old daughter.
Jennifer White, a Holland Hall alumna who is in her fourth year as head of the Middle School, brought her son and daughter with her to Holland Hall as 10th- and eighth-graders, respectively. Her daughter is now a junior, and her son is a freshman at the University of Oklahoma.
"I like it when they are at school where I am," she said. "I like the comfort of having them nearby."
Vanessa Jones has worked at Holland Hall for 15 years but is in her first year as head of the Primary School.
Her daughter, a Holland Hall graduate, is a sophomore at OSU. Her son is a sophomore at Holland Hall.
"It is truly probably the best gift of my whole life" to have her children at the same school, she said. "We've had the same hours, the same holidays and the same schedules."
That's not to say there aren't challenges.
"Time management is a big one," Fondren-Bales said. "Really being thoughtful about having good boundaries around my time" is important.
The same technology that can make it easier to check her work email day or night also can take her away from her family, she said.
"Managing child care needs is another big one," she said.
For White, it's "always feeling like something has to give a little bit. I have to give my whole self to one or the other at certain times," she said.
"I think there's always mom guilt and also a little bit of 'head of Middle School guilt.' You just can't be in two places at once, but you want to be."
White said it can be hard to wear two hats at once, understanding that her work community is her children's school community.
Jones agreed: "Shutting off 'Holland Hall branch head' in the evening and becoming Mom" can be tough.
She said school events can be awkward because she might be there as a mother just wanting to see her kids yet still feels obligated to "talk business" when it comes up.
Not surprisingly, all three women have a few tricks that help them get by.
"I make lists," White said. "I'm one of those planner-type organized people. I make lists, and then I feel like I'm accomplishing a lot when I cross things off my lists."
Jones added: "I think it all hinges on being organized. I menu plan for the whole week, grocery shop on Saturdays, (and) food prep when I can."
Fondren-Bales said teamwork is key.
"As a leader, create a strong team and delegate well," she said. "If you can trust your team — if you can know that everyone will do their part — that is a huge gift to give one another.
"We have such a supportive team of women who look out for one another in big ways and small," both work-related and personal, she added.
"Being a working mom is really hard," Jones said. "People forget that sometimes. Even working moms forget that sometimes.
"I just think people need to give themselves more grace."
Be the first to know
Get local news delivered to your inbox!