Piece by piece, jewelry crafted from stones and earth-toned metals by the hands of war veteran Steven "Scissortail" Morales led him back to the Lakota Sioux, Kaqchikel and Cherokee tribes.
The turtles, buffaloes and hummingbirds molded into earrings, necklaces and bracelets evoke the tales and lands of his Indigenous upbringing. Even Bigfoot makes an appearance from a story told by tribal elders.
Morales has been recognized for his artistry, being named last year's Red Earth Emerging Artist. In February, he won first in the National Veterans Creative Arts Competition.
But jewelry is more than ornamentation or an ode to his Native American roots. The work brought him peace and a new chapter in life.
"My jewelry found a source to re-instill values in me that I lost," Morales said.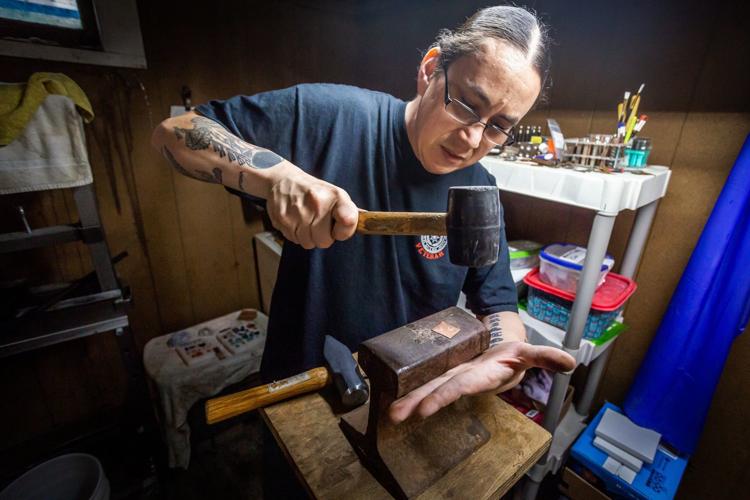 In 2006, Morales was serving in the Army Special Forces as a staff sergeant when he was injured by an improvised explosive device in Iraq. The blast killed several men and left him disabled, with shrapnel scarring his backside from his shoulders to his legs.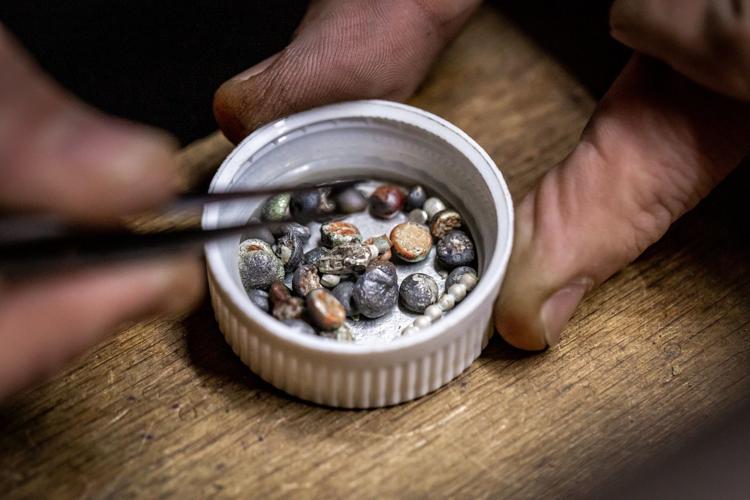 By that time, he had spent 14 years in military service.
"I started losing my own self-worth and didn't have anything to do," he said. "I was becoming more of a has-been. I was at the height of my career, and it was cut short."
Adding to the physical pain of recovery was the mental pain of post traumatic stress disorder.
"I'm still recovering and still have my days," Morales said. "I have issues with fireworks like on New Year's Day or Fourth of July. My family and I get in an RV and just go."
Sometimes, in the beginning, a sound would trigger him in the middle of the night, and he'd start walking. About 30 miles later, he would snap out of it and call his wife.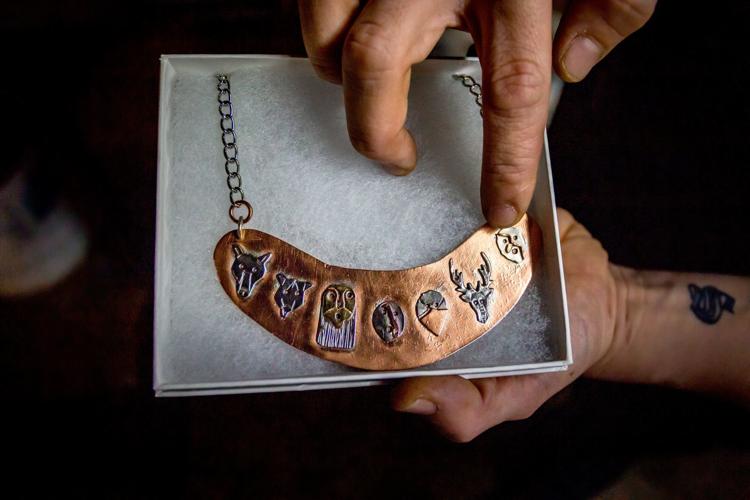 "I'm not like that anymore," Morales said. But the marriage didn't survive.
After leaving the military, he joined his father in Monticello, Arkansas, where they ran the Scissortail Trading Post, which sold work from Native American artists. His mother and father were artists in different genres, and all designed traditional Indigenous baskets.
"My family was known as basket weavers for the Cherokee," he said. "My whole family were go-getters who didn't believe in sitting down or let someone else work for you. After the Army, I ran to my heritage.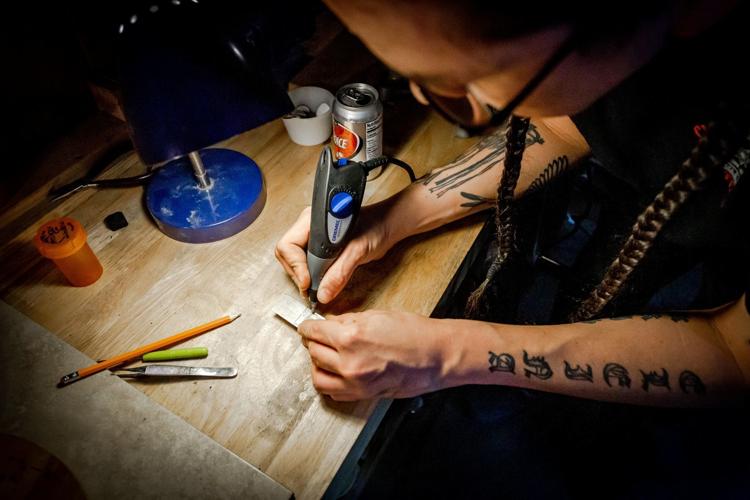 "I was always raised up ceremonial between Mom, who was Cherokee, and my dad, who was Sioux (and Kaqchikel). When I got out of the service, I didn't want people to know what I did in my service. I didn't want the attention or be stereotyped. That's when I grew my hair out. It was a natural embrace of ceremonial tradition."
In 2013, his parents died within six months of each other. Then, he got divorced.
"It went downhill," he said. "The business didn't feel the same without my dad."
He opened a gym, became licensed in the self-defense style of Israeli Krav Maga and remained active in various causes, particularly in Native American and domestic violence nonprofits.
In 2016, he was serving as the chairman of the Arkansas Indian Center, a group that administers grants to federally recognized tribes, when he met Starr Robideau at a national conference for the American Indian workforce development.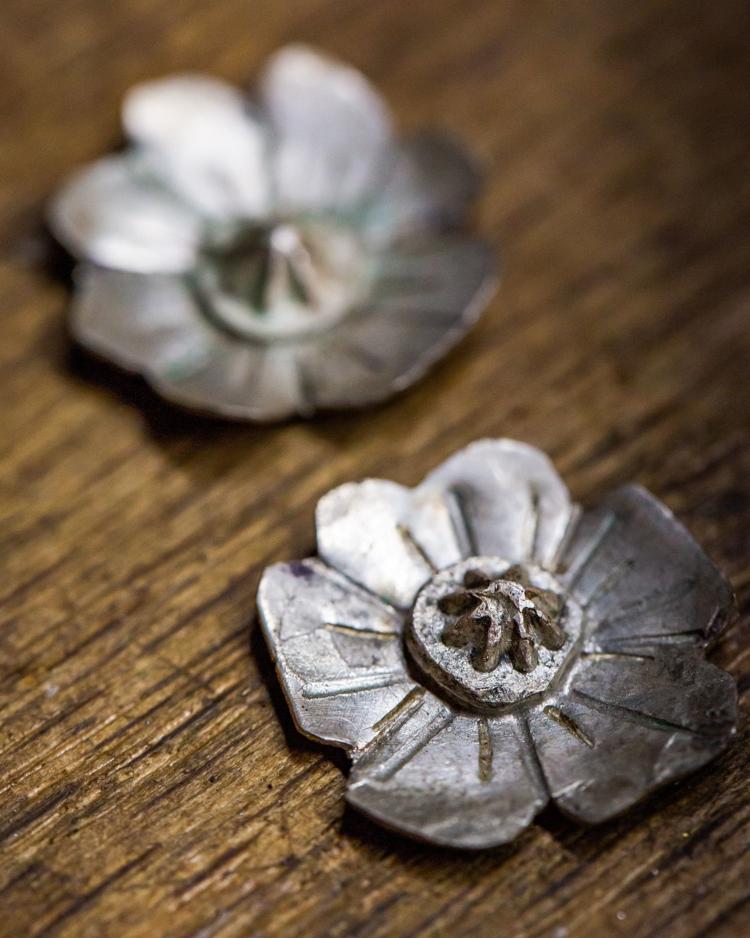 The two married and decided to move from rural Arkansas to just outside Los Angeles for her job as the director of operations for the Southern California Indian Center. She is a member of the Cheyenne and Arapaho tribes of Oklahoma and Sioux tribe.
It was a rocky transition.
"Going from Indian country to a big city like that, I was lost. I was used to two lanes and dirt roads and then there were eight lanes of traffic. It was too much," Morales said.
"I wasn't able to work in the civilian world because of my PTSD issues. It was hard working around people. I was depressed, and my wife said I needed to get out and suggested the American Legion or VFW."
Morales found a recreational art therapy for veterans program and was, by chance, put into stone working. Something clicked.
"I get asked if I was taught by an old Indian jeweler or silversmith. No, I was taught by an old white man named Andy Anderson," Morales said. "But that man was taught by an old Navajo silversmith. So I was indirectly taught by an old Indian man.
"One thing that Andy said that stuck with me was, 'Young man, all of us are like this rust stone here before we polish. We all have a lot of work we have to put into ourselves in order to become beautiful on the outside so people will receive us the way we want them too.' "
With each piece of stone Morales perfects, with each bit of metal he forms, he sees that reflected on himself.
"I'm ceremonial because I'm Sioux and Cherokee. I take it to heart," Morales said. "When he said that, it opened my eyes. It's not so much about the years we've lived, it's the roads we travel."
The first piece of jewelry was given to his mother-in-law. It made her smile.
"When you are a soldier, you are not used to putting smiles on other people," Morales said. "With this, whether big or small or I make $5 or $100, it's medicine for me to see them smile. It is the best healing to see something I made bring enjoyment for someone."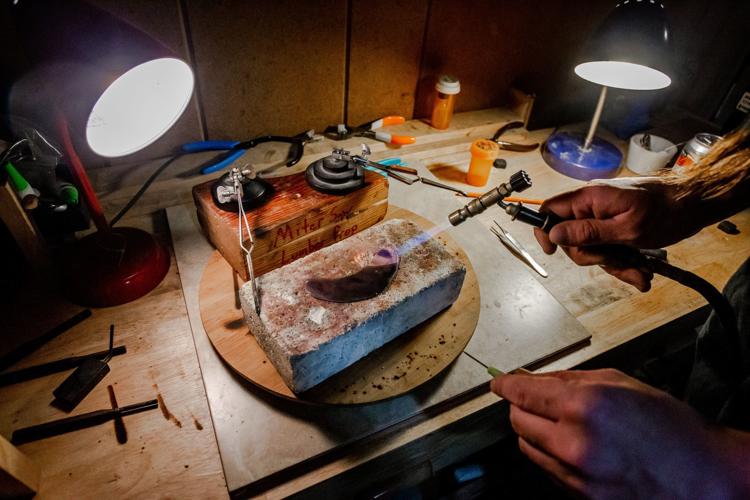 The couple moved to El Reno in 2018 after his wife's retirement, and she is now the director of personnel for the Cheyenne and Arapaho tribes. He works on jewelry pieces at a home workshop.
This return brought him back into service; this time as a commander of the Cherokee Nation Color Guard.
Before his dad died, the Cherokee Nation honored his military service with its Medal of Patriotism and added his name to a brick on a wall dedicated to veterans. His father nominated him for the recognition.
"That just overflowed my heart with an essence of pride," Morales said. "When I saw the tribal government support me the way they did, I knew I served my country as a soldier. The only thing I could do to give my upmost thanks is to serve them too."
Indigenous jewelry isn't just the bold silver and turquoise so popularly identified as Native American.
Those are inspired by the Zuni and Navajo tribes and not always made by tribal members.
Each tribe has unique traditions, and each Indigenous artist translates that differently.
For Morales, his creations are understated, depicting culturally significant features such as the Cherokee syllabary, stomp dances and animals.
None of the images of living things have faces or details.
"Sioux children would play with dolls without faces because it's on that child to designate or give the doll a spirit," Morales said. "In that tradition, on my pieces, I don't put on faces or extra details. People are able to tell what it is and put their own spirit on those pieces."
Gold will never be part of his work, a nod to the broken treaty that led to the Battle of Little Big Horn and the decimation of the Sioux tribes.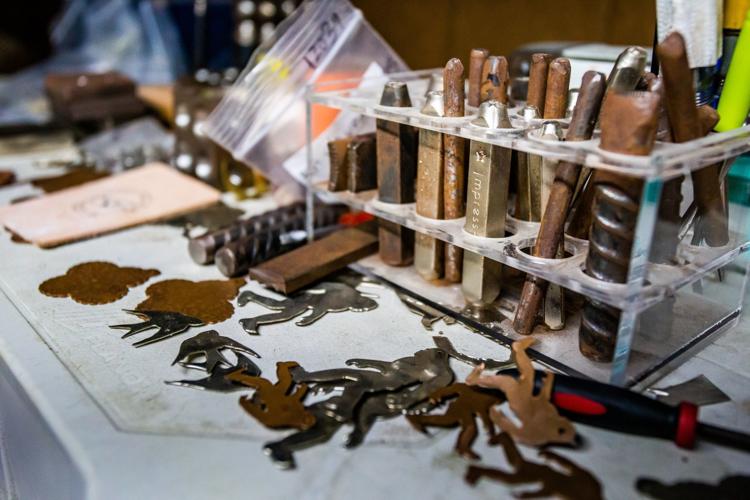 The Laramie Treaty of 1868 ceded the Black Hills of South Dakota to the Sioux bands, who considered the land sacred. When Gen. George Custer and his troops found gold there in 1874 by violating terms of the treaty, it led to a years-long war and gold rush.
Eventually, the tribes lost and were forced to live on reservations for generations.
"Being Sioux, the territory of my people was encroached upon. I'm not interested in gold because too many of my ancestors died for gold."
Artist blends modern, historic
For a different approach in jewelry art, Choctaw tribal member Kristin Gentry makes pieces that are bold in color with geometric shapes. The result is a meld of modern and historic.
"The diamond patterns represent dances that I try to have in artwork," Gentry said. "There are a lot of symbols for life and a snake dance design. If someone knew about those traditions, they would see it as Choctaw. Otherwise, they probably wouldn't."
Gentry is a multimedia artist who has made clothing, paintings, photographs and Choctaw language coloring books. She said many Choctaw artists will use shell, copper, bone and wood combinations.
"I love bright colors. I like to use what is there naturally but maybe not 100% realistic," she said. "It's abstract and stylized but not abstract in the geometric sense."
The jewelry designs are hand-painted on wood with influences from nature, such as butterflies, bees or squirrels.
Gentry grew up in Tulsa sweeping up after her grandfather James Oran Hoover, who was in the Eastern Oklahoma Woodcarver's Association.
"I love working with the natural substance of wood," she said. "Often, I use the traditional wood cedar. It's so much part of the native culture and reminds me of growing up around arts and crafts festivals. It's just natural."
Most of her recent work has been with jewelry, which is more affordable for the consumer.
"For $25 or $50, people can have original artwork they can wear and enjoy," Gentry said. "It's more accessible."
Artists of Indigenous jewelry often showcase at the festivals sponsored by tribes around the state. Some of those include the Cherokee art market in the fall, a Choctaw event on Labor Day and two each year hosted by the Chickasaw Nation.
Laws protect art from being misrepresented as Native American made by non-Indigenous people. But that doesn't stop imposters.
"It's illegal and wrong to do that," Gentry said. "We want to share in our culture and the best way to do that is to support native artists and our work."