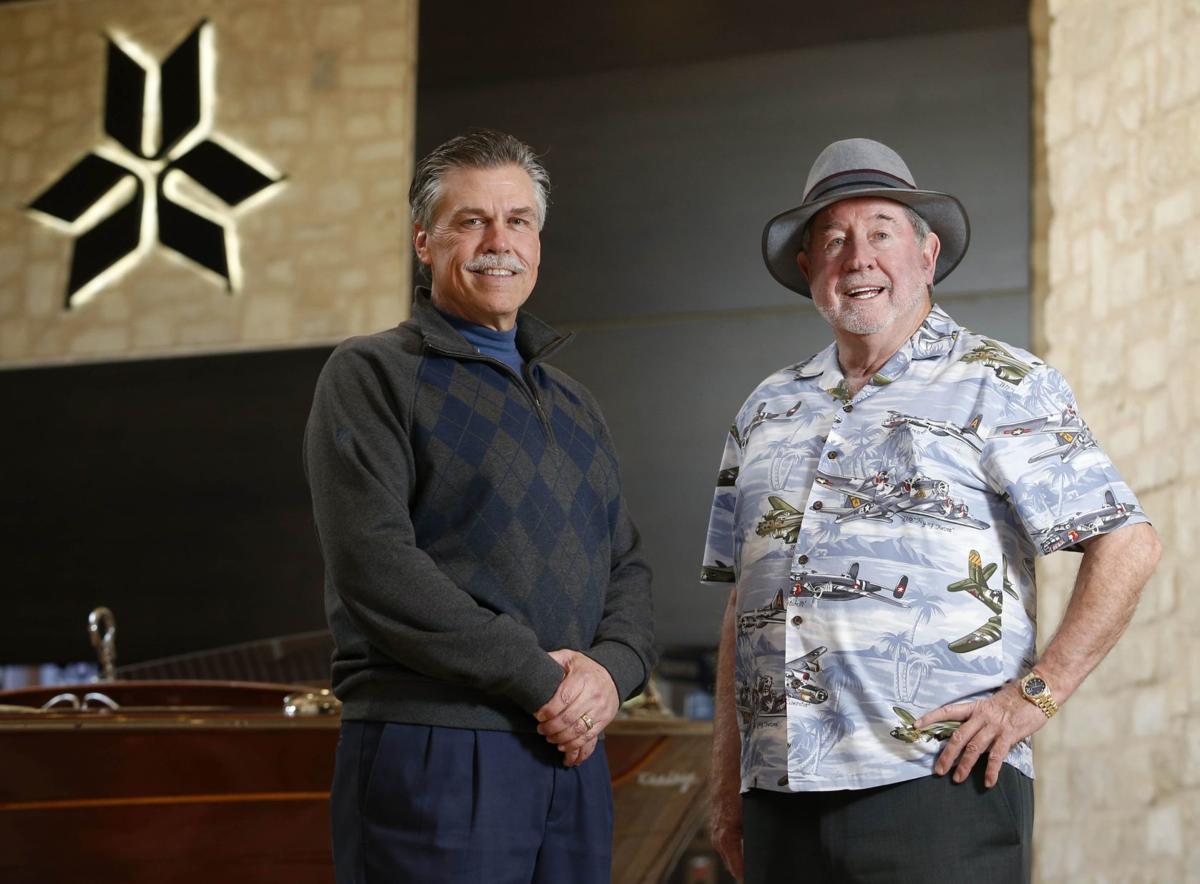 Since 2010, Eddy Gibbs has invested more than $75 million of his own money in the Shangri-La Golf Club, Resort & Marina, on the southern tip of Monkey Island on Grand Lake. He sold Ameristar Fence Products in Tulsa in 2013. Barry Willingham is the Shangri-La president and CEO. Jason Sheffield is Shangri-La's executive chairman. 
> I came from a welfare family. The poorest family in Checotah, Oklahoma. I picked up pecans and mowed lawns. When you don't have money to buy a soda, you go out there and work.
> I started building fences for a buck 25 an hour. A few years later, I wanted to start my own fence company. I started working with hinges and latches. On my own, I designed a latch that I thought was better. It was. Someone said I ought to make those and sell them. So we did. Within a couple of years, I sold my fence company and put everything into manufacturing. About a year later, I about went broke.
> I graduated high school. Never got a degree. That's another story, but we don't need to get into that. I didn't have a college education, but I had a fence education. I used to be a fence builder. Then I sold fence. So when I got into manufacturing, I knew what the industry needed.
> Then I brought in Barry Willingham. He's the best salesman there ever was. The best marketing guy there ever was. Best speaker. He really grew Ameristar worldwide. We were doing well. Debt-free since 1990. We were having a lot of fun.
> The success at Ameristar is the people. We had 700 people. The best people ever walked into my front door at Pine and Mingo wanting a job. That tells you a lot about Tulsa. We didn't hire a lot of people out of state.
> But then these people came around and wanted to buy the business. They came back with a number that I kind of choked on.
> What I liked about him when I first met him was it was go first class or go home. That is how you can command premiums for the product. It is the best in class. That is how he ran the entire operation. That is how the people were treated. When he built a warehouse, he built it three times bigger than he needed. His vision was we are going to fill it up. And we filled it up. That whole culture and mindset of being aggressive and having a first-class demeanor, it fit my personality. That is where we started.
> I heard structure. I heard process. I heard execution. Get it done. Looking at the historical growth that they had, numbers don't lie. The one thing that really struck me, he gave others credit. That really showed me the culture that I wanted to be a part of.
> When Eddy sold the business, a portion of the proceeds from the sale was distributed to the employees who helped us get there. That is who Eddy is.
> I have been up at Shangri-La playing golf since the 1970s. I built the tennis court fencing back in the 1970s. I ended up buying a house. The golf course was going downhill fast. And I thought, I was going to buy this golf course. I can cut grass.
> I bought it for a little bit of nothing. I got a hold of golf course architects and someone said I needed a pro shop. I was going to bulldoze the resort. I gave more for the marina than the golf course. I just loved golf.
> I have always been successful in business. I knew how to add 2 and 2. They were down to 84 members. I knew at one time they had a few hundred. We thought we could grow the members. I talked to the old guys. So I started doing the math.
> When I thought I was going to buy it, I wouldn't do it without Jason. We needed to tear everything down. Jason is like a son to me. He built all this.
> I have known Eddy since the sixth grade. He was my football coach in Owasso. Eddy is the most intense and passionate person I know. He brings that with him every day to what he is doing.
> He said we were going to do a face lift, spend about $8 to $10 million. But then, he doesn't do anything half way. That is rare in the development world. Together, we created something that has attracted people from all 50 states. And we keep growing.
> So I got Jason and we are making things happen at Shangri-La. But I needed a marketing genius. Barry was running my old company. Doing really well there. He took a big cut in pay to come here. He had ideas that blew me away. He brings in businesses that want to train their people now. Barry brings all these people here.
> We are at 530 members since Barry has been here.
> It's funny. About five year ago, my shoulder went out again. I haven't played golf since.