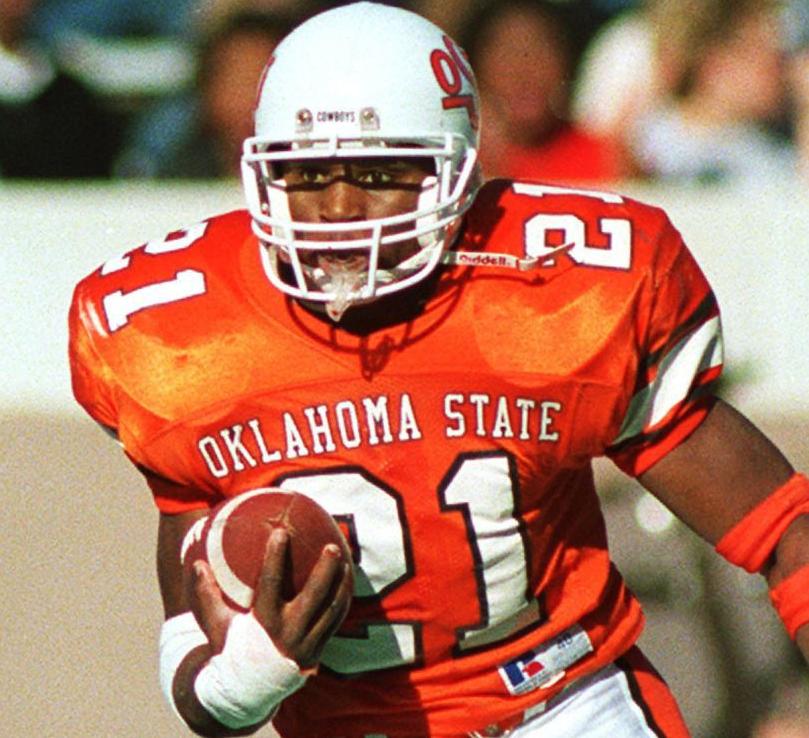 Background: Barry Sanders is one of the greatest players ever to put on football pads.
He was not, however, someone who had recruiters slobbering all over him while he was in high school.
Sanders was an under-the-radar high school recruit. OSU assistant coach George Walstad stumbled onto Sanders in Wichita, Kansas, while recruiting a more highly regarded high school teamate, Joel Fry.
Walstad and OSU running backs coach George Shimek visited Sanders' high school in 1985. While Walstad talked with the coaching staff, Shimek watched film of Sanders — but he didn't have to watch long. Shimek knew immediately that the Cowboys would be crazy if they failed to extend a scholarship offer to Sanders.
"I think when Shimek and Walstad were up at Sanders' high school, there was a game film where they kind of featured Sanders as a wingback on a counter play and it opened your eyes a little bit," former head coach Pat Jones said.
The only other major colleges to recruit Sanders were Tulsa and Iowa State. Sanders likely would have had additional suitors if more eyes had been exposed to his film, but YouTube did not exist in the 1980s. The only way to see Sanders' highlights was to have a physical copy of the film. The film "disappeared" after Walstad and Shimek's visit. The disappearance wasn't mysterious. It was intentional.
"Shimek took the film and brought it back with him," Jones said. "They might have told (the high school coaches) they were bringing it back to show me and then just kept it or something."
All's fair in love, war and football recruiting. Sanders signed a letter of intent with OSU and set an NCAA single-season rushing record on his way to the 1988 Heisman Trophy.
Jimmie Tramel 918-581-8389
Twitter: @JimmieTramel