It all starts with the wood.
That wood could be something familiar, such as maple or spruce, or something more exotic, such as sapele from Africa or buckeye burl from California.
But whatever wood is chosen, it has to sing.
Ben Liggett holds up the body of a guitar he's in the process of constructing. It is a model he calls "Pragmatist," which has a shape reminiscent of the iconic profile of the Fender Stratocaster.
The guitar's top is made from buckeye burl, known for its unique and wide-ranging colors; this particular piece has a distinctly aquamarine cast to it. The rest of the guitar's body is constructed out of birds-eye mahogany.
"Listen," Liggett says, as he gives the guitar's top a tap with his index finger. The wood responds with a soft yet definite tone — an almost bell-like tone.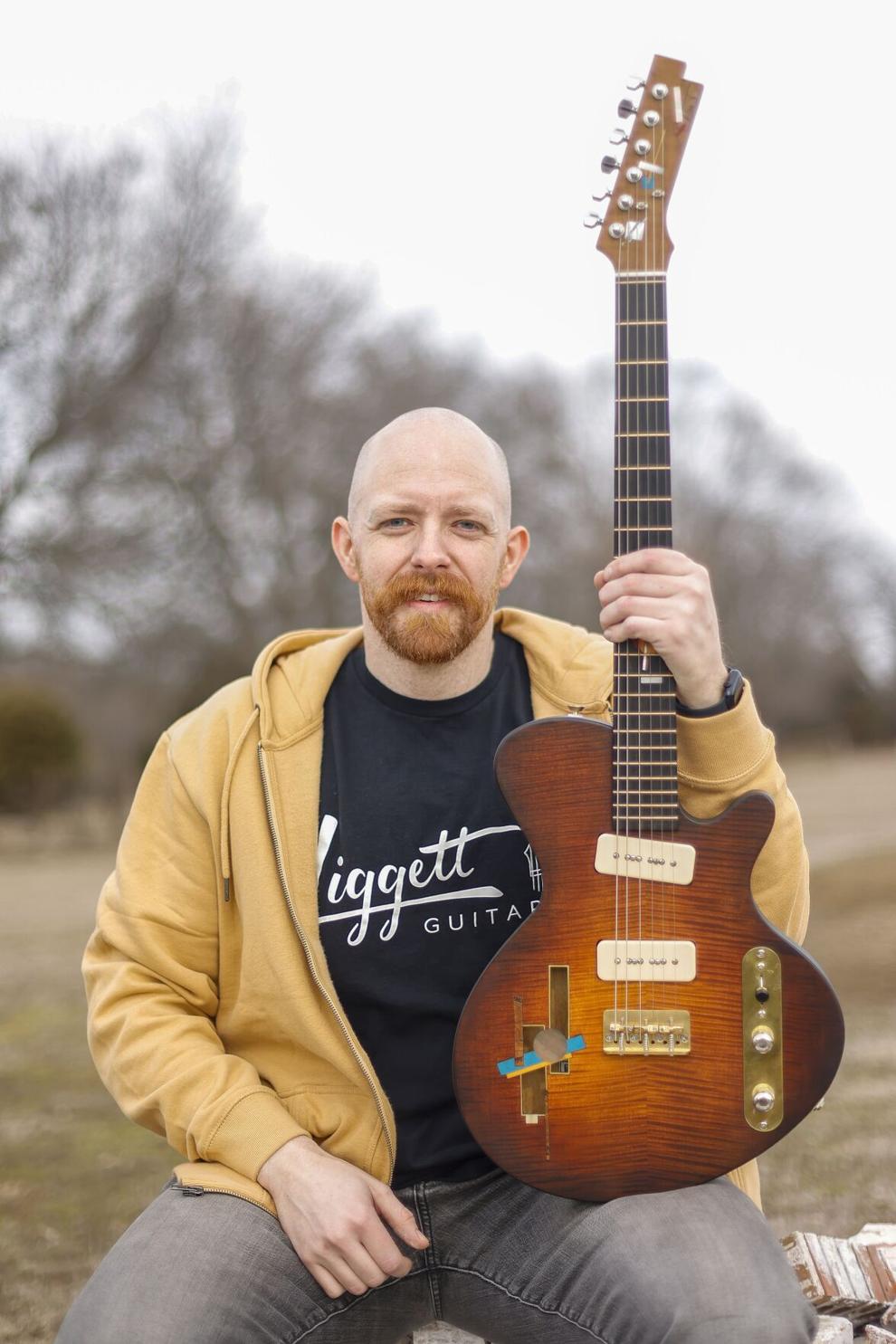 "And then," he says, flipping the guitar body over and giving the back an equally forceful tap. This time, the tone is lower in pitch but just as resonant.
Even though the finished product will be fitted out with all sorts of electronics, and the music it produces will likely have to pass through various effects of pedals and amplifiers before it will be heard by an audience, it still matters that wood from which a guitar is constructed is capable of making its own unique music.
That is part of the art of instrument making, which Owasso resident Ben Liggett has been doing for about a decade.
His company, Liggett Guitars, creates custom-built electric and acoustic guitars, as well as creating custom inlays for fellow luthiers or musicians.
"You may have seen country artists in the '50s and '60s who would have their names inlaid in the necks of their guitars," Liggett said. "I think it was Merle Travis who started that, and it was a big thing for a while. And I've been asked to do that a few times."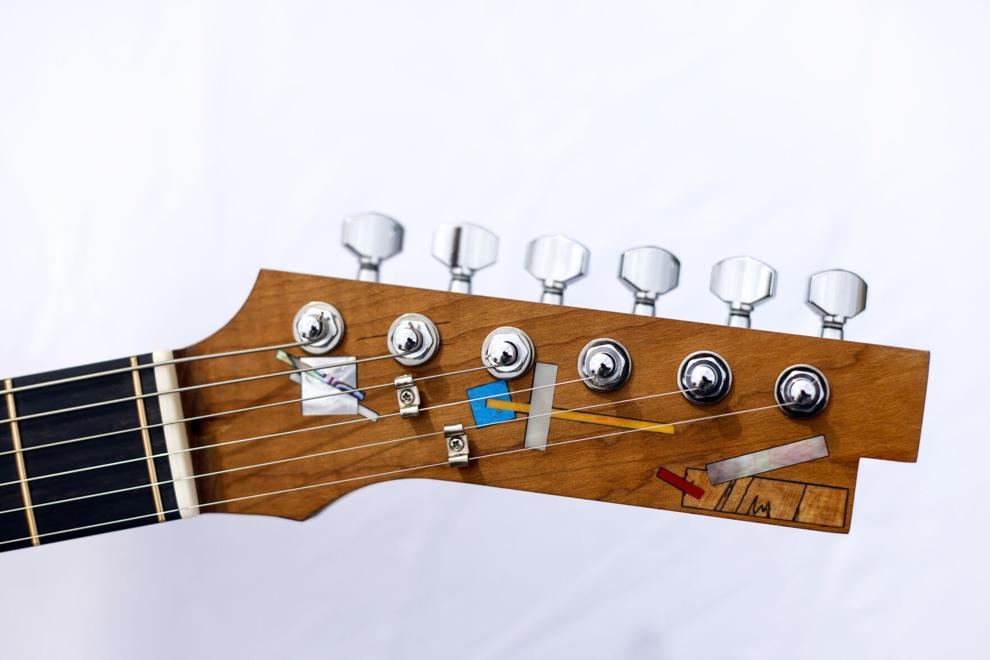 Liggett's interest in guitars began as a teenager, when he took up bass guitar.
"It was just a hobby, something I did for my own enjoyment," he said. "I was in a band for a while, but it wasn't a very enjoyable experience — not because of the other people in the band, but because I was never comfortable with performing. I have great respect for people who are full-time musicians, but it just wasn't for me."
Neither, Liggett confessed, was school. He knew he wasn't the college type. "I've always been someone who likes working with my hands, making things," he said, and chose instead to study machining at Tulsa Technology Center.
After graduating, he got a job making parts for tools used in the oil and aerospace industries. But after a few years, the drudgery of making the same objects over and over got to be too much.
"When I was at Tulsa Tech, we had a certain amount of freedom to make things we wanted to use," Liggett said. "Some friends of mine and I made this workshop vise that I still use today. I also made a brass hammer that I still use.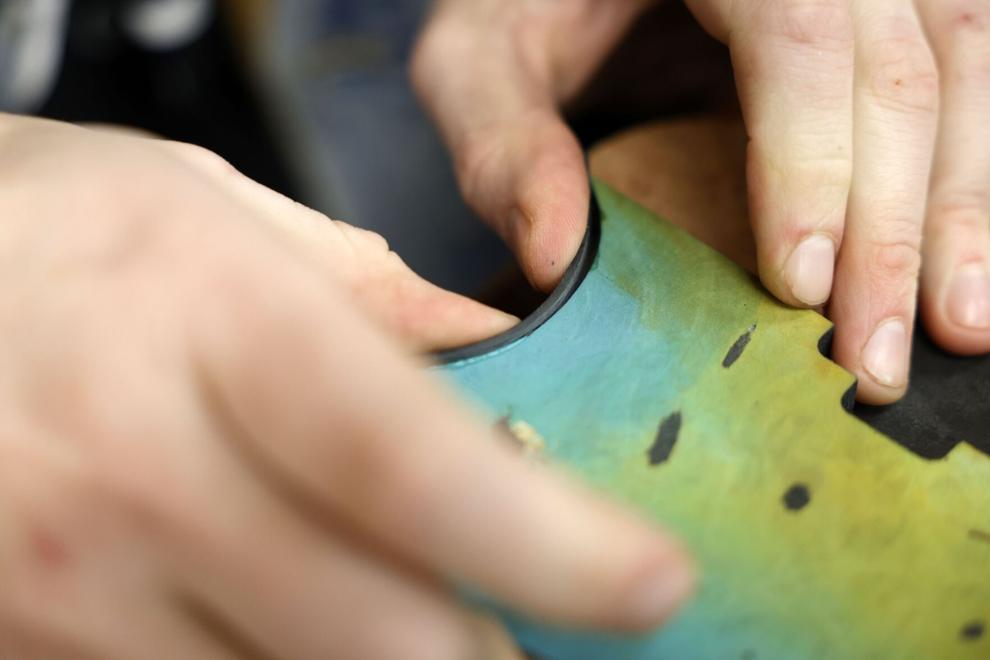 "Besides," he said, "Machine shops tend to smell of burnt grease, and dealing with metal shavings in your hands is not a very enjoyable experience. I wanted to do something that would allow me to be creative, and guitars seemed to be the answer."
Liggett went to the Roberto-Venn School of Luthiery in Phoenix, a five-month immersive course in instrument-making in which students had to build one acoustic and one electric guitar.
"The first few weeks I was there, I was surrounded by all these people talking about guitar parts, types of wood, pickup wiring," he said. "I remember thinking, 'If this ever starts getting old, I'm out of here.'"
Liggett paused, then grinned broadly. "It's never gotten old."
Liggett returned to Tulsa and went to work at Bishline Banjos, which is run by Rob Bishline, himself a graduate of the Roberto-Venn School. He worked there until February 2020, when Bishline closed the shop, partly due to the COVID-19 pandemic.
"It was a very amicable parting — we just decided to go our separate ways to do our own things," Liggett said. "Of course, going into business for yourself full-time right at the start of a pandemic wasn't what you'd call an ideal business plan, but that's the breaks."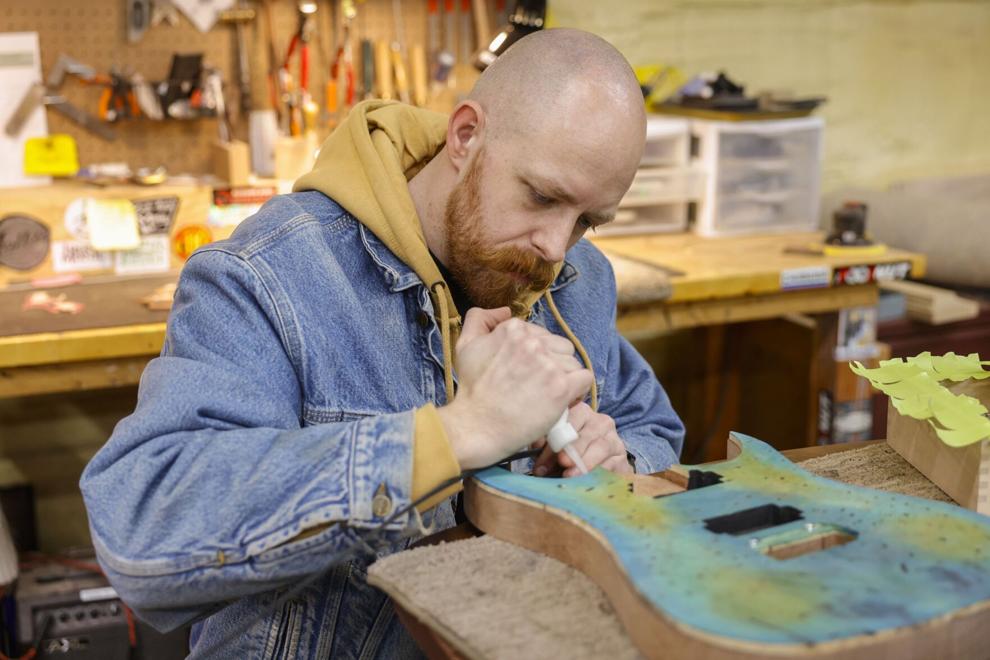 Liggett Guitars come in four base models: The Pragmatist; The AbstracT, a single-cutaway model that looks a little like a Fender Telecaster that went through a taffy-pulling machine; the Galaxy, which dispenses with the traditional headstock to create a more space-age look; and a new model Liggett calls the Sumi, a thin-bodied, single-cutaway design.
While Liggett's designs involve original, even somewhat avant-garde, elements, he acknowledges that there is a reason why it seems that a few basic shapes dominate the guitar world.
"A lot of it has to do with ergonomics," he said. "A guitar has to be comfortable to hold and play, and there are certain shapes that lend themselves to that."
Liggett also works to make his guitars as thin as possible, to keep the weight down. He also creates hollow spaces, or chambers, within his seemingly solid-body guitars, in part because of weight but mostly to give the instrument additional resonance.
Liggett said his business is equally divided between doing custom inlay work for others and creating custom-built guitars.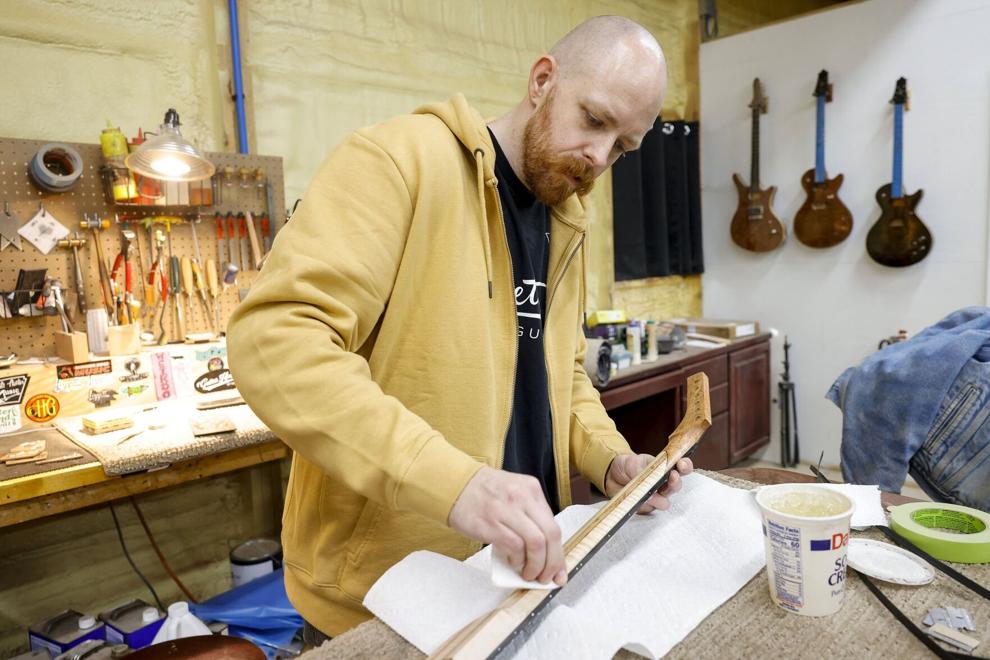 "When I was at Roberto-Venn, one thing I learned from a lot of custom guitar makers we met and worked with was that it takes a good 15 or so years before you get known," Liggett said.
He chuckled, then said, "So I guess that means I have about another 12 years to go."
But his guitars are beginning to become known in the music world.
"I'm a big fan of Emil Amos, who has a solo project called Holy Sons," Liggett said. "When I was at luthier school, I listened to his albums a lot and reached out to him to say I'd love to build a guitar for him.
"Emil also works as a drummer for groups like Om," he said, "so when people would ask what I was working on, I'd tell them I'm building a guitar for my favorite drummer."