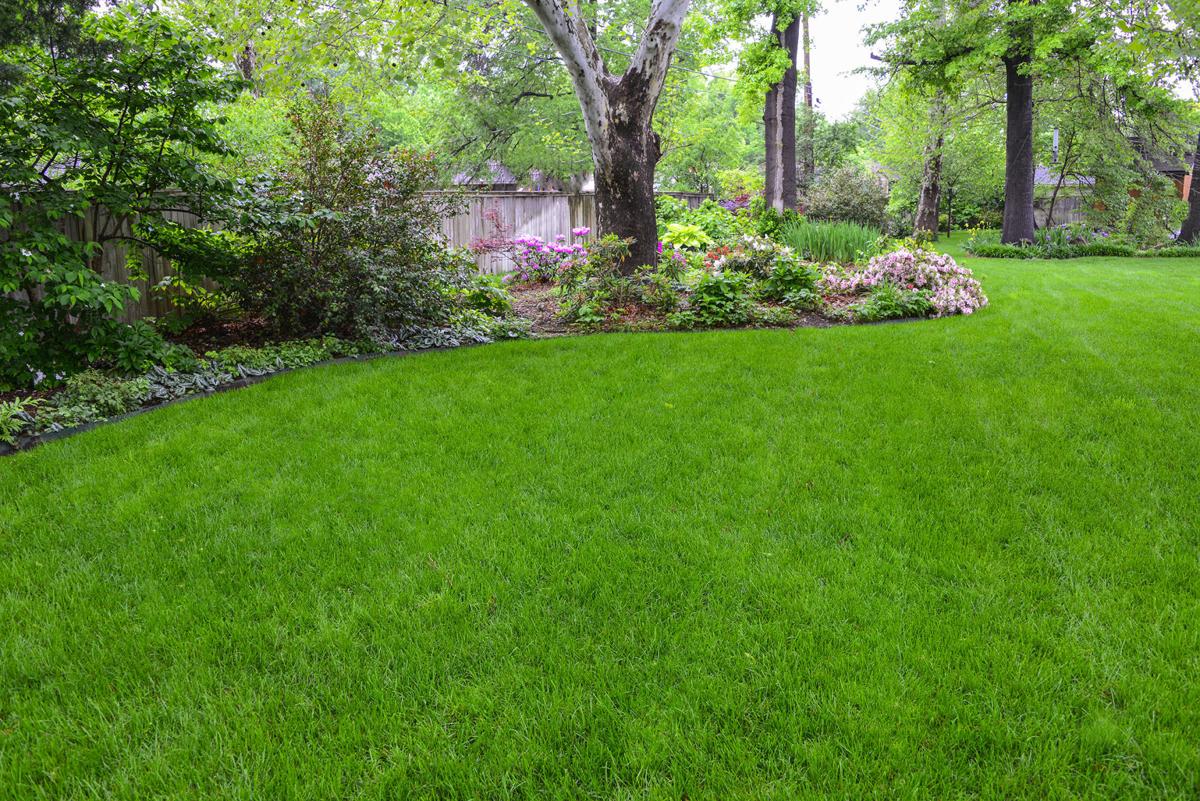 It seems like my fescue does great during the winter and spring but then struggles during the summer? What am I doing wrong? MW
Actually, you are probably doing most things right, but let's talk about that.
As far as turf is concerned, Tulsa lives in the in-between. Above us is great for fescue, and below us is great for Bermuda. But right here, things can get complicated.
Fescue is our go-to grass for shady areas, but in reality, all turf grass needs sun. It likes cooler weather, so it does well in the fall as it cools down and the leaves begin to fall. Then, it does pretty well in the winter and spring, but then the leaves come back and start to block out the sun and it also gets hot. This double punch means we typically need to re-seed fescue each year. Fall is the best time to do that, and that time is now.
We say fall is the best time because the temperatures are cooler, and when we re-seed in the fall, this gives the grass the fall, winter and spring to grow a healthy root system to help it survive our Oklahoma summers.
For best results, we recommend purchasing seed with a blend of at least three different types of fescue seed rather than a single cultivar. Doing this not only increases your likelihood of success, but also combining grasses tends to reduce the incidence of disease as each type tends to mask the weaknesses of the others. Also, one particular variety might do great in your yard while another might not, so a blend of various seeds gives you the best chance at success.
If you are re-seeding just to help thicken up your existing fescue, you won't need to do this, but if you are filling in some bare or thin spots, it would be a good idea to loosen up the soil. You can do this with a rake. Just break up the soil a little so the roots from your seed have a better chance.
It's also a good idea to fertilize with a little nitrogen at a rate of about 1 pound per 1,000 square feet before you put your seed down.
Depending on the area you need to seed, you can use a drop spreader or a broadcast spreader. The drop spreader will give you greater control, but the broadcast spread will make the job go faster. If I have just a few bare spots to seed, I'll use a large coffee can and hand seed.
If you are re-seeding, you want to apply the seed at a rate of 3-6 pounds per 1,000 square feet. If you have large bare spots, you might want to increase that rate to 6-8 pounds per 1,000 square feet.
Your next step is to keep the grass seed moist, which may mean you need to water two times a day until the green starts coming up. After that, you can gradually spread out your watering times.
We have quite a bit of information in our Diagnostic Center and on our website to help you maintain your new and existing turf. Good luck, and we hope you enjoy your lush green lawn.
---
Get answers to all your gardening questions by calling the Tulsa Master Gardeners Help Line at 918-746-3701, dropping by our Diagnostic Center at 4116 E. 15th St., or by emailing us at mg@tulsamastergardeners.org.
Sprout new ideas
With our home & garden newsletter!