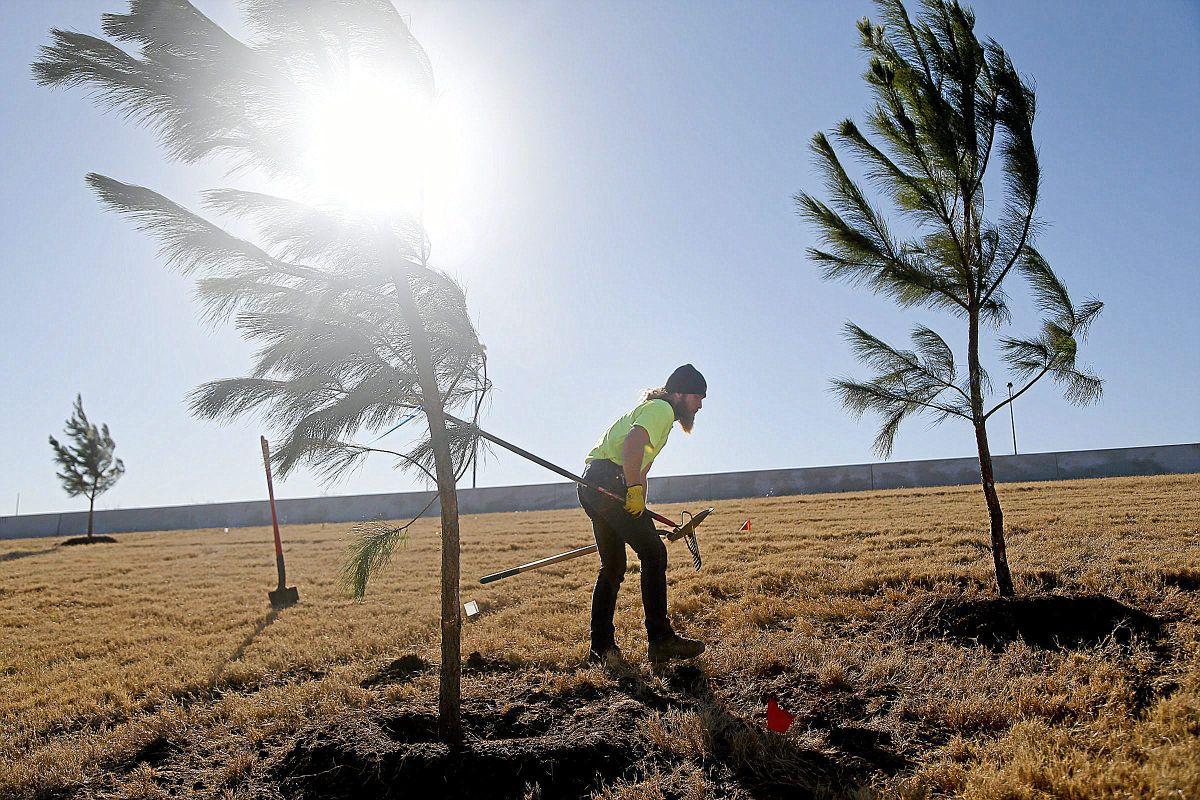 It seems counter-intuitive, but yes, fall is the best time to plant most trees and shrubs. The reason is that when we plant trees and shrubs in the fall, they have the fall, winter and spring to develop a root system that will help them survive our Oklahoma summers. You can plant trees and shrubs at other times, but you will really have to ramp up the amount of time you spend watering them to keep them alive.
So, if you're going to plant some trees or shrubs, let's talk about some of the options you have and best practices for planting.
The trees and shrubs you find in local nurseries will essentially come in two different ways: balled and burlapped or container-grown. Balled and burlapped tend to be larger trees that have been grown in the soil and then transferred to a local nursery. They are dug up with a large tractor using a claw-like device to cut them out of the ground. This process destroys most of their established root system, so you can see why they need extra time to grow a new root system.
Container-grown plants have spent their entire lives in the container, so they have a fully developed root system, even though it has been confined to the container. As you might assume, container-grown trees and shrubs fair a little better when planting in the summer and spring.
The technique for planting balled and burlapped and container-grown trees is essentially the same, but be sure to remove the burlap and wires carefully before planting.
First, you will need to dig the hole about three times wider than the size of the root ball. Not doing this is a common mistake. When we only dig a hole the size of the root ball, we are saving ourselves some time, but we are also already lessening the odds of the tree or shrub's success.
When you dig a hole the size of the root ball, those tiny little roots that start reaching out into the surrounding soil are going to find hard, compacted soil rather than nicely loosened soil. This hard soil will make it more difficult for those roots to grow, reducing the likelihood of survival. I know it's more work and digging can sometimes be difficult, but just do it anyway.
Next, do not dig deeper that the depth of your existing root ball. You want hard-packed soil underneath the root ball to minimize settling. Ultimately, you want the top of the root ball to be slightly above grade, so you won't end up with a pond around your tree.
Once planted, backfill the hole with the soil that came out of the hole rather than soil plus any amendments. This will help the new plant get used to its new home.
Now, put a layer of mulch around your new plant to help contain moisture and prevent runoff. Some trees may require staking. If they do, be sure to support them loosely as movement will help strengthen young trees.
Next, water it in and plan on keeping it watered through the fall and winter as they will need about an inch a week.
If you follow these tips, you will be well on your way to enjoying your new additions to your garden for years to come.
---
You can get answers to all your gardening questions by calling the Tulsa Master Gardeners Help Line at 918-746-3701, dropping by our Diagnostic Center at 4116 E. 15th St., or by emailing us at mg@tulsamastergardeners.org.