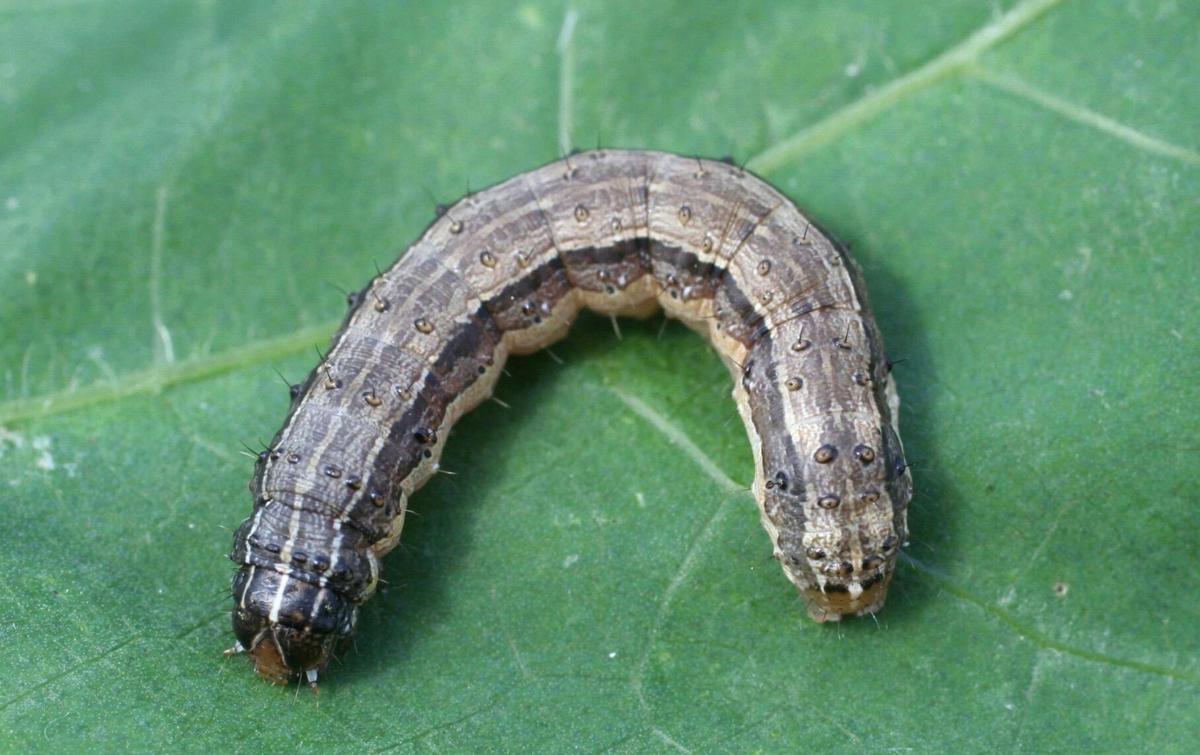 I've got these inch-long caterpillars devouring my turf and some of my plants. What are these things and how do I get rid of them? PJ
The insect you are describing is likely the fall armyworm. These caterpillars are larvae on their way to becoming a moth. Interestingly, these insects do not overwinter here in Oklahoma as many insects do, they fly south in search of warmer climates in the Gulf Coast, Texas, or Mexico, only to return the following year. Their return trip usually brings them back to Oklahoma sometime in June.
When they return, the female moth typically lays around 1,000 eggs in groupings of fifty to several hundred. In July these eggs hatch, become larvae (the armyworms) and begin to eat. They are pretty voracious eaters and you can imagine if you had a hundred or so females lay 1,000 eggs each in the same area, that would be a lot of hungry caterpillars.
After the armyworms eat for 2-3 weeks, they dig into the soil to pupate. The next generation will emerge in about 2 weeks. This short lifecycle can ramp up the population pretty quick. Armyworms can damage not only home lawns but can also be devastating for commercial farmers. With several overlapping generations, we can see armyworms into October and sometimes November if the conditions are right.
I'm not sure where the name "armyworms" originated, but if you have ever seen an "army" of these caterpillars crossing the street in mass, it certainly looks like an insect army. These "migrations" occur after they have wiped out a food source and are in search of more food. While they tend to prefer turf, these hungry caterpillars will eat most anything.
If you are seeing some destruction in your turf, there is a quick and easy test you can perform to confirm the presence of armyworms. Just mix up about an ounce of dish detergent with a gallon of water and pour that solution in about a square yard of turf. The soap will serve as an irritant and the armyworms will come to the surface to get away. If you find about 5 to 10 armyworms in the test area, you should consider treatment.
One of the safest treatments is to use an organic pesticide called bacillus thuringiensis or BT for short. Spray BT on the turf or plant experiencing the issue. The armyworms will eat the pesticide and die. One good thing about BT is that it is only effective on caterpillars, so there won't be any collateral damage to other beneficial insects.
If you follow these steps, not only will you be able to confirm the presence of armyworms, but you will be able to solve the problem in a safe, organic way. Good luck.
Get answers to all your gardening questions by calling the Tulsa Master Gardeners Help Line at 918-746-3701, dropping by our Diagnostic Center at 4116 E. 15th St., or by emailing us at mg@tulsamastergardeners.org.